Are E-Bikes Good For Mountain Biking? (Must Know This)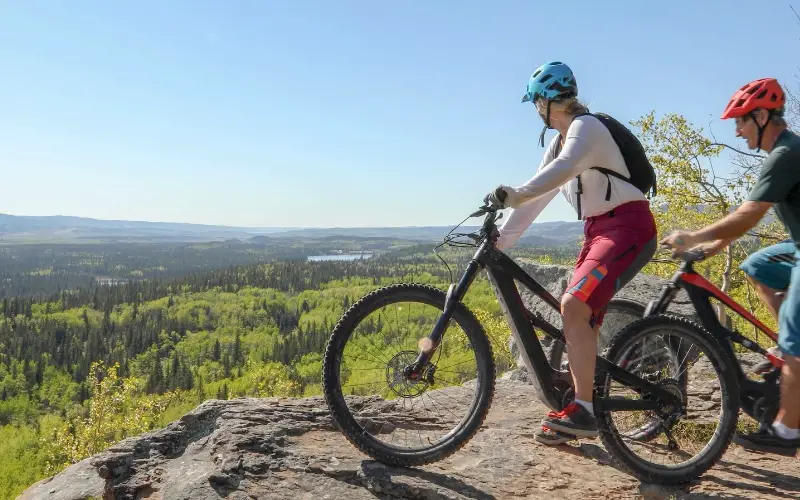 E-Bikes are becoming more popular daily as they offer a complete form of freedom regarding cycling. E-Bikes have all the technology and features of a conventional bike.
What separates them from traditional bikes is possessing a motor and a battery. 
Generally, E-Bikes are super fun to ride and can help you appreciate your special routes more but are E-Bikes good for mountain biking?
Yes, E-Bikes are super cool for mountain biking. However, not all models of E-Bikes are designed for mountain biking and off-roading. Generally, E-Bikes offer a relaxing and effortless ride and are typically very powerful.
In this article, I will explain the working of E-Bikes and how effective they are in mountain biking.
By the end, you will understand the major differences between E-Bikes and conventional bikes and which options to consider when getting a mountain bike.
Are E-Bikes Okay for Mountain Biking?
Yes, E-Bikes are okay for mountain biking. This bike model provides tremendous strength and speed and allows longer rides, making biking more exciting.
Like normal mountain bikes, E-Bikes have the same suspension, same derailleur rigs, and same reels with extra power, expanding your riding scope.
Ebikes allow you to go at a much-increased speed while putting in less work, and we can all agree that one of the most incredible traits of riding a bike is the sensation of the speed. 
With a higher speed level, you can cover more topography in a limited time, which is good.
It would help to understand that E-Bikes have a challenging type of ride. 
As such, they are frequently designed with high-power motors, making them even heavier than regular mountain bikes.
However, depending on the model of an e-bike, not all brands have the same make. In addition, some brands consist of low-standard components.
Usually, because of the function of E-Bikes, manufacturers use high-quality components to facilitate the bikes to tolerate the deterioration that comes with mountain bike riding. 
Generally, E-Bikes are larger with stronger motors, sturdier frames, and bigger batteries, making them perfect for mountain biking.
Do E-Bikes Make Navigating Hills Easier?
Yes, E-Bikes make navigating hills quite easy. In addition, the bikes are very efficient when it comes to climbing elevated terrains. 
If elevated terrains are the only obstacles you face when cycling, then getting an e-bike will solve your problem.
E-Bikes allow you to cruise up an elevated terrain without a sensation of pain because of the extra energy the pedal assist motor provides.
Most E-Bikes make the steepest of elevated terrains appear effortless to ascend. You would be amazed at the difference an e-bike makes when climbing up a hill.
However, you can challenge yourself by riding your bike in a lower power mode when climbing up a hill, allowing you to work out while climbing up an elevated terrain.
E-Bikes with crank drive motors are generally more powerful than those with a hub drive motor. Although, both will give you the boost you need when climbing hilly terrain.
One good thing about E-Bikes is you choose how much effort you put in during a ride.
If you decide to go with the turbo mode, you are more than equipped to climb any elevated terrain with the least effort.
Generally, E-Bikes are perfect for everyone, offering enough power to climb any elevated terrain and through headwinds.
What Are the Pros And Cons of Using Electric Bikes for Mountain Trails?
No doubt electric bikes are more efficient than regular mountain bikes because they possess the assistance of a motor that generates enough energy for rides with little effort from the rider.
While E-Bikes have many advantages, they also show certain drawbacks regarding mountain trails. 
Here Are Some Pros and Cons of Using Electric Bikes for Mountain Trails:
#1. Pros 
Electronic bikes are typically more powerful, meaning you have a greater chance of taking on even tougher mountain trails.
Electronic bikes generally offer a more relaxing and effortless ride which allows you to cover more lengths during a ride.
An electric mountain bike requires no pedaling or strenuous exercise during a ride. However, the good part is you can decide on the amount of effort you want to put in during a ride.
Electronic bikes place all riders on a level field, meaning with as much as a little mountain biking experience, you can do wonders while mountain biking with an electronic bike.
With an electric bike, you can still ride on your favorite mountain trails, even when recovering from an injury or with a lower fitness level.
Whether going uphill or downhill, you feel safe when riding an electric bike. 
#2. Cons
Electric bikes are heavy and can negatively impact some mountain trails.
Electric bikes are less agile on some mountain trails and require a high skill level before navigating such trails.
Because the maintenance cost for wear and tear is generally high for electric bikes, you can't use them on some mountain routes for fear of damage.
Mountain trails offer variable delay factors, making calculating the range for electric bikes difficult. However, it would help to know that nothing is more frustrating than having a failed bike in the middle of a ride.
Generally, low-end brands of electric bikes battle to climb up hills and elevated mountain routes.
With electric bikes, special considerations are needed for some terrains because exposure to certain factors will damage the electrical components of your machine.
What Are the Best Electric Mountain Bikes?
Different models of electric mountain bikes with varying designs and sizes are available for purchase. 
You want to look for a bike with credible motor drive, a great suspension, and excellent components when you want to get an electric mountain bike.
Other things you want to look out for are the weight, battery, style of bike, customization, and tune of the bike as it suits your taste and needs.
Here Is a List of Some of the Best Electric Mountain Bikes:
Whyte E-160 RSX
Merida eONE-SIXTY 9000
Focus THRON 2 6.9
Norco Sight VLT C1
Rocky Mountain Altitude Powerplay C70
Specialized S-Works Turbo Kenevo SL
Canyon Spectral: ON CF 8
Commencal Meta Power TR Ride
Trek Rail 9.9 XX1 AXS
Mondraker Crafty R
Santa Cruz Bullit X01
Scott Patron E-Ride 900 Tuned
While electric mountain bikes offer a lot of excitement during rides to users, others still prefer to use traditional mountain bikes. 
Because they offer more exercise as you pedal and move through terrains with your efforts.
Regardless of which works better for you, the most important thing is you get to enjoy your favorite outdoor activity. 
The table below shows some differences between E-Bikes and traditional mountain bikes.
| Electric Mountain Bikes  | Traditional Mountain Bikes  |
| --- | --- |
| E-Bikes have higher maintenance levels. | Traditional bikes require lower maintenance levels. |
| E-Bikes have a higher speed level. | The regular bikes are much slower. |
| Electric bikes are quite expensive. | Traditional bikes are much cheaper. |
| Electric bikes have outstanding safety traits. | Traditional bikes pose more risks. |
FAQS
What Is the Speed of an Electric Bike?
The speed of an average electric bike ranges from 18 mph to 25 mph, depending on the model.
What Is Turbo Mode on Electric Bikes?
The turbo mode feature on electric bikes causes your bike to go faster and helps you ascend elevated terrains better. 
But it would help to know that the turbo mode drains your bike's battery faster.
How Do You Charge an Electric Bike?
Charging an electric bike is quite easy. First, you need to plug your machine into a power supply outlet. 
And depending on the model, it takes an average of 2 to 8 hours for your bike to fully charge.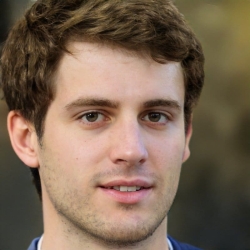 Latest posts by Josh Matthews
(see all)