Can I Use A Mountain Bike On Zwift? (Must Know This)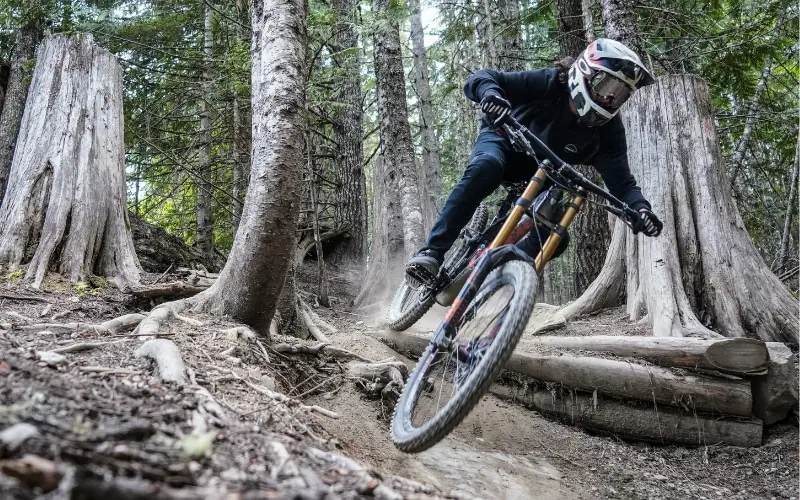 What better way to enjoy indoor cycling and mountain climbing than signing up on Zwift? 
With Zwift, there are over a hundred activities you can choose to engage in both for enhanced speed, grit, fitness, and overall performance. 
Interestingly you can use almost any bike on your Zwift, and does that include a mountain bike? 
Of Course, you can use your mountain bike on Zwift. While road bikes are the most recommended and ideal, turbo trainers prefer mountain bikes. The only additional feature you will need to step up your game and meet up with other competitors is a Bluetooth-enabled speed and Cadence sensor to help power up your Zwift avatar. 
In this article, I will explain the entire process of riding your mountain bike on Zwift, the best mountain bikes to use, and the overall efficiency of mountain bikes on Zwift. 
By the end, I will explain the necessary steps to get mountain bike trails on Zwift. 
Can I Ride Zwift On My Mountain Bike?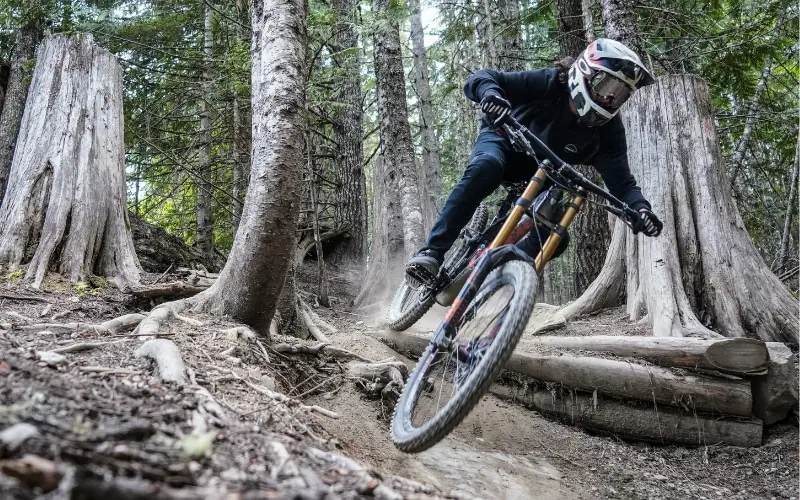 As I mentioned, you can always use mountain bikes on Zwift conveniently. In addition, I would outline a few tips to give you a heads-up on what you should expect. 
The major advantage of setting up a home trainer is its convenience. If you have already set up your bike on the local group ride or a spin class, then riding becomes easy. 
All you need to do when you want to go for a ride is to put on track shoes, shorts, a water container, and something you can chew on while riding. 
After that, you can log in, select any activity that appeals to you, and enjoy your ride. 
Aside from the conveniences that come with activating your mountain bike on Zwift, it also gives you a chance to grow your consistency. 
When you install a home Zwift setup, you ride at least four to five times each week, and this goes a long way in improving your bike fitness. 
However, you will need to take breaks from time to time to give your body a good rest. 
As you ride on Zwift, the amount of power set on your bike pedals gets displayed as an on-screen prompt. 
For sure, this goes a long way to ensure that you don't wear yourself out. 
Also, consider building your Zwift workout, especially if you prefer to go a little extra on high-intensity terrains. 
If you would like to boost your sprint and enhance your base fitness, climbing power, and consistency as part of your Zwift goal. 
You can always browse the library and choose from the pack of sessions that best suits your needs. 
How Do You Get Mountain Bike Trails On Zwift? 
On December 6th, 2022, Zwift launched its first-ever mountain bike Repack Ridge MTB Course, which helps you unlock the mountain bike frame and entire wheelset. 
However, to use this feature on your mountain bike, you must first unlock it from the garage. 
And how do you do this? 
#1. Find The Repack Ridge 
To help you unlock your mountain bike frame and wheelset, it is necessary as a first step to ride the new repack ridge. 
#2. Ride It In a High Performance 
The Zwift game tracks your performance in the overall time you used to paddle your way over the repack ridge. 
Your performance also gets tracked by the total number of stars you earned as you steer in the correct trail. 
Steer your way into one of the sections of the blue arrows on the ridges while avoiding contact with the red section. 
You will be able to unlock the mountain bike if the game gets completed within 12 minutes and 30 seconds from when you began.
You will gain at least 9 out of the 10 rating stars if the timing is accurate. 
When you have completed the game, tap on your target, and your Zwift mountain bike frame and wheel set get unlocked.
Interestingly, you can customize your bike's looks and make it into any color you choose. 
The mountain bikes are the best bikes to ride on jungle circuit dirt due to the latest Zwift rolling resistance changes. 
Another way to access the Zwift Repack ridge is to install the Zwift companion on your mobile or any device where your Zwift gets logged in. 
Make sure that whatever companion you use is permanently installed on your bike handlers. 
Once you are ready for a ride, install the Zwift companion and connect it to your live session. You will see an arrow on your on-screen map directing you to where your repack ridge is. 
The Zwift companion is mandatory only because the steering demo only works on a mobile phone app. 
If you have difficulty finding the Zwift new Repack Ridge MTB course, you can locate it in downtown Watopia and some specific places of interest. 
First, enter North of Titans Grove and then ride Southward for at least 2 miles until you arrive at the trailhead by your right. 
However, no specific route can put you directly on the Repack Ridge path. Luckily, you can always choose a route that takes you directly to the trailhead after riding for at least 2 miles. 
The best route to choose is the Dust in the wind, Muir, Mountain, or even the Quatch Quest routes. 
On the other hand, the Watopia routes have the best route line that can lead directly to the new Repack Ridge trail. 
Here's the catch; as you use your Zwift companion for a ride, ensure it gets connected to your device. 
Once you are drawing close to the trailhead on the North Pole of your route, an on-screen intersection notification gets displayed and directs you to the correct turn to Repack Ridge. 
The route should be by the right of the intersection. Tap on the beginning trail and ensure you select the Zwift steering test. 
After this, follow the further on-screen prompts to unlock the Zwift MTB. 
What's The Best Mountain Bike On Zwift? 
A couple of criteria get used when determining the best mountain bike you should use on Zwift. 
Maybe you are looking forward to switching up the settings on your Zwift mountain bike to the best bike you can find and need more information on how to do that. 
If you read further, I will outline the best mountain bike for flat pavement performance, climb performance, and jungle performance. 
#1. Flat Pavement Performance 
To test the mountain bike flat pavement performance, a Tempus fugit test segment gets to run with 300 watts of pedal power, and the body weight is at least 75 kg. 
During this test, the Scott spark RC world cup has a clean cut-off of 55:40, making it one second apart from the Scott spark RC, which is 54:43. 
However, mountain bikes have slower movement on the tarmac than road bikes. The slow movement is, however, attributed to the Swift crr settings. 
Also, mountain bikes, big knobby, and poor aero values make movement slower. 
Therefore, if you are running on any pavement, use a road bike; mountain bikes will not get recommended. 
#2. Climb Performance 
The climb performance of the mountain bike is determined by how they perform at the big Alpe du A climb. 
The Scott spark RC world cup also tops the list of mountain bikes with the best climb performance. 
The Swift steel mountain bike, which happens to be the slowest bike with a 32 mm carbon wheel, has a climb performance of 49:57. 
On the other hand, the best and fastest mountain bike climbs the Alpe at 48:42. 
#3. Jungle Performance 
Well, the fastest road bikes perform jungle per lap, and gravel bikes achieve good feet of 14:11. 
Mountain bikes need better jungle performance due to their skinny tires and rigidly fitted rigs. 
The best Mountain Bike based on jungle performance, climb performance and flat pavement performance are the Scott spark RC world cup and Trek supercaliber. 
Here is a table showing how they both rate in these categories:
| Scott Spark RC World Cup | Trek Supercaliber  |
| --- | --- |
| It has a performance of 55 minutes and 40 seconds, edging the Supercaliber by 1 second  | The Supercaliber has a pavement performance of 55 minutes and 41 seconds  |
| The Scott spark performance of 55 minutes and 21 seconds  | It has a climb performance of 55 minutes 25 seconds  |
| It has a jungle performance of 13 minutes and 55 sessions  | It has a jungle performance of 13 minutes and 55 seconds  |
Are Mountain Bikes Slower On Zwift? 
Of Course, physics counts here too. Most Mountain Bikes are slower due to their heavy weight. 
Their weight varies significantly from the fastest road bikes and slowest Zwift steel 32mm, which climb at a speed of 48:42 and 49:57, respectively. 
Due to Zwift Crr settings, mountain bikes move a lot slower when you are riding on an all-pavement road.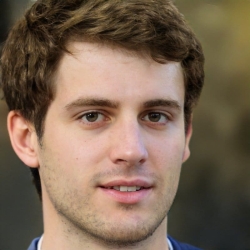 Latest posts by Josh Matthews
(see all)