Are Mountain Bikes Good For Long Distances? (Read This First)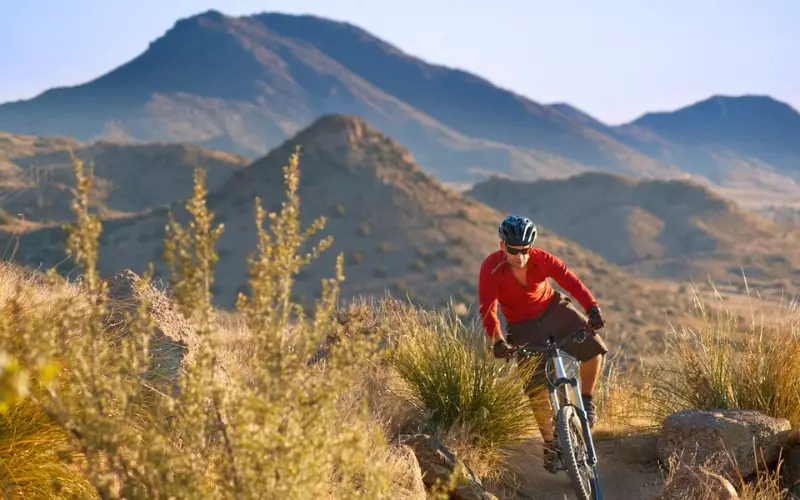 Outdoor hikes and rides have become one of the best ways to keep fit. Ideally, most people prefer to use road bikes for their hiking spree, especially if they are unsure of using an MTB.
They could afford to use it for short hikes and rides, but are mountain bikes good enough for long-distance travel or riding? 
Of course, mountain bikes are a great option for long rides in off-road areas. Fortunately, this is no surprise due to its durability, firm grip, and outstanding functioning capacity. In addition, mountain bikes are lightweight, allowing you to have a stress-free ride as you navigate your way during long rides. 
If Mountain Bikes can withstand rocky roads and mountain trains, then long travels won't hurt that much. 
This article gives in-depth information on the reliability of using mountain bikes for long travels. 
Also, it carefully outlines the advantages and disadvantages of using an MTB for long travel and the best mountain bike for long rides. 
Are Mountain Bikes Suitable For Long Distance Travels?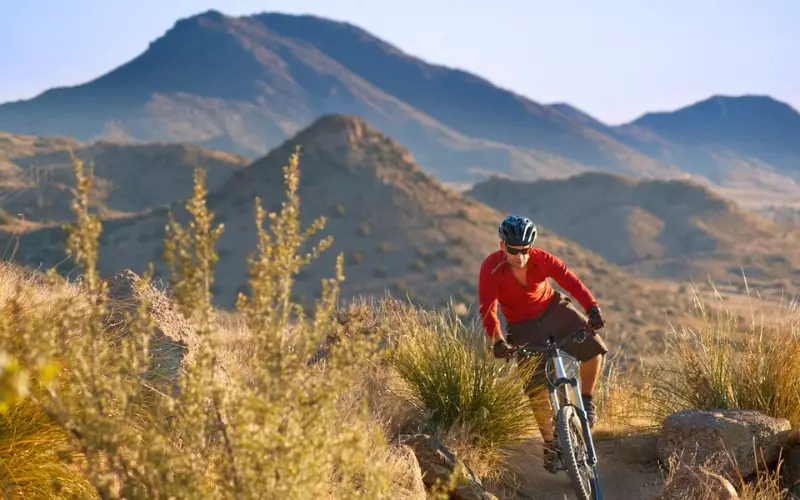 When choosing a suitable bike for long-distance travel, factors such as tire capacity, durability, and sturdiness all work together in the choosing process. 
Mountain Bikes will normally make it to the list if you create one since it fits most of the necessary criteria. 
Regardless of the numerous advantages of using it for long travels, there are also some disadvantages which I will outline in this article. 
So, without further ado, let's delve in. 
Pros Of Using Mountain Bikes For Long Travels 
Mountain Bikes can be many things for hikers and riders, but most importantly, you can use them on any road path. 
They are highly durable and diversified in their functions on rocky, unpaved paths and mountain trails. 
Some other advantages that come with using mountain bikes for long-distance travel include the following; 
#1. They Are a Perfect Choice For Unpaved Roads 
If you plan to ride through dirt roads, trails, or rocky paths, you might want to use a mountain bike. Mountain Bikes provide you with the perfect opportunity for exploration when riding. 
No need for boring stops and ceaseless rides on unpaved roads, unlike road bikes that may require you to stop, walk and push your bike for a while before you resume riding. 
Mountain Bikes are also perfect for unpaved roads because they come with knobby tires that have an excellent grip and absorb shock. 
For elevated areas, mountain bikes have rear and frontal suspension capable of holding you up the elevation. 
#2. Mountain Bikes Are Lightweight 
Due to the light weighted needs of mountain bikes, they accelerate easily on rocky and unpaved roads. 
They can also climb trails much faster, such that you don't wear out after one ride, which means they reduce fatigue. 
#3. Mountain Bikes Help You Exercise Your Whole Body 
Generally, all bikes help in body exercises, but it's different from mountain bikes.
When riding one, you use all your body parts – hands, legs, waist, muscles, and head to get yourself going as you ride. 
Every twist and turn on the road and terrains helps you to carefully massage your body. 
While this may be an unintended advantage, you can capitalize on this to make your daily workout schedule easier. 
#4. Mountain Biking Serves As a Stress Deflator 
Just like walking helps in reducing stress, hiking does a better job. 
Especially mountain hiking, which gives you a breath of freshness and gives you a clear head with all that green surrounding you as you ride in the open field. 
Cons Of Using Mountain Bikes For Long Travels 
Mountain Bikes have been made for heavy use on dirt trails and unpaved and rocky paths. However, you may get uncomfortable using an MTB on a smooth road for a long ride. 
Aside from these, they are other disadvantages that come with using your mountain bike for long travels, which include; 
#1. Mountain Bikes Move Slower On a Pavement 
Mountain Bikes have knobby tires best used on hard and rocky roads. The tires are difficult to control when you ride on pavement and even get stuck. 
Using mountain bikes on pavement will make your ride slow and unbearable. The excellent grip feature on the mountain bike is meant for off-road. 
Any attempt to use it for long pavement travels will cause great difficulty when paddling. 
Amongst other things, using your MTB on pavement can also result in severe body pains, and injuries and even cause damage to your bike. 
#2. Mountain Bikes Come With Hard And Sturdy Seats 
Your comfort and conveniences should rank on your priority list when going for long hikes or travels. Mountain Bikes, on the other hand, do not guarantee that. 
Mountain Bikes come with hard and sturdy seats that often leave the owner no choice but to create an improvisation for themselves. 
You may wear heavily padded pants or use cushions on your bike during long travels to enhance your comfort level. 
#3. Mountain Bikes Are Time Consumers 
Riders who prefer short and fast rides are likely not to enjoy long rides on mountain bikes, especially because you will need to navigate through uneven paths and mountain trails. 
#4. Mountain Biking Is Expensive To Manage 
Mountain Bikes cost at least $1000 per bike. While this may seem reasonable for some people, others find it expensive. Additionally, mountain bikes require a lot of money for repair. 
Here is a table showing the pros and cons:
| Pros | Cons |
| --- | --- |
| Mountain Bikes are a perfect choice for unpaved roads  | Mountain Bikes move slower on a pavement  |
| They are lightweight  | They come with hard and sturdy seats that cause discomfort during long travels  |
| It enhances general body exercises  | It is a road time consumer  |
| Mountain biking serves as a stress deflator | Mountain biking is expensive to manage  |
Which Type Of Mountain Bike Is Best For Long Distances? 
Mountain Bikes offer good long-travel advantages. They are fast, durable, and have an outstanding comfort level.
Here is a list of the best mountain bikes for long travel:
Specialized S- work epic hardtail
Trek fuel EX
Giant Stance 292
Specialized Turbo Levo comp
Ibis ripmo V2XT 
Can I Ride 100 Miles On A Mountain Bike? 
Of course, you can ride 100 miles on your mountain bike. Even though a 100- mile distance seems tedious and a little over the edge, you can achieve it. 
However, you must be able to train at least eight hours every week and run at least 25 miles at a stretch.
If you do this consecutively for one month under the appropriate training, you should start going on long rides in no time. 
The first step you will need to take in achieving a 100- mile distance is to keep your body in shape. Additionally, you will require a dedicated workout routine to help you achieve this. 
On the other hand, cycling 100 miles on a mountain range is more demanding and tedious than a normal cycle on flat terrain. 
Aside from the type of terrain you are riding on, you need to consider other external factors. 
Such as weather or temperature, to help you ascertain how easily you can achieve a 100 -mile cycle or if it is impossible. 
Additionally, you will require weekly routines, including rest days, workouts, cutting down on your diet, and increasing your ride hours. 
If you want to go the extra mile, then be sure you explore all the possibilities and necessary options needed for you to achieve a 100-mile ride on your bike.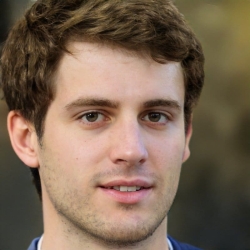 Latest posts by Josh Matthews
(see all)