Can You Use HTV On Camping Chairs? (Read This First)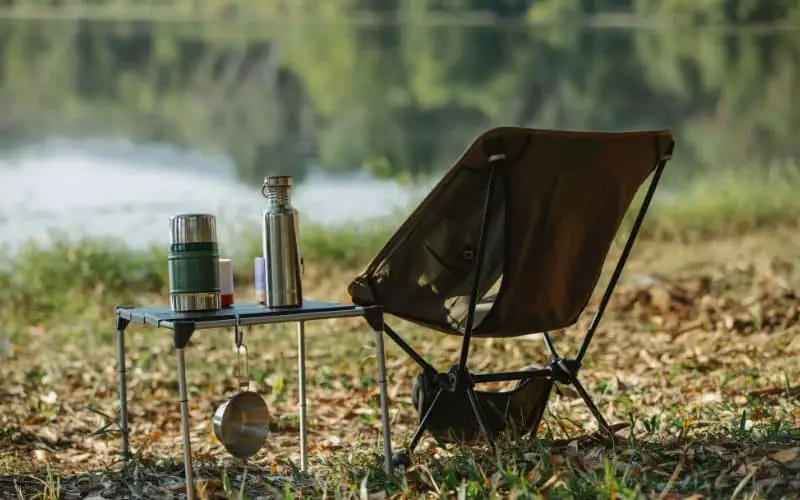 Heat Transfer Vinyl is a polymer for decorating fabrics and clothing materials. People also use HTV to customize various indoor and outdoor objects.
A camping chair is indispensable for relaxation while camping; if you are artistic and like customizing things, you may consider decorating your camping chair with HTV.
However, you may be unsure of what to expect. Don't worry; you'll find out soon.
You can use Heat Transfer Vinyl to customize and decorate your camping chair. HTV stickers and decorations are good and inexpensive for beautifying your camping chair. Although HTV can enable you to add words and custom designs to your camping chair, factors like the type of chair and its material may affect your ability to apply HTV.
In this article, I will tell you the materials used to make camping chairs. I'll also explain how you can apply HTV on Camping Chairs without much stress. 
Can I use HTV on a Camping Chair?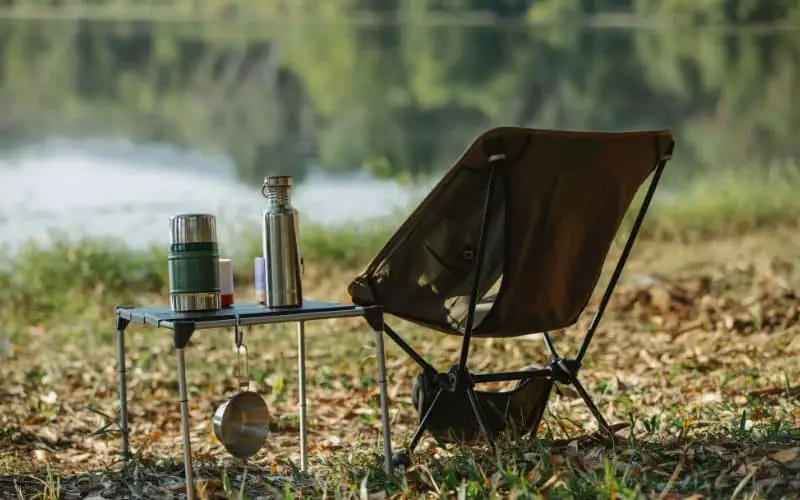 Yes, you can use HTV to customize some camping chairs. 
HTV can stick to about any surface, granted the surface can withstand the heat required to install it, but not all camping chairs can tolerate so much heat.
So, here are factors to help you determine whether or not you can install HTV on your camping chair. 
#1. Chair Fabric/ Material 
Materials like light nylon and plastic have low ignition and melting temperatures, so you cannot install HTV. 
If you wish to install HTV on your camping chair, you must ensure it can withstand 150-310° F without deformation.
If it can't, you can use customized adhesive stickers as an alternative for decorating your camping chair. Adhesive stickers don't require heat treatment, unlike HTV.
#2. Cost
The cost of installing HTV might prevent you from carrying on with the installation. If you plan to decorate your camping chair, you will need to purchase some costly tools.
I'll advise that you gauge the overall cost before carrying on with your decorative plans.
#3. Skill Level 
If you don't have any previous experience installing HTV on fabric, you might not be able to install HTV on your camping chair.
In this instance, you could search for installation tutorials or contact a professional for help.
How to Decorate a Camping Chair with HTV?
You can decorate your camping chair with Heat Treatment Vinyl using a vinyl cutter, a heat press, and HTV rolls. 
If you are on a budget, you can install HTV with simple household materials like an electric iron, a cardboard cutout, and a precision blade.
Below are the steps for installing HTV on your camping chair.
#1. Choose your Preferred HTV
HTV comes in different colors with varying amounts of thickness and material properties.
Rigid and inelastic chairs require strong and thick HTV, while meshy and elastic camping fabric requires thinner and elastic HTV.
There are also special types of HTVs with unique properties that you can purchase.
They include:
Glitter HTV
3D HTV
Glow in the dark HTV
Multi-colored HTV 
So, it is up to you to choose what type of HTV will work best on the surface of your camping chair.
You should note that their prices vary, so you can choose whichever you find suitable and affordable.
#2. Purchase the Required Equipment
Though you can mark and cut vinyl by hand, it won't be accurate and suitable for mass production. 
So, you need to purchase certain equipment when decorating your camping chair with HTV.
Here are equipment for designing, cutting, and pressing vinyl on your camping chair.
Personal Computer 
Vinyl Cutter 
Heat press 
#1. Personal Computer 
A personal computer is needed to design and upload .cut files to the vinyl cutter. You can use a desktop or laptop computer, but a portable laptop computer works best.
The files that vinyl cutters accept are called .cut files. You can make/export .cut files with Adobe and Corel Draw.
#2. Vinyl Cutter 
A vinyl cutter is a machine that cuts out shapes on HTV sheets. There are two types of vinyl cutters; automatic and manual cutters.
Automatic cutters resemble tabletop printers and only need software input (.cut file).
You need to upload the .cut file to the cutter, which will automatically cut the vinyl according to the design on the file.
Manual cutters are the opposite of automatic cutters; they are cheaper and require you to cut the vinyl manually.
Click on this link to order a vinyl cutter for your project today.
#3. Heat Press
This equipment produces heat, allowing you to bond the vinyl to the fabric.
Heat presses are nonstick and can accurately control the plate's temperature to match your desired temperature.
Though you can use an electric iron to install HTV, they have a small area and lack accurate temperature regulation.
So, it's better to opt for a heat press. You can purchase a high-quality heat press for your project by following this link.
#3. Design your .cut File
Vinyl cutters can only work when you send files with the .cut extension, so you need to design yours with a PC.
Some vinyl cutters have proprietary software you can use to design and upload .cut files. However, you can use CorelDraw and Photoshop if your vinyl cutter doesn't have one.
You can download files online if you don't want to go through the hassle of drawing your .cut file.
#4. Vinyl Cutting
You can cut the vinyl after selecting the HTV, purchasing the required equipment, and designing your cut file.
To cut the vinyl.
Place your chosen HTV face-down into the cutting machine.
Turn on the cutting machine and allow it to warm up.
Load the .cut file into your PC and mirror the image.
Upload the file to the vinyl cutter and start cutting.
#5. Weeding 
Weeding is a process done after cutting that involves removing unwanted and uncut vinyl.
While weeding, apply slight pressure and use precise tools to avoid mistakenly cutting into the design areas.
You can purchase vinyl tools online to help you remove excess material accurately.
#6. Application/Heat Treatment 
The final step is the vinyl heat treatment. HTV has a temperature-activated adhesive that bonds to the fabric when hot enough.
To bond the vinyl to your camping chair:
Unscrew the backrest fabric/ seat from the frame and pre-heat it with the heat press.
Place and center the fabric on the heat press and straighten any creases.
Place the cut/weeded vinyl on the shirt and wrap it with a Teflon sheet.
Close the heat press and turn on the machine, setting it to the recommended temperature and time (varies according to manufacturer).
When the time has elapsed, carefully raise the heat plate and peel off the Teflon sheet.
Install the fabric back on your camping chair and admire your finished work.
What Material Are Camping Chairs Made of?
Materials used to make camping chairs are stainless steel, wood, iron, plastic, and aluminum alloy.
Manufacturers use different materials for camping chair construction due to their unique properties. 
Camping Chairs are composed of two different sections, which are the frame and backrest. The frames are sturdy and lightweight, while the seat uses polyester or padded foam.
Below are the frequently used materials for making camping chair frames and fabric.
#1. Chair Frame
Camping Chairs require a strong and sturdy frame that is light but still strong enough to support the weight of a full-grown adult.
Cheap camping chairs use plastic or heavy steel rods, while more expensive chairs are composed of aluminum alloys or hand-crafted beech wood.
Below are the materials camping chair frames are made from.
Plastic
Iron
Aluminum Alloy
Stainless steel
Wood
#2. Chair Fabric
Camping Chairs normally use backrests and seats made of different materials from the frame.
Here is a list of the materials camping chairs, backrests, and seats are made of.
Polyester
Nylon 
Wood
Steel
Plastic
Padded foam
The table below highlights the prominent features of materials used to make camping chairs.
| Chair Material  | Features |
| --- | --- |
| Plastic and aluminum alloy  | These materials are lightweight. |
| Polyester mesh and padded foam | They're soft and comfortable.  |
| Stainless steel and iron frame | They are durable and long-lasting. |
| Plastic and polyester mesh | These are portable. |
| Wooden and plastic frames | They are inexpensive to procure. |
What is the Best Material for Camping Chairs?
The best material for camping chairs is polyester mesh fabric. It is lightweight, durable, and weather resistant.
If you plan on purchasing camping chairs, go for those made with polyester mesh. Polyester is breathable and tough, and it doesn't require maintenance.
High-end camping chairs are mostly made of polyester fabric paired with an iron or aluminum alloy frame. 
Polyester camping chairs are the best. Although other camping chairs may not be as good as polyester, they also have their perks.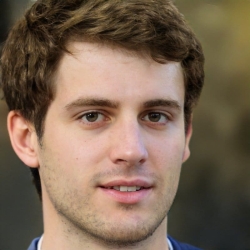 Latest posts by Josh Matthews
(see all)