Chainring Bolts Torque! (Things You Should Know)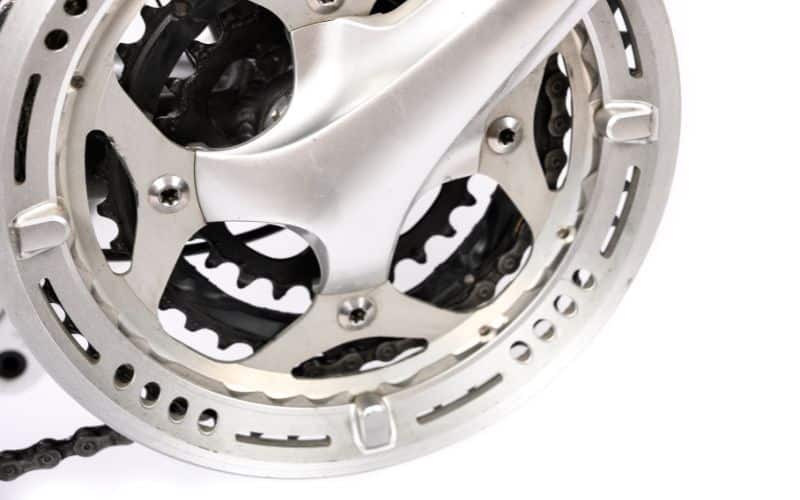 Have you ever gone cycling and then, at some point, experienced poor shifting, increased drivetrain damage, and noticed your bike chains skipped and dropped?
If you have, that resulted from loose chainrings due to untightened bolts hence why bike chainrings have a stipulated bolt torque to ensure the chains are in place.
Many brands have a set torque limit for their cranksets, but how does this work?
Chainring bolt torque refers to the tightening specification for the bolts attached to your crankset to keep them situated appropriately. If you go above them, the chainrings will be too tight & cause problems, and if you don't follow through, you'll experience sagged chains due to loose cracking bolts, which could cause accidents.
What is the Required Torque for a Chainring Bolt?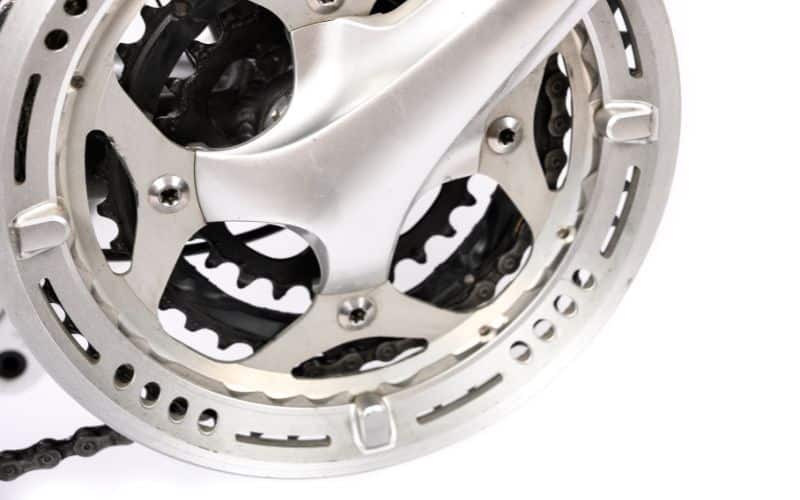 The table below displays the required torque specification for chainring bolts and cranksets.
| Chainrings/Cranksets | Torque Specifications |
| --- | --- |
| Chain ring bolts in steel form | 106-124 in/lbs and 12-14 Newton meter |
| Chainring bolts in aluminum option | 71-79 in/lbs and 8-9 Newton meter |
| Sport cranks with one-piece M8 tightening bolt | 336-372 in/lbs and 38-42 Newton meter |
| Big Earl cranks featuring a one-piece M12 crank chainring tightening bolt | 384-420 in/lbs and 43.4-47.4 Newton meter torque |
| Race X ATB rankings featuring single M15 torque tightening bolts | 384-480in/lbs and 42.4-47.4 torque in Newton meter |
| Race triple X Lite road chainring | 600 in/lbs and 67.5 torque in Newton meter |
| Bontrager cranksets featuring M15 tightening bolts | 420-480 in/lbs and torque specification of 47.5-54.2 in Newton meter |
The table above shows the torque specs for each chainring; you'll notice that they all differ.
This means it isn't reasonable to interchange them or even go below or above your chainring's tightening stipulation. 
These tightening instructions for your bicycle's crankset ensure that all forces applied to that area are in appropriate amounts.
If the bolt's tightening is low, a part of your crankset will slip; if it's high, your bike's chain will fail.
In both cases, you're not exempt from significant harm due to a bike crash or accident.
How Tight Should Chainring Bolt be?
The tightening limit for a chainring bolt depends on your bike's brand. Some bike chainring brands include Shimano, SRAM, Campagnolo, Race Face, etc.
However, aside from the chainring's tightening specs, you should follow the appropriate torque pattern to ensure an even load allocation over all areas. 
If you decided against this tightening pattern and chose to fasten the bolts each after the other, there is a high chance the parts will sit unsuitably, resulting in uneven pressure.
For Campagnolo's chainring bolt tightening, you should use 8 Nm and 71 in/lbs.
Race Face chainring bolt (steel) tightening requires 11.3 Nm and 100 in/lbs.
Truvativ (steel) chainring tightening requires 12.1-14 Nm and 107-124 in/lbs.
Truvativ (aluminum) chainring bolt tightening requires 8.1-9 Nm and 72-80 in/lbs.
Many chainrings use the 5-bolt technique, so you must follow this pattern if that is what your bike's chainring bolts demands.
In conclusion, your chainring bolt should be as tight as the manufacturer has recommended. 
Chainring bolts differ due to their chainset structure, so it is unlikely for different chainring bolts to follow a similar torque.
However, the one thing these bolts have in common is that they shouldn't be tighter than required. 
If it's very taut, you'll feel uncomfortable while cycling, and the noise from the binding in the drivetrain is an inconvenience.
On the other hand, if the bolts are loose, the chainrings will noticeably sag and drop.
If your bicycle has a derailleur, the chainring will droop when the drivetrain uses the small-small gear mixture.
Also, a tight chain is unlikely to move to the big-big gear mixture, although not appropriable for cycling.
The benefit of appropriately sized chainrings is that they perfectly fit and can switch between different gear combinations without any issues.
The derailleurs on the bike's back have two advantages: it allows easy shifting over the bike's freewheel system and helps tension the chain as the amount of wrapped chain surrounding the gear alters as you move.
Torque Specification for Shimano Chainring Bolts
Shimano chainring steel bolts have 7.9-10.7 Nm and 70-95 in/lbs, and its aluminum option has a torque spec of 5-10 Nm and 44-88 in/lbs in their torque specification, respectively.
The recommended torque specs for Shimano steel and aluminum differ but are similar to other Shimano bike chains of exact options.
Hence, swapping the bolt torque for Shimano with another brand isn't advisable. 
The reason is that the manufacturers consider factors such as each bolt's make, model, and year before allocating a tightening limit.
This makes these bike chains' bolts unique, so always check to confirm you're using the proper instruction and ask for professional assistance if you're not sure. 
Generally, torque means the amount of rotary power at any implementation point.
When attaching bolts to help keep the Shimano chainrings in place, the torque specification, in this case, refers to the recommended force needed to ensure sound installation.
It is necessary to follow the exact torque limit, and the reasons are listed below.
Overtightening can extend the bolts and components to the bicycle's wheel attached, and this expansion strains the bike's components up to breaking during installation or while riding. If this happens while riding, you already know the dire consequences.
Excessive torque can harm brake rotors. This causes vibration and shaking during b rake application resulting in loss of control during cycling.
Additionally, little torque has its disadvantages. It puts you at risk of wobbly bike wheels that can loosen during motion or chainrings that drops while cycling. 
Chainring Bolt Torque for Mountain Bikes
Shimano's generation application guide states that a mountain bike's chainring torque specification is 14-16 Nm for large & center rings and 16-17 Nm for the most little ring.
On the other hand, SRAM recommends a torque spec of 54 Nm for its new crankset chainrings. 
This could pose some challenges to individuals who have regular torque wrenches.
This conventional wrench might not work well since you need a higher torque. Hence, you need to buy the park tool torque wrench.
Tips to Use a Torque Wrench
Torque wrenches come in different socket drives as 1/4, 3/8, or 1/2 and could be in hex keys or bottom bracket sockets. Whichever standard it comes in, you can rest assured there are specialty tools you can connect to your wrench for effective operations.
You must set the proper torque setting on the wrench, and if you're a newbie, use a torque spec 20% lower than your intended specification. This setting will help you become accustomed to how a wrench works and prepare you for the final torque wrench setting.
If you're working with several fasteners on a similar area, ensure to apply a precise torque over the different bolts. Don't forget to start low before increasing the torque.
After using your torque wrench, don't forget to return the setting to zero to help your wrench register settings correctly for extended periods.
Conclusion
Bicycle chainrings send pedaling energy through the chains to move the bike. Issues will arise during cycling & affect your bike components when your bicycle has loose or overtight chainrings.
This is why chainrings have torque specifications for each brand, and you shouldn't compromise the recommended torque limit.
Instead, adhere to these specifications to avoid damaging your bike and harming yourself.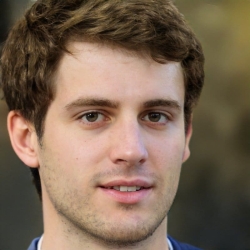 Latest posts by Josh Matthews
(see all)