Does Camping World Have Dump Stations? (Read This First)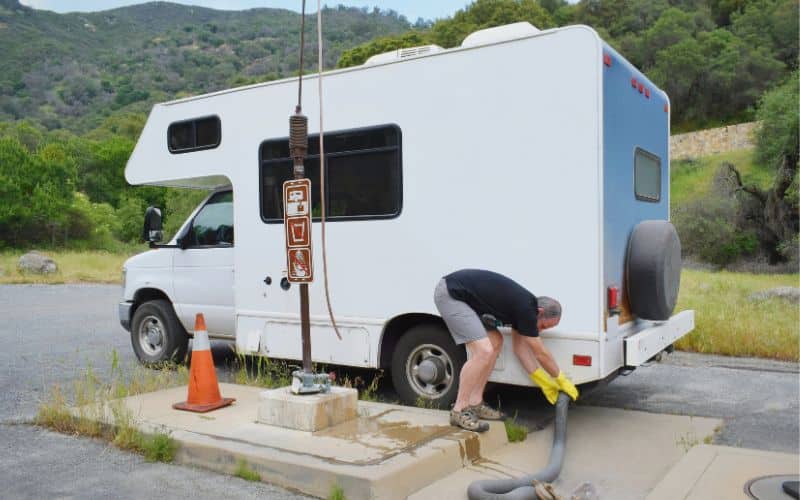 As a camping enthusiast looking for a convenient way to dispose of your waste while on the road, you may wonder where to do it. 
You might also be planning a camping trip and need to know if you can find dump stations at Camping World. 
Properly disposing of waste will relieve you, and your RV can be free of waste, which can pose a health risk if left undisposed. So does Camping World allow you to dispose of waste?
Yes, you have access to the dump stations at Camping World at their retail locations over the country. You might have to pay a fee to use Camping World's free dump, but this black tank facility is free with a good Sam membership. So if you want to dispose of your RV waste, you can do that at Camping World.
In this article, we'll look into disposing of waste from your RVs at Camping World and the cost of using it. We'll look at where to do it for free and alternatives to Camping World dump station.
By the end, you'll know where to dispose of your RV waste, the cost implication, and alternatives to using Camping World dump facility.
Do All Camping World Retail Locations Have Dump Stations?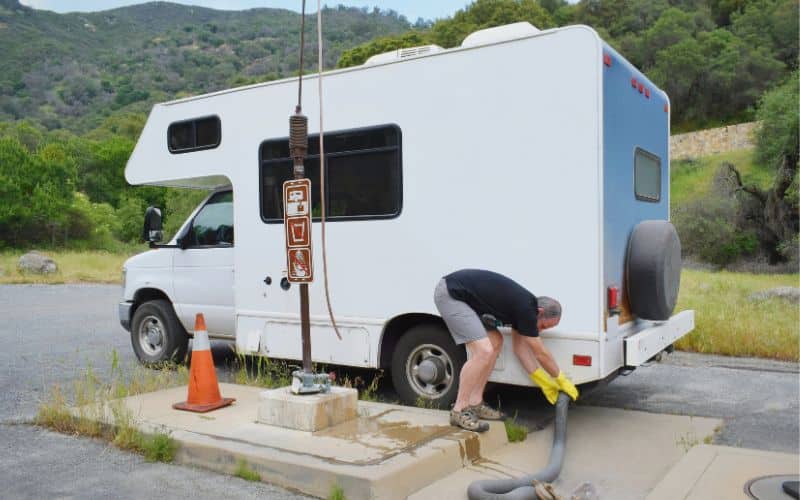 Not all Camping World retail locations have dump stations available for use. 
While many Camping World stores offer dump stations for RV waste disposal, every store is not guaranteed to have this amenity. 
The availability of dump stations may vary depending on the size and location of the store. 
If this amenity is available, traveling across the country, you can count on Camping World to provide a convenient solution for disposing of your waste. 
Having a dump station at almost every location is one of the many ways that Camping World caters to campers' and RV enthusiasts' needs.
As of June 27, 2023, 208 Camping World dealers are available in the United States. 
You can find information about the availability of dump stations at specific Camping World locations by visiting their website or contacting the store directly.
When you arrive at a Camping World retail location, look for the designated area for dump stations. 
You'll find the necessary facilities and equipment to safely and efficiently empty your waste tanks there. 
The dump stations are well-maintained and regularly cleaned to ensure all users' pleasant and hygienic experiences. 
As convenient as it is using Camping World's dump station. It has its pros and cons.
The table below shows some of the pros and cons of dump stations in Camping World:
| Pros | Cons |
| --- | --- |
| They are a convenient stop for RV users. | You must pay a fee to use the dump station without a Good Sam membership.  |
| Their dump station facilities are well-maintained and clean. | They are not available in all locations. |
| You can easily access amenities other than the dump station. | Some Camping Worlds do not have dump stations for your RV. |
| | Their business hour might be inconvenient when you want to use the dump station. |
So, with your RVs, you can rely on Camping World with a dump station to provide the convenience and amenities for an enjoyable outdoor experience.
When using a dump station, it is important to follow proper procedures and guidelines for waste disposal. 
Always be mindful of any rules or regulations in place, and dispose of waste responsibly to protect the environment and maintain cleanliness.
How Much Does It Cost to Use the Camping World Dump Station?
One of the great things about Camping World dump stations is that they are usually available for free! That's right; you can empty your waste tanks without spending a dime. 
That is especially convenient for RV owners who are constantly on the go and don't want to pay additional fees for waste disposal.
However, Good Sam membership can provide free Camping World dump station access. You can also check which Camping World retail location you can use for free with your membership.
However, it is important to note that not all Camping World dump stations are free. Some locations may charge a small fee for usage. 
The cost can vary depending on the store and its policies. 
Check with the specific Camping World store you plan to visit to find out if there are any charges associated with using their dump station.
While you can have a free dump station at Camping World, other places where you can dump your RV waste for free are available. 
Many campsites, RV parks, and truck stops offer dump stations open to the public at no cost. 
So if you can't find a Camping World store with a free dump station nearby, don't worry! There are alternative options available.
Where Can I Dump My RV Waste for Free?
There are other places where you can dump your RV waste for free. Many campsites, RV parks, and truck stops offer dump stations open to the public at no cost. 
These locations are often conveniently located along popular travel routes and can be a great option for RV owners on the go.
Here are some options for a free RV dumping station:
#1. Rest Areas
There are free dump stations in rest areas in different states. You can get the rest areas' location in each state by visiting the DOT website to know which offers dump stations.
You can then know which is convenient to stop along your trip.
#2. Fuel Station
You can also dump your RV waste in a fuel station for free and purchase fuel. You can locate these fuel stations by using your RV finder's app.
#3. Your Home
If you are to dispose of your RV waste in your home, you don't need to pay the fee to use your facility. You can dispose of your waste in your septic sewer in your home at no cost.
#4. City Parks
Some city parks also have dump stations to dump your RV waste.
#5. Military Campground
This dumping station is not free to the public but to military personnel. Both retired and active personnel can use this amenity.
#6. Oak Hills RV Village
This amenity is not free to all but is free if you are a registered user. 
#7. Municipal Facilities
With municipal facilities, you can dump your RV waste for free.
Some national parks, recreation areas, and forest campgrounds may also have free dump stations. 
It's always a good idea to research beforehand to find out which nearby locations offer free dump stations. 
Checking online resources, forums, or RV apps can provide valuable information and recommendations from other RVers who have used these facilities. 
Remember always to follow proper waste disposal guidelines and clean the dump station area for the next user. Happy travels!
How to Dump a Portable RV Waste Tank?
If you have a portable RV waste tank, here's a step-by-step guide on properly dumping it. 
First, park your portable RV waste tank at a designated dumping station or an appropriate area where waste disposal is allowed. 
Put on some gloves to protect yourself from any mess. Then, attach a sewer hose securely to the RV waste outlet and the dump station's inlet. 
Make sure the connections are tight to avoid any leaks. Once you set everything up, slowly open the waste tank valve to start the flow. 
Let the tank empty completely, being patient as it may take some time. After ensuring the tank is clean, close the valve and rinse it with clean water using a hose or a tank rinser. 
Finally, disconnect the sewer hose, rinse it thoroughly, and stow it away in a sanitary manner. 
Remember to wash your hands thoroughly afterward to maintain hygiene. Dumping your portable RV waste tank can be hassle-free if you follow these simple steps. 
In addition to the steps above, ensuring you properly maintain and clean your waste tank regularly is important. 
Neglecting your RV's waste system can lead to unpleasant odors, clogs, and even damage to your tank.
Also, check if you can dispose of your waste there and if you follow local laws and regulations to avoid fines or legal issues.
If you're unsure how to dump your waste tank properly or need further assistance, don't hesitate to ask a professional or fellow camper for help.
7 Alternatives to Camping World Dump Stations
Several alternatives are available for dumping your RV waste; some are free, and others aren't.
Some dump stations are free to RV users with membership, but guests must pay for that access.
Here are seven alternatives to camping world dump stations:
#1. Campsites
One option is to look for nearby campsites or RV parks that offer dump stations open to the public. 
These facilities are often conveniently located along popular travel routes and can provide a clean and reliable option for waste disposal. 
#2. Truck Stops
Another alternative is to check out truck stops, as many of them have dump stations available for use by RV owners.
#3. Private RV Parks
The privately owned RV parks are available in different states. 
However, these park dumps are usually available to registered users, or you pay a fee to use their dump station as a guest.
#4. RV Dump Stations
There are dump stations available for RV users. However, some stations are only available to registered users, while some allow guests to use this facility for a set price.
There are many RV dump stations in California if you're passing through this route and need to use the dump station.
#5. Sporting Goods Stores
RV dump stations are available in stores like Cabela and Dick's Sporting Goods. You can use their dumping facility for a fee or free if you have their coupon code.
#6. Recycling Centers
Some recycling centers have dump stations. However, you need to confirm if your local recycling center does so that you can use them instead of Camping World.
#7. Pilot Flying J
This travel center is another alternative to Camping World; you can use their dump station for a fee.
While Camping World is a great resource for RVers, plenty of alternative options are available for dumping waste. 
Whether you use free public dump stations or pay for access to a private dump station, there are solutions to fit any need and budget.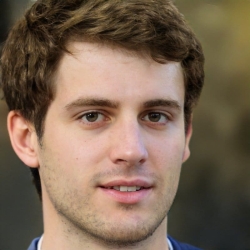 Latest posts by Josh Matthews
(see all)