Rust On Bike Forks (Everything You Should Know)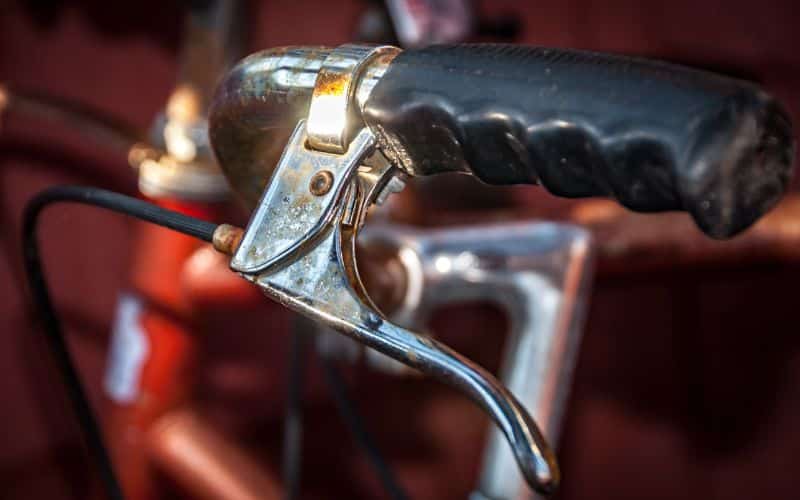 Rust on any metal part of your mountain bike can ruin its overall performance and lifespan. If left untreated, the rusted mountain bike fork gets worse until it is damaged beyond repair.
A bike is easily one of its owner's proud possessions they'd want to protect at all costs. 
Also, no proud bike owner would let some rust ruin the appearance of their fancy bikes. So, how can rust be eliminated from bike forks?
Steel wool used with rust spray will work magic on a rusted bike fork. A Scotchbrite pad can be used in place of some steel wool. If you're going to use steel wool, avoid the coarse types. They might damage the forks and ruin the painting too. But, with consistency and generous applications, your mountain bike fork will be back in shape in no time.
How Do I Get Rust Off Bike Forks?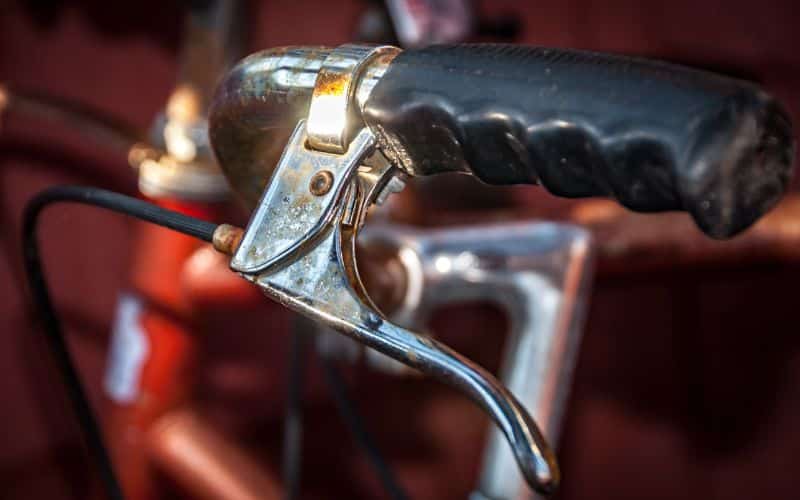 Rusted bike forks can either be replaced or salvaged. Unfortunately, the former is a more expensive option.
Therefore, bike owners are often curious about forms of experimentation to save their bikes.
As soon as small rust spots appear on your fork, you can either take it to your mechanic shop or park it at home and do the work yourself.
Trying to work it yourself would save you some costs, and if you're careful enough, you will get it done right. So it's worth a shot.
Lucky for us all, rust on mountain bikes can be eliminated with easy procedures using some household materials. 
#1. Use Baking Soda
Baking soda is a tried and true means to remove rust on bikes. Not just your forks, it works on your bike's metal parts. 
You could make the soda into a thick paste before applying or douse the fork in water before sprinkling some soda over it.
Pasting is preferable because it has better coverage. You could form the paste with soda and water in equal amounts. For some flair, add some hydrogen peroxide.
Whichever method you choose, ensure that all the affected areas of the fork are duly covered in paste. Leave this paste for about an hour before scrubbing it off with sandpaper.
After scrubbing, rinse and towel-dry. There, your fork is back in shape.
#2. Try White vinegar
You've got to try out the vinegar; the magic it works is quite impressive. The only drawback is that it is not as fast as baking soda.
Vinegar, mixed with salt, will need one to three days to eat into the rust effectively. Regardless, the result is worth the wait.  
White vinegar is ideal for stubborn rust because its primary component is acetic acid. And acetic acid is a significant threat to their rusts. 
You may need to dismantle the forks from your bikes to soak them in vinegar. Then, it's safe to check the progress level each day.
Often, the rust would be disarmed within 24 hours, especially if they were breaking out.
#3. Get Some WD-40
WD-40 is not exactly a household material. But, it is easily acquired, and, having been in the market for over 60 years, it has become a multipurpose home chemical.
Some may argue that you should not use WD-40 on mountain bike forks, but it's quite an effective rust remover.
However, you must be cautious while you use it. Excessive use can cause further damage to your bike forks.
WD-40 can be used as a preventive chemical and resuscitating chemical, which can be used to prevent rust and remove rust. 
The great part of using a WD-40 spray is that you would not need additional scrubbing, regardless of the level of trust.
All you have to do is spray, leave on, then rinse and dry the forks. It's that easy.
How Do You Remove Rust From A Chrome Fork?
Removing rust from chrome forks is just as easy. It takes less time to get rid of rust than it does for rust to generate.
Thankfully, most chrome fork rusts are only surface rust. But, unfortunately, this means your chrome fork won't be rusty and old-looking for long, not if you can help.
So, how can you help it?
#1. Scrubbing
Before the scrubbing commences, the chrome forks need to be washed. Water has a miniature calming effect on the rust. Plus, lubrication encourages friction.
Scrubbing the chrome fork with steel wool is effective but requires effort. Not many people opt for this method because you'll be scrubbing for days to remove rust on the bike completely.
In some cases, after much scrubbing, you eventually realize that the rust has passed the revamping level.
Nonetheless, steel wool is cheap, so it's worth a shot. Always opt for a soft texture, especially the 0000; else, scratches on the chrome fork will be the aftermath of your battle with rust.
#2. Coating 
Coating the chrome forks can only be done with baking soda. This is because only baking soda can form a paste, which must be thick enough to hold.
If possible, use more soda than water to form the paste.
Apply the paste generously. There's no stated limit to how much soda you can use on a chrome fork. You can remove the paste using a sponge, scrubber, or even toothbrushes.
The coating is preferable for small rust spots because you can control the coverage.
#3. Soaking 
For soaking the chrome fork, it is best to use white vinegar. You can attempt to soak in WD-40, but you risk overuse.
Plus, you'll need to buy several bottles of WD-40 to soak the chrome fork finely. So always opt for white vinegar instead of the regular deal.
#4. Spraying 
Spraying the chrome forks is easier because it would not require dismantling. Spraying is also ideal for small rust spots. 
You can easily acquire any spray to be used for this purpose. Fill the can with vinegar and salt or some WD-40 if you can.
For some flair, you can add some cat litter into the can. The silica in the cat litter will aid your rust removal. 
One thing is common in all these methods: if the rust is too stubborn, you may need to increase the application rate.
If you're using soda, you'll need to increase the amount of paste used and scrub harder if you use sandpaper.
If spraying, you can easily inc as the concentration for more effect. Spray till the rust disappears completely.
Fork Rust Removal Tips
Always wear gloves. Since you'll be dealing with chemicals, protecting your skin is best. Keep your hands covered with gloves at all times during the application. If your skin comes in contact with corrosive chemicals, rinse off quickly and seek medical attention if you can.
Sandpaper is the aftercare care. Regardless of whichever means of rust eradication, you can still use sandpaper for a final smooth finish. After the sandpaper scrubbing, you can give it a final rinse before leaving it out to dry.
Only replace it when you can't repair it. Trying to revamp your rusted mountain bike forks can be a fun activity but also a waste of time. If your bike forks are too far gone, you can save yourself the stress and buy a new chrome fork. 
Wrapping Up
Rusts appearing on your mountain bike fares are almost unavoidable. However, you can return your fancy mountain bikes to their original appearances with any of the above methods.
You may combine more than one of these methods for better effects. Just be careful with the concentration so you don't cause further damage to the forks.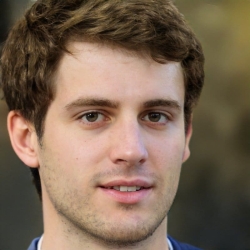 Latest posts by Josh Matthews
(see all)