Shirtless Hiking? (Should You Do It? Tips & More)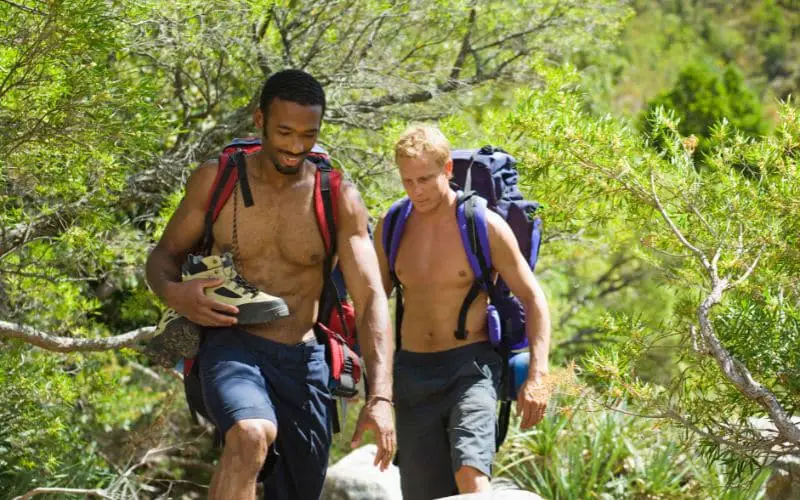 Hiking is a superb body workout and exercise; for many hikers, it is a fun-filled hobby.
Yet, one question remains unanswered in the minds of many. Should you go hiking shirtless? This question has plagued the minds of many hikers.
That is why I've scoured the internet to bring you the answer to this question and many more.
Keep reading to find out whether or not you should hike shirtless.
You can hike shirtless if you want, provided it's not harmful to your health and is acceptable in your community. Shirtless hiking is particularly common during hot weather as it helps you stay cooler. If the risk of sunburn is low, you can hike without a shirt. Some people hike shirtless so that they can tan.
Can I Hike Without a Shirt?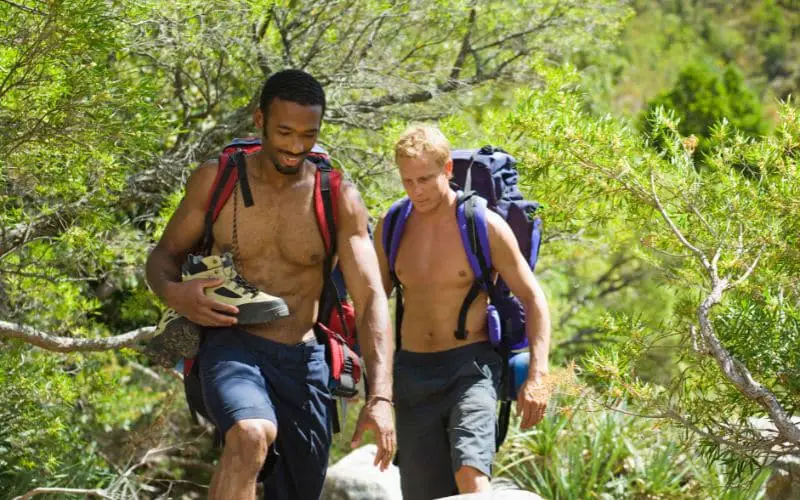 Of course, yes. You can hike without a shirt. However, if regulations in your community prohibit people from going shirtless, you may need to reconsider.
Additionally, if your area has a harsh climate, you might also want to consider hiking shirtless.
Shirtless hiking can be ideal when the weather is warm. Shirtless hiking is safe. Just remember to apply sunscreen to prevent sunburn caused by the sun.
Most people think it's perfectly normal for men to go shirtless. Unfortunately, the same can't be said for women, and the opposite is true.
Can I Hike with a Sports Bra?
If you feel you are not comfortable hiking wearing a shirt, then hiking with a sports bra is a really good choice.
So many sports bras in different sizes and styles are perfect for hiking. A sports bra is usually worn for exercise, and hiking is a good form of exercise.
All you need to do is find a good sports bra that fits you perfectly and prevents pain or discomfort.
That is because hiking won't be fun if you aren't comfortable. Do not wear underwire sports bras because the metal wires might put you at risk. 
They'll prevent enough blood flow into your heart and restrict your chest from expanding well enough to allow airflow into your lungs.
Since hiking is a low- to medium-impact sport, you should wear a compression bra because of the stretchy material that holds the breasts firmly close to the body.
It is important to wear a sports bra that will keep you comfortable, but you don't necessarily need to wear a bra if you don't feel like it.
What Can I Wear For a Hike?
There are several outfits you can put on when going for a hiking session.
Here is a list of what you can wear when you want to go hiking:
#1. Hat
Wearing a beanie or a head warmer keeps your head warm when it's cold and windy. 
Additionally, wearing a face cap or bucket hat protects your face from the sun when it's sunny.
Just like you do not forget to wear your shoes when stepping out, do not forget to wear your hat when going for a hike.
#2. Sunglasses
These are recommended when hiking because of the harmful rays from the sun and the strong wind. Wearing sunglasses when going for a hike protects your eyes from damage.
Whether it's the day, summit, or long-distance hiking, wearing a pair of sunglasses will make your hiking experience a good one.
#3. A Scarf or Neck Gaiter
Wearing a lightweight scarf or neck gaiter around your neck during the summer keeps your neck safe from sunburn.
There are thicker ones for winter, which help to add warmth to your body when the cold wind strikes.
#4. Sports Bra
They provide better comfort than the regular kinds of bras. Sports bras help you sweat less, breathe more, and are not prone to chafing.
#5. Shirt
Wearing a t-shirt, long sleeve shirt, or tank top is perfect for hiking. You can choose to wear any shirt. A cotton top is a big "no" when hiking because it absorbs water and dries slowly.
That means you will retain sweat and remain wet for a long time, and it's uncomfortable. You should wear something that can dry up fast when you sweat or get wet.
Materials like polyester, merino wool, and nylon are recommended for hiking to keep you comfortable when hiking.
#6. Sweaters
One good thing about sweaters is that they provide warmth instantly when you put them on.
A sweater can be either crocheted or knitted. A sweater is needed to keep you warm when hiking during the winter.
Sweaters are made from lightweight materials that keep you warm and comfy and do not absorb sweat.
#7. Fleece Jacket
A fleece jacket is made out of polyester and synthetic wool. It usually has a zipper in the middle.
Because it is quick-drying, it is considered perfect for hiking. It is lightweight and ensures warmth to kick out the cold.
When going on a hike, wearing a fleece jacket keeps the cold temperature from bothering you.
#8. Backpack
First of all, who goes hiking without a backpack? A backpack allows you to carry all the necessary gear for hiking.
Some of them include a compass, maps for navigation, sunscreen, a first aid kit, water bottles, snacks, fruit, and a repair kit.
Your backpack should be water resistant, and it should be able to support your back to prevent backaches.
#9. Gloves
Don't forget to carry a pair of gloves in your backpack when you want to go for a mountain hike. 
That is especially true when the weather is very cold. Just like socks provide warmth for the feet, gloves provide warmth for the hands.
#10. Leggings, Shorts, or Pants
You should wear something stretchy that won't restrict your freedom of movement. You can wear any bottom, from shorts to leggings to pants.
You can wear shorts in hot weather, leggings in mild weather, and hiking pants when the weather is cool.
#11. Socks
Socks are important for hiking because they protect your feet. That helps to prevent blisters, soreness, and athlete's foot.
Depending on the weather conditions, you can choose from thin, light socks when it's warm to thick socks when it's very cold.
The best types of socks for hiking are merino wool socks because they keep your feet warm and prevent sweating.
#12. Hiking Boots/Shoes
Your hiking footwear should provide support and balance. They should be tough and warm and should provide ankle support. 
That's because sometimes there might be rocky ground, and you wouldn't want to trip off. 
Hiking boots are a good choice when you hike on a mountain or rocky terrain. They are good for rainy and snowy weather, including dry or warm weather.
Your hiking shoes should be flexible, soft, and comfortable. Always check the weather so you know the right outfit to wear when going for a hike.
It would be best if you had the freedom to move your body comfortable when hiking.
What Color Should I Avoid During a Hike?
When going on a hike, there are some colors you should avoid. You should avoid dull colors like khaki, brown, and gray.
It is best to wear bright colors like red, blue, and yellow. Light colors like peach, green, and nude are also perfect for hiking.
Blue and green are the colors most commonly worn by hikers because they blend in with nature.
You should wear light colors when hiking in the heat and dark colors when hiking in the cold weather. You can wear any color of your choice when you want to go hiking.
However, ensure it isn't dull because dull colors are difficult to recognize compared to bright or light colors.
| Colors to Wear | Colors to Avoid |
| --- | --- |
| Bright Red | Gray |
| Neon Orange | Brown  |
| Yellow | Beige |
| Blue | White  |
Conclusion 
Hiking is an enjoyable activity that most people love. It is a great way to exercise, stay fit, and stay healthy.
Shirtless hiking is great if the weather is hot and your community doesn't frown on it, especially if you're female. Finally, don't forget to take all your hiking gear when going for a hike.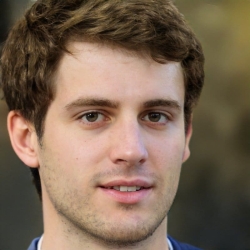 Latest posts by Josh Matthews
(see all)