Are Mountain Bike Cassettes Universal? (Read This First)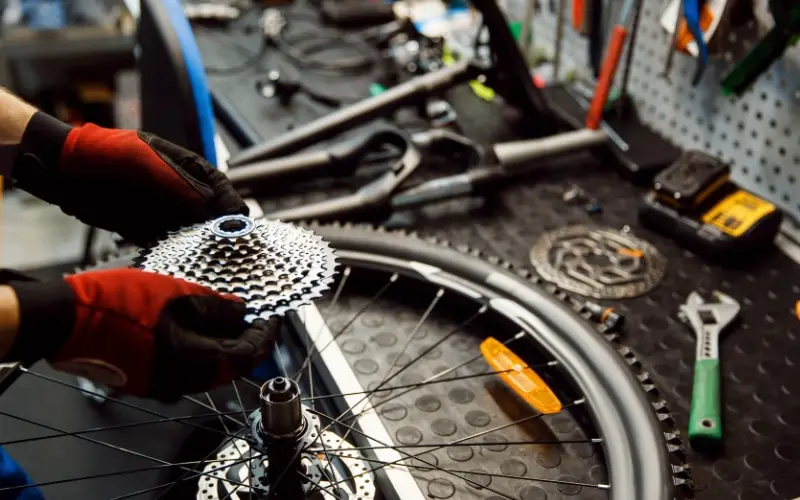 Mountain bike cassettes usually seem similar, although they have different variations and brand designs. 
The cassette in a mountain bike has a straightforward design with intricate engineering. These cassettes work, most often, specifically for an individual or group of brands.
This varying specification makes it difficult and overwhelming to pick a bike cassette for your bike specifications. 
However, though the cassette sprockets often come in varying designs and cog-fitting, some brands might have a similar cassette design or engineering.
No, mountain bike cassettes are not universal. However, some mountain bike brands have interchangeable cassettes. Old Mountain bikes had many parts, disregarding the bike brand. But recently, manufacturers have improved their cassette fitting. However, some cassette brands like SRAM have similar designs and can be interchangeable. 
In this article, I will give you the necessary information to determine if your mountain bike cassette is interchangeable with other brands. 
You will also learn how to select the right cassette for your mountain bike, install your ideal cassette, and the intricacies of changing your bike cassette.
Are All Mountain Bike Cassettes the Same?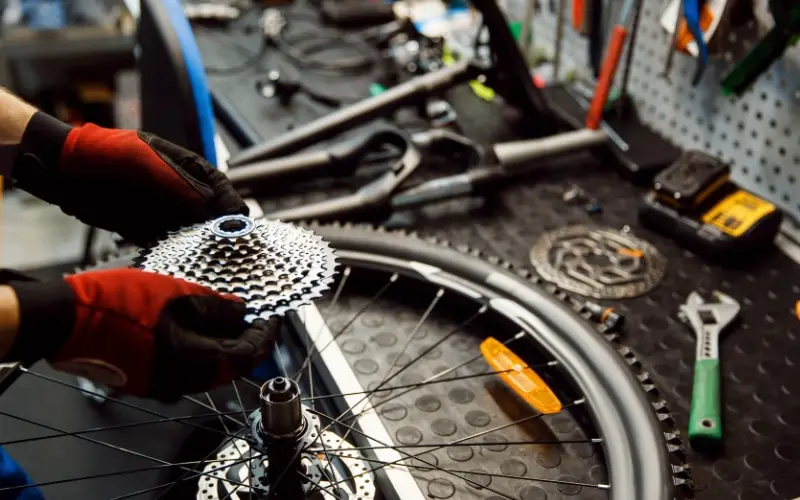 Not all mountain bike cassettes are similar. Moreover, very few Mountain bike cassettes have a similar design and lock system. 
Most bike cassettes have varying designs, depending on the bicycle's model and brand. Other brands, however, have similar features to particular models of other brand cassettes.
Before considering replacing your old MTB cassette with another from a different brand, you must confirm if the cassette is compatible with your bike brand.
To do this, you must understand the meaning of the model code of the cassette. These cassettes' serial codes are usually in formats like 16-31T.
The first digits before the hyphen represent the smallest sprocket teeth size, while the number following the hyphen represents the largest.
The variety of gears in your cassette with the total number of teeth on your bike chain ring gives your bike efficient gearing. 
Consequently, the balance between these parts allows your mountain bike to run efficiently through different tough terrains.
Moreover, the cogs work as a whole, each part in a precise position allowing smooth movement between the cogs and the chain.
These cassette teeth also have different sizes and shapes, which usually differ from other cassette designs. However, the design unique to a brand allows it to perform efficiently.
Therefore, you must ensure your cassette fits the cog system brand of your MTB bike before installing a replacement.
What Cassette Will Fit My Mountain Bike?
With the variety of cassettes in the parts market, selecting the right cassette for your MTB bike might be overwhelming. 
However, before choosing the right cassette for your bike, consider the rule of thumb for selecting the ideal cassette for your MTB. 
The rule of thumb is that if the number of teeth of the smallest cog and the largest is close, the gear variation will be smaller. This rule ensures a smooth gear change on your cog system.
However, this might mean a smaller set of teeth on the large sprocket, making you exert extra effort while riding a tough or uphill terrain.
There are different groups of sizes for varying bicycles. However, the 11-speed cassettes have similar designs among varying brands.
This assessment implies that you can easily mix an 11-speed cassette from one brand with a few other brands and get little to no issues while riding.
However, if you are an expert rider, you might notice the little difference, like the noise and shift quality, though the changes might be minimal.
Contrastly, mixing a 10-speed cassette with an 11-speed might cause noticeable issues with your mountain bike.
10-speed cassettes have a wider sprocket space than the 11-speed. Therefore, fixing a 10-speed on the spacing for an 11-speed will generate more noise while riding.
Therefore, finding a cassette to interchange with your old cassette depends on how comfortable you are with the resulting noise or shifting quality.
Moreover, the type of terrain you enjoy riding also determines the kind of cassette that fits your mountain bike. 
If you ride in hilly terrains, your ideal cog system should be larger than normal. Contrastly, if you ride more frequently on flat terrains, your ideal cog size should be smaller.
With that said, here are some factors that determine the ideal cassette size for your mountain bike;
#1. The Terrain You Ride
This factor is the most determining factor in selecting the best cassette for your MTB. As I mentioned earlier, a larger cog will be a better choice if you usually ride in hilly areas.
Your cog size should be as large as 25 or larger. However, for flatland riders, a large cog could be damaging as the gap between the cogs increases.
For a flatlander, your ideal cog size range should be between size 11- 23.
#2. Your Level of Fitness
Your fitness is another highly determining factor for cog size. If you are a beginner or not fit for riding, you should use larger cog ranges between sizes 12 and 27. 
However, if you are strong and fitted, you can easily use a smaller cog range of sizes 11 to 21.
#3. The Crankset
Most riders usually fail to consider their crankset while selecting a cassette. To ensure a smooth ride, you must install the correct combination.
For instance, if your MTB has a double 53/39 crankset, you might have a low gearing ranging from about 12 to 21. This range usually doesn't change even when riding on hilly terrain.
But if your crankset is more compact, like a 50/34, an 11- 23 cassette will be ideal for your bike.
What Are the Best Cassettes for Mountain Bikes?
The best cassette for a mountain bike fits the necessary sprocket, crankset, and bike specifications. 
There is usually a wide variety of cassettes to choose from, and selecting one that fits your bike specs can be confusing.
However, you should consider several factors before selecting the ideal cassette for your bike. However, one of the primary factors is the type of terrain you ride.
You should also consider the ratio of the bike gearing to the cassette. The ratio determines how smoothly your bike gear will perform during rides.
Here are some ideal MTB cassettes for riding a hilly terrain;
#1. SRAM PG850 8-Speed Cassette
The SRAM PG850 cassette is an ideal 8- speed cassette with precise engineering and lightweight materials.
It has smooth shift gear and is also ideal for racing, with durability that ensures long years of use. It also comes with a two-year limited warranty.
#2. Shimano HG51 8-Speed Cassette
The Shimano HG51 cassette is also a high-quality cassette. It has a close-ratio gearing, allowing the rider to use energy efficiently during rides.
It also has hyper glide sprockets to reduce the cassette weight while maintaining rigidity.
Other ideal mountain bike cassettes include;
Shimano CS-HG31 8-Speed Cassette
Shimano HG400 9 Speed MTB Cassette
Shimano XT CS-M771 10-speed MTB Cassette
Shimano Tiagra HG500 10-Speed MTB Cassette
SRAM GX XG-1150 11-Speed Cassette
Can I Change the Cassette Without Changing the Derailleur?
You can change your cassette without changing the derailleur if the space between the cassette is identical to the sprocket space. 
However, if you fit in a smaller cassette or a different size from the old cassette, you might need to change the derailleur.
Also, ensure you fit a spec-for-spec replacement regarding the speed of your cassette. For instance, you should not exchange an 8-speed cassette for a 10-speed.
Though some derailleurs are compatible across different brands, mixing different brands of cassettes and derailleurs is not advisable.
This restriction is because most MTB drivetrain manufacturers use varying pull ratios for their derailleurs.
However, derailleurs of a similar brand are usually compatible with their varying cassette speeds. 
Below are some examples:
Some MTB Brands and their Derailleur Compatibility 
| Mountain Bike Brand | Compatibility |
| --- | --- |
| Shimano | 9, 10, and 11-speed derailleurs are compatible with their respective bike components. |
| SRAM | 7, 8, and 9-speed derailleurs are incompatible with 7, 8, and 9 components. 10 and 11 are not. |
| Campagnolo | 8 and 9 are inter-compatible. 9, 10, and 11 speeds are also compatible. |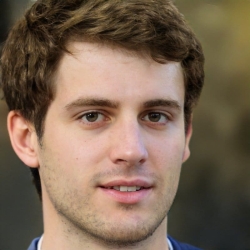 Latest posts by Josh Matthews
(see all)