Can You Go Camping At Lake Tahoe? (Must Know This)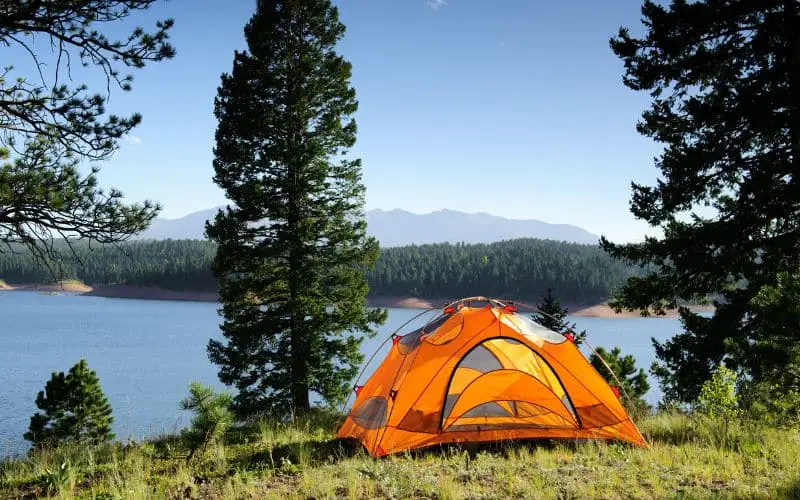 If you love camping and find yourself anywhere around the California-Nevada border, you want to take advantage of camping at Lake Tahoe.
From the fresh alpine breeze untainted by human activities to being treated to a beautiful starry night sight or watching the awe-inspiring lake, Tahoe is well-loved.
Also, people assert that Lake Tahoe makes one of the best destinations for a camping weekend. But is this true?
You can camp at Lake Tahoe due to its excellent campsites and resorts at different strategic points. While the lake is open to campers throughout the year, the weather determines when best to enjoy the scenic environment. Unless skiing is on your list of activities, the best time to go camping at Lake Tahoe is from May through September.
This article will explain all you need to know about camping at Lake Tahoe – what makes this lake a popular camping site?
It also covers what it would cost, the different campsites, and how you can get one perfect for you and your loved ones.
Can I Camp Anywhere in Lake Tahoe?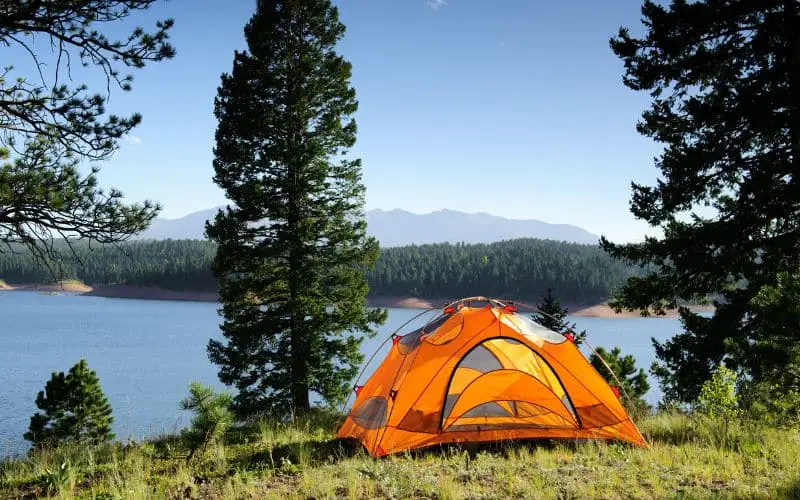 You can camp anywhere around Lake Tahoe, depending on the type of camping you have in mind.
If you like to go with campsites, you can camp at any designated campsites around the lake.
However, if you prefer dispersed camping, you must pay attention, follow dispersed camping information, and avoid restricted areas.
It is necessary to be cautious because the Lake Tahoe region is home to the American Black Bear, and if you are not careful, you may run into one or vice versa.
Most people like to opt for dispersed camping because it is free compared to designated campsites. 
However, the disadvantage of this camping method is that campers need more amenities.
Other disadvantages include:
There might be no access to quality drinking water, so you must bring your water or a water filter.
There are no proper means to dispose of human waste, so you will have either purchase portable waste disposal systems before you set out or dig a hole like our ancestors used to.
There is a 14-day maximum limit to stay in a district.
Also, remember that you cannot litter the environment because you are not in a designated area. Pack in your trash and dispose of it when you return to civilization.
The government has strict rules for those who want to camp near water bodies. These rules are in place to protect the local flora and keep the environment clean.
On the bright side, you are less likely to be disturbed by other campers, and you get to enjoy nature.
If you prefer to stay at designated campsites, there are various choices in the lake's northern, eastern, western, and southern parts.
With this in mind, here are a few popular campgrounds in the South:
#1. Fallen Leaf
The Fallen Leaf campground is one of the most popular because of its location. This campground is close to Lake Tahoe, South Lake Tahoe City, and Fallen Leaf Lake.
Most families usually prefer to camp here because of its ample space, which can hold up to 206 RVs and tents, and ease of access to amenities like good toilet systems and grills.
#2. Camp Shelley
Camp Shelley is less spacious than Fallen Leaf; it is more reserved, with an intimate atmosphere, and has only about 25 campsites.
Since this camp is only around 1,500 miles from Lake Tahoe, it encourages biking or walking to the lake and other exciting activities.
However, it is just as furnished with amenities for personal hygiene, picnics, and parking.
#3. Campground by the Lake
This campground is one of the closest to Lake Tahoe. It is on Lake Tahoe Boulevard, sitting across from the water.
It is a massive space that boasts 50 full hook-up sites and over 100 non-hookup sites.
The City of Lake Tahoe runs the Campground by the Lake and has some of the best cafes and restaurants in the area.
This system allows campers to access some of the city's amenities, like their gymnasium and swimming complex.
#4. Camp Richardson
Camp Richardson is another large campground with over 300 campsites and a few cabins and rentals. It has two locations, one by the lake and the other more enclosed in the forest.
This campground boasts top-notch facilities like a restaurant by the lake, coffee shop, store, and ice cream spot, among others.
When considering the northern campgrounds, we must remember that this side of the lake is less bustling than the south. Campgrounds here are fewer and more residential.
#5. Tahoe State Recreation Area
This campground has only about 23 campsites, so you must plan well ahead if it is your destination.
While it has no hookups, there are basic amenities to guarantee you enjoy your stay and other activities.
#6. Lake Forest
Lake Forest Campground is another small one with 20 campsites. The only available amenities are portable toilets and pump water.
The Tahoe City Public Utility District runs it, and camping here is on a first-come-first-served basis. You cannot make reservations.
The west of Lake Tahoe also has a fair number of campgrounds.
Some include DL Bliss, which is small and with basic amenities but allows you to enjoy activities like kayaking, and Eagle Point, which sells out its reservations six to seven months in advance.
The eastern shores of Lake Tahoe and its campgrounds are not in California but in Nevada. They also have beautiful campgrounds like the Zephyr Cove Resorts and the Sand Harbor State Park.
Below is a table summarizing these campgrounds according to their directions.
| South | North | West | East (Nevada) |
| --- | --- | --- | --- |
| Campground by the Lake | Tahoe State Recreation Area | DL Bliss | Zephyr Cove Resort and Campground |
| Camp Richardson | Lake Forest | Eagle Point | Sand Harbor State Park |
Is Lake Tahoe Good for Camping? 
Lake Tahoe is one of the best places in California to go camping. This lake is the largest alpine lake in North America, sitting on the California-Nevada border.
It has many campgrounds at different strategic points all over the vicinity, even in the Lake Tahoe Basin and the Tahoe National Forest.
Campers can engage in many activities, from hiking, biking, fishing, kayaking, stargazing, rock climbing, picnics, and so much more.
Can You Camp in Lake Tahoe for Free? 
You can camp in Lake Tahoe for free as a dispersed camper. Dispersed camping means you are not entitled to any amenities.
If you wish to go out alone, remember two essential pieces of information. The first is you cannot camp anywhere.
Even though dispersed camping means you can choose your campsite, there are some parts of Lake Tahoe where dispersed camping is prohibited.
For example, you cannot camp anywhere near the lake basin. The reason for this restriction is primarily to protect and preserve the plant life in those areas.
The second piece of information is that you must always adhere to the 7 Leave No Trace (LNT) principles.
Some of the authorized free campsites around Lake Tahoe are:
Hope Valley, Dog Valley Road, Horseshoe Bend, and Scotts Lake in the Humboldt-Toiyabe National Forest.
Luther Pass is now part of the Lake Tahoe Basin Management Unit.
Canyon Creek in Tahoe National Forest.
Because of Lake Tahoe's popularity, dispersed camping sites like El Dorado National Forest now require fees.
To be safe, it is best to inquire at the closest ranger station before you embark on your camping trip.
How Much Does It Cost to Camp in Lake Tahoe? 
The cost of camping at Lake Tahoe depends on a few factors:
The location of the campsite.
The number of amenities.
The number of people you would be going with.
Generally, the costs could be as low as $35 and as high as $70.
The table below shows a list of some popular campgrounds and their prices.
| Campground | Price per night |
| --- | --- |
| Lake Forest  | $25 |
| Camp Richardson | Sundays – Thursdays $50, Friday – Saturday $55 |
| Camp Shelley | Monday – Thursday $55, Friday – Sunday $60 |
| Eagle Point | $35 |
| Fallen Leaf | $38 – $40  |
| William Kent  | $33 |
| Sugar Pine Point  | $25 in the winter, $35 in the summer |
Do You Need a Permit to Camp in Lake Tahoe? 
You need an entry permit to camp anywhere in Lake Tahoe at all times, whether you are going to a designated campground or not.
The specific requirements for these permits vary depending on your chosen area and the type of camping you plan to do.
Designated campers must obtain permits from the managing agency, usually the United States Forest Service or the California State Parks.
If you prefer to go backcountry camping or into the wilderness areas, you will need a backcountry permit that covers overnight stays in choice areas.
Irrespective of the area or type of camping, it is best to research the regulations and permit requirements before you set out for your camping trip.
How to Get a Campsite in Lake Tahoe?
Like with the permit, getting a campsite in Lake Tahoe depends on the location and type of camping.
To get a campsite, you must check availability at your desired campsite and make a reservation online or by phone through the managing agencies for each campground.
Alternatively, you can inquire at the U.S. Forest Service or California State Parks.
Generally, constantly endeavor to make reservations well ahead of time, about six to seven months prior, especially at designated campsites.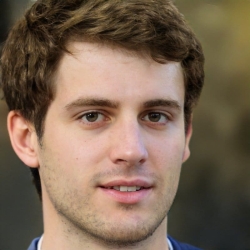 Latest posts by Josh Matthews
(see all)