Can You Hike in Doc Martens? (Read This First)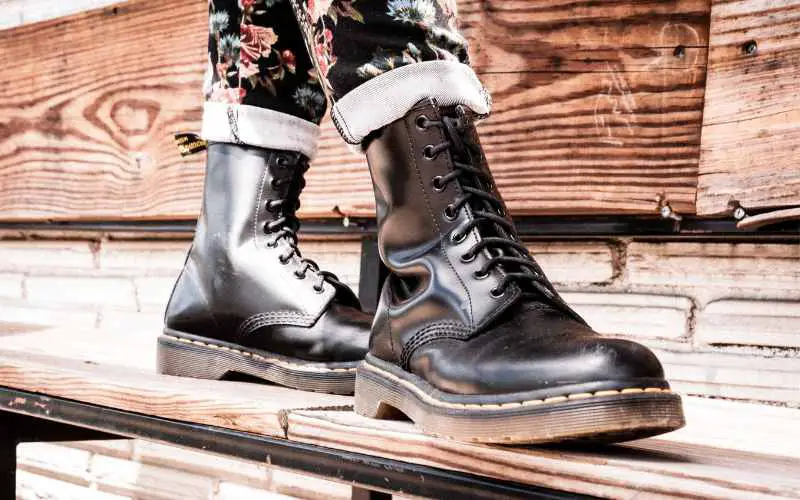 Hiking yields the most benefits when you do it right. And the first way to do that is by wearing the right gear – and of course, that includes shoes.
There are different types of hiking shoes, each with a unique feature.
But, if you are new in the hiking world and already own a Doc Marten, you might be wondering – can I go hiking in my Doc Martens?
The answer is yes; you can go hiking in your Doc Martens. However, they are not the ideal shoes for hiking. While they have some redeeming features, like soles with good traction and breathable leather, they also have some qualities that make them unsuitable for hiking. Some of those qualities are lack of proper ankle support and waterproofing.
This article will address all the features of Doc Martens shoes concerning hiking, explaining in detail how each feature makes the shoes excellent or unideal for hiking.
By the end, you will have sufficient information on the topic.
Are Doc Martens Good for Hiking?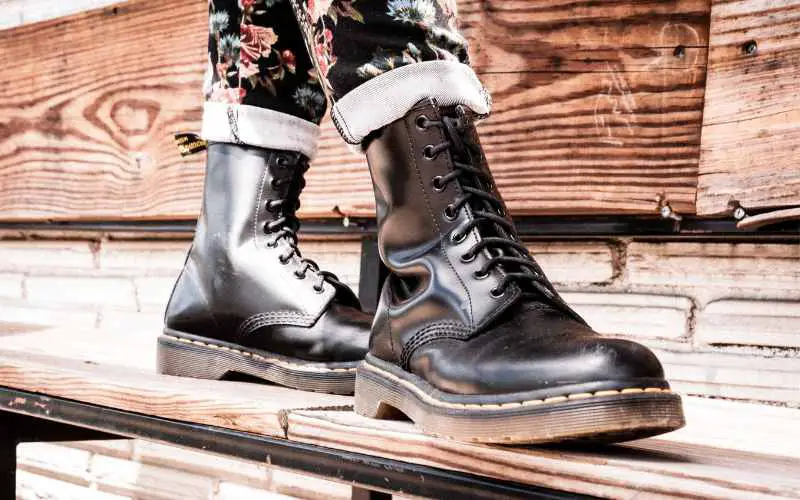 Doc Martens are great shoes, but they are not ideal for hiking. Originally, Doc Martens was designed in the 1960s for industrial workers who work in tough environments.
Given that these shoes have a lot of exciting features, you can decide to try them on your hiking trail.
These features include:
#1. Traction
Traction means the level of slip-resistance boots, which is one of the essential factors to consider when buying hiking shoes.
You want shoes that have a good grip on any terrain you decide to hike. And this is where Doc Martens thrives.
These shoes are slip resistant and have strong rubber soles that make them very practical in any environment.
While different models have different tread depths and designs, all Doc Marten soles are thick and can resist punctures, protecting your feet against sharp rocks.
#2. Comfort
While hiking, you want to ensure that your gear is comfortable to enjoy the sport.
One way to guarantee this is to wear shoes that give room for your feet to breathe, especially when it gets sweaty.
The base material for Doc Martens is leather which is very breathable and, therefore, comfortable.
This feature also goes a long way to guarantee that you do not get foot blisters or fungus.
Additionally, these shoes have a well-cushioned sole, giving you a springy sensation under your feet to provide comfort.
#3. Ankle Support
Professional hikers always recommend buying hiking shoes with good ankle support. The reason is to protect your ankles from spraining on a rocky and uneven trail.
These shoes are usually very thick around the ankles and sturdy when laced up properly.
While Doc Martens shoes have the same appearance, they do not offer the same protection. 
Unlike other hiking shoes, these shoes thin out around the ankles lacking the proper protective grip.
#4. Toughness
Even though these shoes do not have excellent ankle support, they are still tough and ideal for a work environment.
This means that Doc Martens provides good protection around the foot. They have steel-reinforced toes that protect your toes mainly from falling objects.
Doc Martens shoes are also very flexible, so they do not strain your gait or posture.
#5. Weight
This feature is one of the downsides to Doc Martens shoes. A regular pair of these shoes weigh between 700 and 750 grams per boot.
Ideally, hikers prefer lighter shoes to heavy hiking boots, which might slow down their speed. 
Lighter shoes usually weigh between 500 to 600 grams, while heavier shoes can weigh as much as one kilogram.
What Are the Best Doc Martens for Hiking?
Doc Martens' shoes vary in size, style, groove design, and in the number of lace eyes. However, despite these variations, not all designs are suitable for hiking.
Below is a table showing some of the best Doc Martens shoes for hiking and their top features.
Are Doc Martens Waterproof?
Water resistance is one feature hiking boots must have. This feature makes these shoes durable and the sport enjoyable.
Unfortunately, Doc Martens shoes do not possess this quality. If you go hiking with these shoes in the rain or during winter, they will end up wet and soggy.
However, applying waterproof coatings or sprays can make these shoes waterproof. 
Some such sprays are;
What Are the Pros and Cons of Hiking in Doc Martens?
The best way to decide on any subject, including those that concern hiking boots, is by addressing the pros and cons of your choice.
#1. Pros of Hiking in Doc Martens
Doc Martens are one of the most fashionable shoes with a distinct look. They are also made from quality materials.
The heels of these shoes are made of rubber which is very flexible, making the shoe perfect for different terrain. 
Also, the upper part is made of quality leather, which can withstand most environmental conditions.
Doc Martens shoes are suitable for short hikes and perfect for younger people with less body weight.
When you wear these shoes, you are sure your feet are protected, especially your toes.
#2. Cons of Hiking in Doc Martens
Doc Martens shoes are not lightweight, which makes long-distance hikes. This feature reduces their durability if you continuously hike with them.
They do not have ankle protection, which is risky if you hike on rough and rocky terrains.
Size is another downside to hiking with Doc Martens. Finding your perfect size with these shoes can be challenging.
These shoes can get uncomfortable once wet, or you start to sweat. Also, it takes a while to break these shoes, and this period is usually very uncomfortable for the wearer.
Finally, these shoes can be expensive compared to other ideal hiking shoes.
Generally, it is best to invest in proper hiking shoes. And if you must use your Doc Martens, consider shorter trails, waterproof your shoes, and invest in waterproof socks.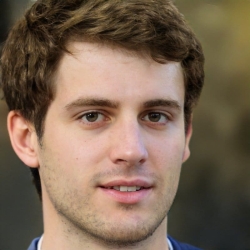 Latest posts by Josh Matthews
(see all)