Can You Wear Crocs Camping? (Let's Know This)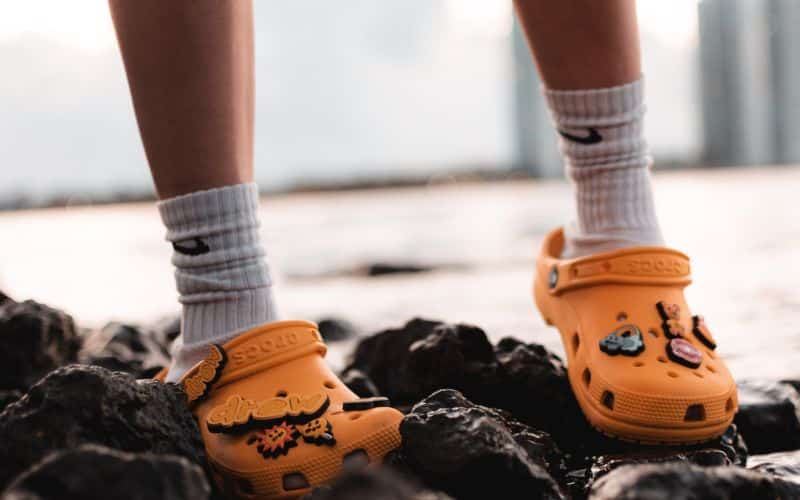 Camping in Crocs sounds like an interesting idea. Especially when you consider some of its qualities and features. Crocs are good for many other occasions.
However, camping has always had its own style and choice of footwear. And Crocs is not top of this list. Nonetheless, you can explore it as an option.
Crocs' versatile use makes it worth considering for your next fun trip. However, are they camp worthy? How well or suitable are Crocs for camping?
You can wear Crocs when camping. Crocs are shoes that give you comfort without adding weight to your camp luggage. These are the qualities that make Crocs suitable for your camping trip. Crocs also come in different designs. Hence you can add taste and class to your adventure. However, there are other shoe types available for camping.
In this article, I will help you understand if you can go camping with Crocs, the popularity of Crocs among campers, and the ideal shoes to wear while camping.
By the end, you'll also know if children can wear Crocs when camping. 
Can You Go Camping With Crocs?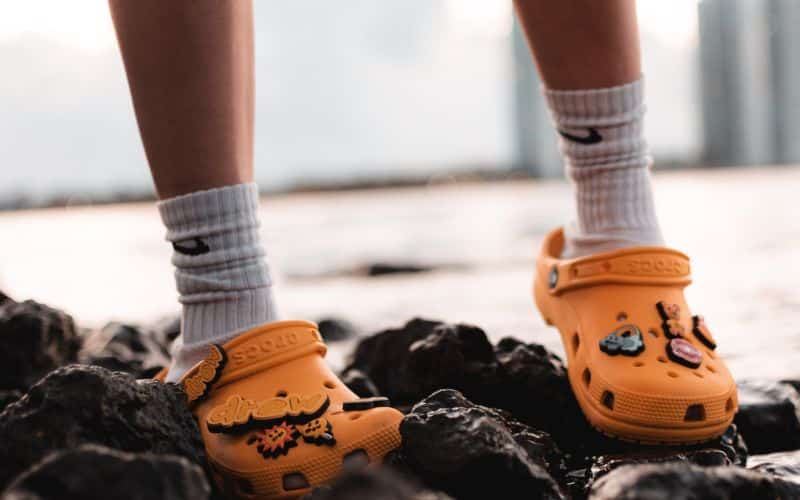 Yes, you can wear Crocs on a camping trip. Camping with Crocs is beneficial, and it makes things a lot easier.
It is a new addition and quite different from your old camp boots. However, certain features make Crocs a good option for you. 
Here are some features to consider: 
#1. Lightweight
Crocs are lightweight, making them suitable for camping purposes. Weigh is an important factor to consider when packing for camp. 
The goal is to get all you need into a camp backpack without much weight. Crocs solves your shoe problem in that regard. 
If you only wear the Crocs on camp, you can fit or squeeze them into any space left in your backpack. 
Alternatively, you can hang it outside the backpack using a harness. It hangs out freely without stress. 
#2. Comfortable for Long
Crocs are comfortable thanks to their design. It is the main reason why you can go camping in them. 
Sometimes, you have a situation where you have to wear camp shoes for long hours due to movement and the like. 
Having a croc around gives you the comfort of walking miles without worries. 
The padding design under your feet allows your muscles to breathe and relax. You don't develop soreness when wearing this footwear. 
Another reason why Crocs are comfortable is how easily you can put them on. Imagine if you have to tie laces or buckles every time you want to step outside quickly. 
That is too much stress and time wastage. With Crocs, you can easily wear and remove them at will. 
#3. Airflow Design
The airflow design is another good reason to consider Crocs for your camping trip. The Crocs' pores allow air exchange, giving you a relaxed feeling as you move around the camp. 
The airflow means there is no dampness, and you don't have to worry about health issues for your feet. 
During camping, you also get wet periods and sometimes dip your feet in the water. The airflow design makes Crocs the suitable choice for these situations. 
You can clean up the shoes and continue to wear them as they dry out. 
#4. Easy to Replace
Sometimes, you need an urgent pair of Crocs. These shoes are easy to replace when moving along the camping trail. Many stores sell Crocs for this exact purpose. 
So if your Crocs should get lost or get damaged, you can buy another and continue your adventure without worries. 
#5. Variety 
Variety makes camping fun and interesting. If camping as a group or family, you can try different designs to suit individual tastes. 
Though Crocs have a basic style, there are still varieties. Since Crocs became trendy again, manufacturers have become creative in their designs. 
#6. Low Cost
Crocs are available to you at different prices depending on your budget. Camping requires a lot of materials and tools. 
These tools can significantly increase your camping cost. Hence, campers love to pick the best option within a budget. For camp shoes, Crocs is one of the perfect choices for you. 
Are Crocs Popular Among Campers?
Crocs is gaining popularity among campers at a fast rate. The different features and attributes that make it suitable for camping appeal to many campers. 
One notable reason is the diversity in design and comfort. You can pick a pair of Crocs that is different from any other. 
While Crocs are not exactly new, they are in trend. Hence, you might find more Crocs rocking camping this summer than you imagined.
What kind of Shoes Should You Wear When Camping?
Camping comes in varieties and types. For some camping adventures, a pair of Crocs might not be suitable or may not be the best. In such a situation, you can consider other options. 
Some shoes are versatile in use, while others are specific in use. Your type of camping adventure will determine which one works for you. 
#1. Walking Shoes
A pair of walking shoes such as tennis shoes are sporty enough for simple camping adventures. If your camping trip does not involve hiking, these shoes are good for you. 
You need shoes that maintain comfort when you stand for long hours setting up camp. Comfortable movement around camp is also important. 
These shoes are available in varieties. The lace types allow for firmness, while the laceless types are easy to wear. You choose based on preference and use. 
#2. Hiking Boots
Hiking boots are good options if your camping trip is a complete walking, climbing, and hiking adventure. It is the most protective choice for any adventure.
It might be heavy on the feet, but it ensures you get to your campsite in one piece. 
Underneath, the shoe is strong enough to protect you from sharp objects while you move. The upper part is thick and firm. 
The right type of hiking boots is still breathable even while thick. Hence, your feet can remain dry. Wearing socks with your hiking boots also helps to remove traces of dampness. 
Good hiking boots come at a considerable cost but serve you for years. Hence, it is best to pick the best regardless of the cost. 
#3. Water Shoes
A good pair of Crocs can serve you if you camp near water sites. However, you can wear special water shoes when camping near water bodies. 
Your entire adventure might be water-related activities like fishing, canoeing, etc. Crocs won't protect you from water; it will only serve as a quick-dry option. 
However, water shoes ensure protection from rocks or other sharp objects inside or beside water bodies. The material also allows for warmth in your feet. 
The material for water shoes are basic, but you have varieties in design and cost. That means you can get one within your budget for the next camping trip. 
#4. Sandals
It is not popular, but you can stand out with strong and sturdy sandals. The open cover allows for airflow and comfort while you walk. The under part protects your feet. 
The right foot can give your traction during your walk. Ensure to keep your feet dry and stay away from water. The best part is the wide choice of design. 
Here is a summary of types of shoes and suitable camping types: 
| Shoe Type | Suitable Camping Type |
| --- | --- |
| Crocs | Simple Camping Trips |
| Hiking Boots | Camping involving hiking and climbing |
| Walking Shoes | Common and simple camping adventures |
| Water Shoes | Water-related camping trips |
| Sandals | Light and fun camping trips |
Can Children Wear Crocs When Camping?
Children can wear Crocs when camping, but under certain conditions. Children should wear Crocs only at campsites and not during the movement. 
When at campsites, movement is minimal and gentle. Crocs are useful for these situations. However, opting for more protective boots is best when moving to campsites. 
Crocs are great, and for children, they are colorful and lovely. However, they have both useful parts and limitations. 
Considering the two aspects of Crocs will help decide when it is appropriate for children. 
Here are some advantages: 
#1. Crocs are Roomy and Comfortable
While children continue to grow, they need footwear that provides comfort and room for growth. Crocs allow for the room and keep the children comfortable. 
Hence, while they walk around the camp, they remain comfortable. 
#2. Easy To Wear
Adults love Crocs because they are easy to wear. The same goes for kids' Crocs. The ease can aid in making it a habit for kids to keep it on while in camp. 
However, there are some limitations to children wearing Crocs when camping: 
#3. No Ankle Protection
Crocs' design means children do not have ankle protection when moving to campsites. That can be unsafe for kids when moving up and down camping trails. 
#4. No Traction
When wet, feet move freely in Crocs. While adults might know how to navigate such a situation, children often cannot. 
Their legs slip out, or they might fall. Hence, if part of the journey involves a wet period, it is best to pick other shoes. 
It is also best to ensure kids only wear Crocs for limited hours of the day. A maximum of 5 hours is enough.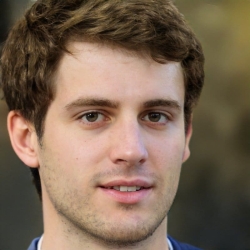 Latest posts by Josh Matthews
(see all)