Hiking Solo Tips: Embrace the Wilderness Alone!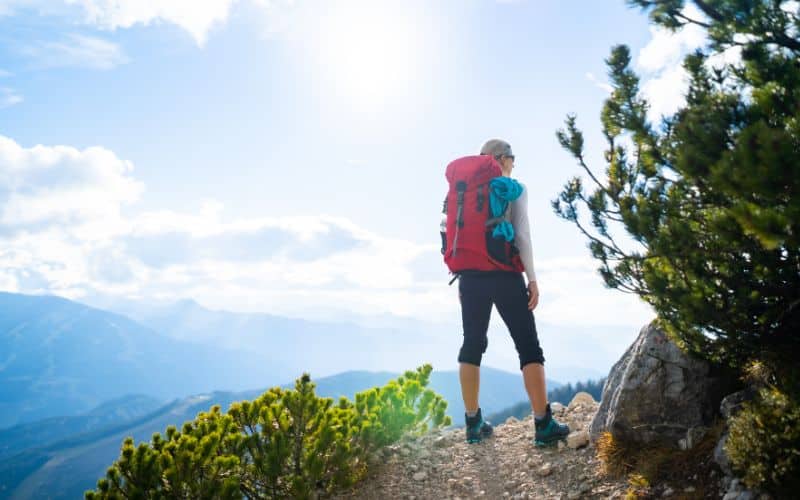 Stepping into the great outdoors solo can be a bold and empowering experience. 
But before you venture out, it's important to consider the many challenges and rewards of such a journey. 
Hiking solo can be incredibly rewarding, but it's also a chance to push your limits and test your mental and physical fitness. 
If you plan to hike alone, prepare for any possible dangers, practice mindfulness to reduce anxiety, savor the sights and sounds of nature, stay hydrated and fueled, and celebrate your success. Hiking solo can be a rewarding experience that strengthens your mind and body.
In this article, we'll explore the top tips for solo hiking, from packing the right gear to staying safe and savoring the solitude of the wilderness. 
We'll also consider the unique benefits of hiking alone, from the opportunities for self-reflection to connecting more deeply with nature.
Can I Go Hiking Alone? Is It Safe?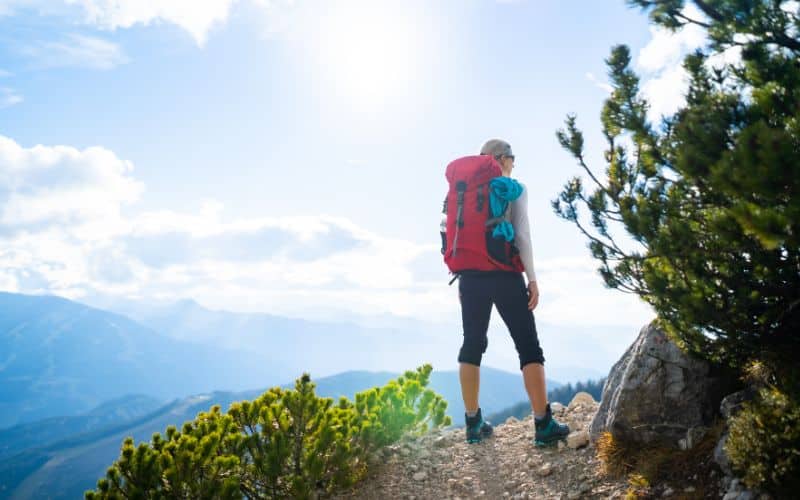 Hiking alone can be a freeing and empowering experience, but it's not for everyone. 
However, it can be more dangerous than hiking with a partner or a group, and it may not be for you if you're not comfortable being alone. 
Weighing the pros and cons of solo hiking can help you decide if it's right.
The table below highlights some pros and cons of hiking alone to help you decide if it's right. 
| Pros | Cons |
| --- | --- |
| You can hike at your own pace. | It can be unsafe, especially if you're new to hiking.  |
| You can experience the wilderness without the distractions of other people. | You won't have someone to share the experience with. |
| You can fully immerse yourself in the experience. | You might feel lonely or scared. |
| You can get in touch with your inner strength and self-reliance. | It's harder to get help if you get lost or injured. |
| You can feel an amazing sense of accomplishment. | It's easier to make a wrong turn or get off course. |
The decision of whether to hike alone comes down to your personal preferences, your comfort level, and your safety concerns. 
Ultimately, only you can decide whether to take on the challenge and rewards of solo hiking. If you decide to do so, take appropriate precautions to stay safe. 
No matter what you decide, remember to enjoy the wonders of nature and the peace of the wilderness.
Ten Tips For Hiking Solo to Improve Your Safety
Going solo hiking can be an awesome experience, but staying safe is also important. 
Although the details of the tips may vary depending on the location, following these general safety principles can help make your solo hiking experience successful.
Here are ten easy tips to consider before you head out on your hike. 
Stick to trails that don't involve crossing deep water or walking on narrow ridges, especially if you're new to solo hiking.
Start small, set reasonable goals, and gradually build your skills and endurance.
Do your research beforehand, familiarize yourself with the trail conditions, and read up on potential hazards.
Always bring a map and compass, and make sure you know how to use them in case your GPS or phone dies.
Ensure to prepare for the elements by bringing extra food and water, warm clothing, and rain gear. 
Be prepared for the worst-case scenario by bringing a first aid kit and knowing how to use the supplies inside. 
Stay alert and aware of your surroundings by paying attention to your surroundings and using all your senses, including sight, sound, and smell. 
Follow safety precautions when going solo hiking.
If you decide to hike solo, stay in popular areas where you're more likely to encounter other people. 
It's best to avoid hiking solo at night, even in popular areas. You're more likely to get lost, and it's more difficult to find help if you have an emergency.
With these tips and preparation, you can have a safe and enjoyable solo hiking adventure. 
And who knows, you may even find yourself hooked on the freedom and solitude of solo hiking.
Can a Woman Hike Alone?
Women can and do hike alone, just like men. Many women find great joy and satisfaction in solo hiking. 
While there are unique safety challenges for female hikers, there is no reason to avoid this rewarding pastime. 
Some women report that solo hiking has allowed them to feel more confident, independent, and in touch with their strengths and capabilities. 
Historically, men have denied women the opportunity to hike alone.
However, in recent years, there has been a welcome shift towards encouraging and celebrating women's independence in the outdoors. 
From all-women hiking groups to solo hiking challenges, women have a recognition of being capable of tackling nature's challenges without male companions. 
Hiking alone as a woman is not just about physical activity; it can also be a deeply spiritual experience, a time for introspection and self-reflection. 
As more and more women take to the trails alone, they are redefining what it means to be a woman in the outdoors.
How to Protect Yourself When Hiking Alone?
Solo hiking can be an exhilarating and empowering experience, but taking extra precautions is important to ensure your safety. 
Carrying the right gear, knowing the terrain, and planning for emergencies are just a few ways to stay safe while hiking solo. 
#1. Carry Essential Safety Items
If you decide to hike alone, carrying essential safety items, including bear spray, a flashlight, and a whistle, is important. 
Bear spray can deter an aggressive bear, while a flashlight can help you navigate in low-light conditions and avoid tripping or getting lost. 
A whistle is also essential to alert others if you're in trouble or need help. 
These items are important to keep in your pack, even when hiking in a well-populated area.
#2. Pick a Well-Traveled Trail
Choosing a popular, established trail is a great way to start solo hiking. 
These trails are often well-marked and well-maintained, making them safer and easier to navigate. 
If you're a beginner, starting with a short, easy hike can help you get comfortable with solo hiking before you tackle more challenging terrain. 
It's also a good idea to research the trail and read reviews from other hikers to understand what to expect.
#3. Inform Someone of Your Location
Telling someone your plans is an important safety measure, even if you only go for a short day hike. 
If something unexpected happens, have someone who knows where you are and when you will return. 
If you're on a trial with limited cell phone service, let your contact know when you should check in. 
#4. Choose a Trail That Matches Your Fitness Level and Experience
When choosing a trail, it's important to factor in your fitness level and experience. 
You don't want to end up on a too difficult or strenuous trail as it can put you at risk of injury or exhaustion. 
Even if you're in good shape, some trails may be too difficult for your experience level. 
Instead, find a trail that will be challenging enough to be fun but not too difficult for your skills and fitness level. 
Once you've chosen a trail, it's time to pack your gear. Ultimately, solo hiking can be safe if you take appropriate precautions and know the risks. 
Best Trails To Hike Solo
If you're looking for the perfect trail to hike solo, consider destinations with breathtaking scenery, quiet solitude, and a feeling of safety. 
A few of our favorite solo hikes include the following trails below:
#1. Lost Lake Trail, Seward, Alaska
For a truly unique solo hiking experience, head to the Lost Lake Trail in Seward, Alaska. 
This challenging 14-mile round-trip trail takes you through a lush landscape of spruce forests, wildflower-filled meadows, and majestic mountain vistas. 
Hike off-trail if you dare, but remember to use caution: this trail is remote and wild, and help may be far away. 
But this trail is hard to beat if you're up for a true wilderness experience.
#2. Timberline Trail, Mt. Hood National Forest, Oregon
While the Timberline Trail around Mt. Hood in Oregon is a more challenging hike at 36 miles, it offers some of the most stunning scenery and a chance to hike alone or with others. 
The trail starts at the popular Timberline Lodge but quickly becomes remote and full of wilderness as you travel the mountain. 
With a mix of camping options, this trail is ideal for those who want to push their limits while still having the option to socialize or seek help. 
So, this trail is a great option if you're looking for a solo hiking adventure with some creature comforts nearby.
#3. Glacier National Park, Montana
For a wide variety of hiking experiences, Glacier National Park in Montana is hard to beat. 
The park has over 700 miles of trails, from alpine meadows to snowfields, waterfalls, and peaks. 
Hiking alone here is a unique and magical experience, with wildlife like mountain goats and bighorn sheep often spotted along the trails. 
Be aware that some trails are remote and require careful planning, so research your hike before setting out. 
But for those seeking a true wilderness adventure, Glacier National Park is a must-visit.
Many hiking trails are good for solo hikers, ranging from short day hikes to multi-day treks. 
However, by choosing a suitable trail and being mindful of your limitations, you can have a wonderful experience.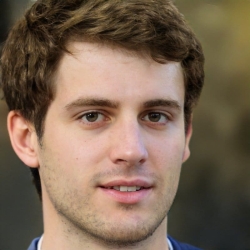 Latest posts by Josh Matthews
(see all)