Hiking Trails For Fall Foliage: Nature's Colorful Display!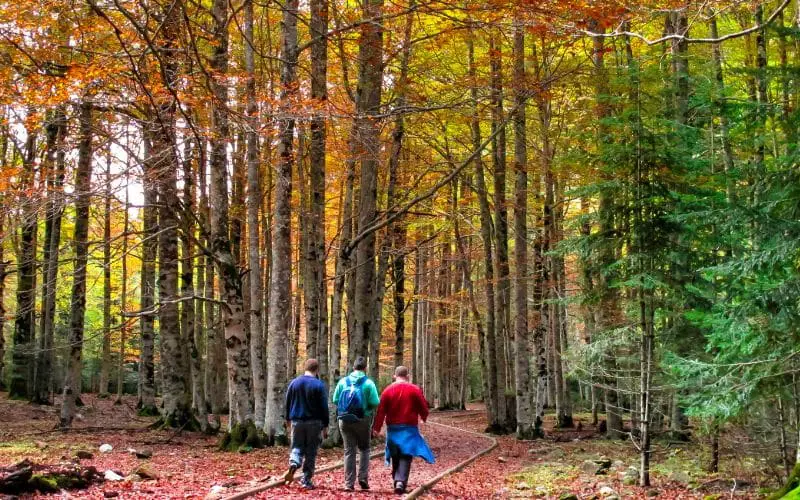 As the leaves turn vibrant shades of red, orange, and yellow, autumn becomes a magical time to explore the great outdoors. 
Hiking trails offer the perfect opportunity to see fall colors up close while experiencing the crisp air and the season's scents. 
To get the most out of your hiking experience, be ready to discover the best hiking trails for fall foliage. 
Fall hiking is a thrilling and rewarding experience, but it's important to be well-prepared for the unique weather conditions and trail challenges that the season can bring. When choosing a hiking trail, it's a good idea to find one that offers stunning scenery, a variety of terrain, and easy access for all skill levels. 
In this article, we'll take you on a journey to some of the country's most beautiful fall hiking trails. 
Also, we'll explore the country's most scenic hiking trails. So get ready to experience the splendor of fall, one step at a time!
Is Fall a Good Time to Hike?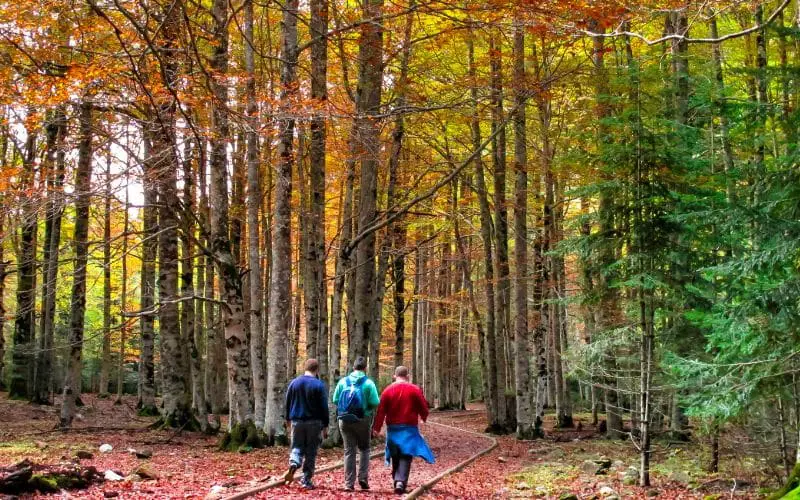 Fall is an excellent time for hiking, as the cooler temperatures, colorful foliage, and less-crowded trails make it an enjoyable and rewarding experience. 
Here are a few reasons:
#1. Fair Weather
The mild, temperate weather of fall can make for an enjoyable hiking experience. 
While the temperatures are cooler than summer, they are still comfortable for outdoor activities. 
The average temperatures during fall are often in the 60s and 70s, which makes for pleasant hiking conditions. 
#2. Fall Foliage
The vibrant, colorful foliage is one of the most beautiful aspects of fall hiking. 
As the season progresses, the leaves of the trees begin to change from green to shades of red, orange, and yellow. 
The different hues of the leaves can create a stunning landscape for hikers to enjoy. 
#3. Fewer Bugs
Besides cooler temperatures and beautiful fall foliage, another benefit of hiking in the fall is reduced insect activity. 
During summer, mosquitoes and other insects can be nuisances on hiking trails. 
But as the weather cools in the fall, mosquitoes and other bugs are significantly reduced. 
#4. Quieter Trails
While summer months have more people on hiking trails, fall can be a quieter and more peaceful time to explore the great outdoors. 
For those who prefer a serene and secluded hiking experience, fall is the perfect season to enjoy the peacefulness of nature.
#5. Wildlife Sightings
One of the lesser-known benefits of fall hiking is the increased likelihood of spotting wildlife, particularly deer. 
Fall hiking can be a great way to observe wildlife in their natural habitat. 
However, taking precautions, such as wearing bright colors and making noise while hiking, is important to avoid startling wildlife, particularly during hunting season.
What is the Best Trail to Hike in the Fall to Enjoy Nature?
There are many great trails to hike in the fall to enjoy nature. 
From national parks to scenic rivers and mountain ranges, there are countless trails to explore in the autumn months. 
Whether you are looking for a challenging trek or a stroll, many options exist.
Here are some of the top 3 recommendations to hike in the fall; 
#1. Green Mountains, Vermont
In the scenic state of Vermont, the Green Mountains offer various hiking options for all skill levels. 
Some of the most popular hiking spots are near Mount Mansfield, the highest peak in Vermont, and Smugglers Notch and Stowe, a well-known ski town. 
The trails in this area feature stunning vistas, dramatic rock formations, and sweeping views of the New England landscape.
#2. Upper Piney River Falls Trail, Colorado
Nestled in the White River National Forest near Vail, Colorado, the Upper Piney River Falls Trail is a spectacular hike for all levels of adventurers. 
The 6-mile round-trip hike takes you through various landscapes, including aspen groves, pine forests, open meadows, and a pristine alpine lake. 
But the trail's highlight is the grand finale: a stunning cascade waterfall with a dramatic 200-foot drop. 
The peak foliage season here is mid-September to early October when the leaves turn a vibrant golden hue against the backdrop of the surrounding mountains.
#3. Trail of Ten Falls, Silver Falls State Park, Oregon
The Trail of Ten Falls is a breathtaking hike that is especially popular in the fall. 
This seven-mile trail takes visitors past ten waterfalls from 27 to 177 feet tall. 
The colorful foliage that lines the trail during autumn is a highlight for many hikers. The trail is a must-see for those visiting Oregon in the fall.
#4. Blodgett Canyon Trail, Hamilton, Montana
Head to Blodgett Canyon Trail in Hamilton, Montana, for a picturesque autumn hike with breathtaking scenery. 
The 7.5-mile trail meanders through the Bitterroot Mountains, offering spectacular views of vibrant fall foliage. 
The hike is moderate, with a few steep sections and an elevation gain of 1,100 feet. 
But the effort is well worth it, as the trail rewards hikers with stunning panoramas of the surrounding mountains, cascading waterfalls, and colorful deciduous trees.
#5. Mount Greylock State Reservation, Massachusetts
If you're looking for a beautiful place to hike in New England, look no further than Mount Greylock State Reservation in Massachusetts. 
The park is home to Mount Greylock, the state's highest peak at 3,491 feet, which offers sweeping views of the surrounding Berkshire Mountains and the Taconic Range. 
The park has over 70 miles of hiking trails, making it a perfect destination for anyone looking to enjoy the beauty of fall foliage. 
In addition to hiking, the park offers camping, picnicking, and fishing, making it a great place to spend a day or even a weekend.
#6. Letchworth State Park, New York
The magnificent scenery of Letchworth State Park in New York State has earned it the nickname of the "Grand Canyon of the East." 
The Genesee River Gorge is particularly beautiful in the fall when the leaves turn vibrant shades of orange, red, and gold. 
The changing leaves provide a picturesque backdrop for hikers, photographers, and nature lovers alike.
However, these are just some of the many wonderful options for fall hiking. 
No matter which trail you choose, the experience of enjoying nature in the fall will surely be memorable.
Best Hiking Trails in the Fall for Each State
There are plenty of options across the United States for nature lovers looking to experience the colorful splendor of autumn. 
Whether you're looking for a stroll or a more challenging adventure, there's something for everyone. 
Here is a rundown of some of the best hiking trails to enjoy the fall foliage in each state to experience the beauty of autumn.
Alabama: Cheaha State Park
Alaska: Denali National Park
Arizona: West Fork Trail, Sedona
Arkansas: Ozark National Forest
California: Yosemite National Park
Colorado: Maroon Bells-Snowmass Wilderness
Connecticut: Sleeping Giant State Park
Delaware: White Clay Creek State Park
Florida: Myakka River State Park
Georgia: Tallulah Gorge State Park
Hawaii: Haleakala National Park
Idaho: Sawtooth National Forest
Illinois: Starved Rock State Park
Indiana: Brown County State Park
Iowa: Ledges State Park
Kansas: Tallgrass Prairie National Preserve
Kentucky: Red River Gorge Geological Area
Louisiana: Kisatchie National Forest
Maine: Acadia National Park
Maryland: Catoctin Mountain Park
Massachusetts: Mount Greylock State Reservation
Michigan: Porcupine Mountains Wilderness State Park
Minnesota: Superior Hiking Trail
Mississippi: Tishomingo State Park
Missouri: Ozark National Scenic Riverways
Montana: Glacier National Park
Nebraska: Indian Cave State Park
Nevada: Lake Tahoe
New Hampshire: White Mountain National Forest
New Jersey: Delaware Water Gap National Recreation Area
New Mexico: Santa Fe National Forest
New York: Adirondack Park
North Carolina: Blue Ridge Parkway
North Dakota: Theodore Roosevelt National Park
Ohio: Hocking Hills State Park
Oklahoma: Wichita Mountains Wildlife Refuge
Oregon: Columbia River Gorge
Pennsylvania: Ricketts Glen State Park
Rhode Island: Arcadia Management Area
South Carolina: Table Rock State Park
South Dakota: Black Hills National Forest
Tennessee: Great Smoky Mountains National Park
Texas: Lost Maples State Natural Area
Utah: Zion National Park
Vermont: Green Mountains
Virginia: Shenandoah National Park
Washington: Mount Rainier National Park
West Virginia: New River Gorge National Park and Preserve
Wisconsin: Kettle Moraine State Forest
Wyoming: Grand Teton National Park
It's important to remember that the weather can vary widely from state to state, so it's always a good idea to plan and prepare for changing conditions.
3 Tips to Enjoy Hiking in the Fall
While fall is the best time to go hiking, just like any recreation, hiking without precaution isn't the best way. 
To make the most of hiking in the fall, here are three tips you should adhere to: 
#1. Pack the 10 Essentials
The "10 Essentials" is a popular list that outlines the supplies you should carry with you on any hike. 
The list includes ten important items you'll need on your hiking adventure. Here's a table of the ten essential items and their use. 
| 10 Essential Items | Use |
| --- | --- |
| Maps and Compasses | Navigation |
| Sunscreen or Sunglasses | Sun Protection |
| Extra clothing | Insulation |
| Headlights or Flashlights | Illumination |
| First-aid Kit | For bruises or  |
| A waterproof fire starter or Matches | For Emergency Warmth |
| Extra Food   | For Delays |
| Water | Hydration |
| Knife or Multi-tool | For cutting various objects |
| Emergency Shelter | Protection from different unforeseen elements |
#2. Check the Fall Color Guide
If you want to experience the beauty of fall foliage, it's important to check a fall color guide to determine the best time and place to do so. 
Fall foliage guides can tell you the peak times for viewing fall colors in different areas and provide information on specific locations to visit. 
Many guides can even predict the peak colors and help you plan your trip accordingly. 
With a little research, you can plan a hike that will allow you to see the brilliant colors of fall at their peak.
#3. Plan for Shorter Days
Since fall days are shorter than in other seasons, planning your hike is important. 
Start your hike earlier in the day to give yourself enough time to finish before dark. 
By following these tips, you can ensure a safe and enjoyable experience. 
Always check the weather forecast and trail conditions before you go, and bring all the necessary supplies. Happy hiking! 
FAQs 
What are Some Common Weather Patterns to Expect During the Fall Season?
During the fall season, you can expect changes like shorter days, cooler temperatures, and more rainfall.
What Should I Wear When Hiking in the Fall?
When hiking in the fall, wear clothing in layers that you can easily add or remove as the temperature fluctuates.
What Should I Be Aware of When Hiking in the Fall?
When hiking in the fall, be aware of sudden weather changes, shorter daylight hours, and there may be wildlife or slippery terrain to watch out for.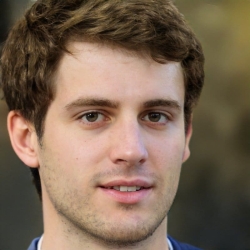 Latest posts by Josh Matthews
(see all)