Road Bike On Gravel! (Things To Keep In Mind)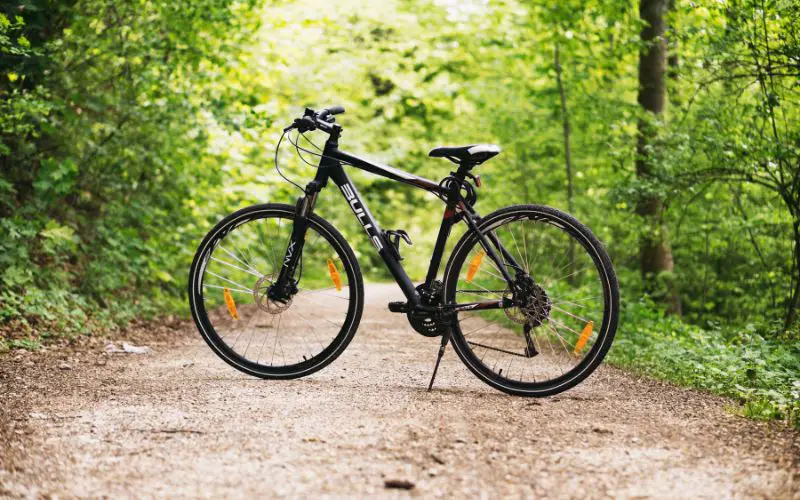 People ride road bikes for different reasons, including being suitable for racing, participating in events, and riding for fitness.
There are numerous factors to think about while buying a road bike. The primary considerations are the company producing the road bike, quality, and functionality. 
It's also important to consider where and how you'll ride, as this could affect your road bike. If you are riding on gravel, you must know if a road bike can handle that.
You can ride a road bike on gravel, especially when the gravel is tightly packed together and not loose. The type and size of tires that fit your road bike determines how well it will ride on gravel. Thin tires make it difficult for a road bike to pass through gravel.
Can you Ride a Carbon Road Bike on Gravel?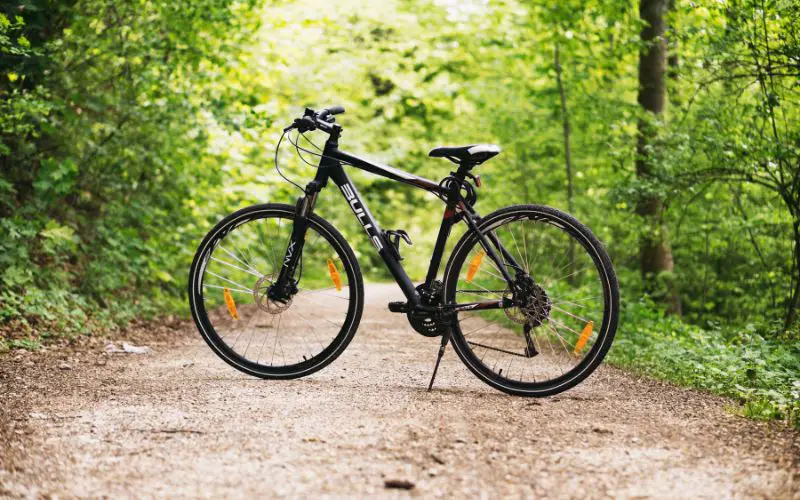 The material that produces carbon road bikes is carbon fiber. Cycling enthusiasts focused on performance have made carbon fiber a well-liked material for their road bikes.
You can ride your carbon road bike on gravel, but nothing too extreme. Carbon fiber appeals to riders due to its strength, low weight, and ability to create rigid frames.
Additionally, it can be reshaped, which has freed manufacturers from the limitations imposed by the conventional use of metal tubes.
You can ride your carbon fiber wheels on gravel, but you can opt to spend less money on some aluminum wheels because they can withstand rocky roads better and won't make you as nervous when riding.
Can I Fit My Road Bike With Gravel Tires?
You can fit your road bike with gravel tires. Riding on gravel is very common among people for different reasons, increasing the need for gravel bikes.
However, purchasing a new bike suitable for riding on gravel may be quite pricey. This high cost brings up the option of converting road bikes to gravel bikes by fitting gravel tires on road bikes.
Increased tire clearance is the fundamental distinction between road and gravel bikes.
This difference implies the tires should get the most attention because it is always the one in contact with the ground.
Most road bikes can convert to gravel bikes; however, some are more suitable than others.
Gravel comes in a variety of sizes. Thus, the sort of tires you choose depends on the gravel you're riding.
For instance, there will be a need for a large smooth tire when riding on loose gravel, forest trails, or canal bike paths in dry weather.
While riding on rocky gravel, installing a wide treaded tire will give you the most traction and control.
40mm and larger tires are standard features for gravel bikes. This size can hardly be found on road bikes hence the need to install bigger tires on your bike when riding on gravel.
Before buying and installing gravel tires on your road bike, it is important to check the width of the rim frame.
The rim size will let you know the maximum tire size that can fit. If you're unsure about the correct size and how to install it, it is advisable to see a professional.
Seeking assistance will help to avoid any damage to the bike. You can also check out a list of strong and reliable gravel tires here.
In addition, the table below shows the pros and cons of using gravel tires on road bikes.
| Pros  | Cons |
| --- | --- |
| Gravel tires are more durable. | Gravel tires run slower than road bike tires. |
| Gravel tires improve a road bike's versatility. | Finding a fitting gravel tire for your road bike might be a challenge. |
| Gravel tires on road bikes give a distinctive aesthetic appeal. | |
Does a Road Bike go Fast on Gravel?
Road bikes are for riding on concrete or tarred roads, which include bike lanes, main roads, and more.
Road bikes are significantly faster on this type of road than on gravel due to the type of tires it has. They are relatively lightweight, and the shape allows for straight-line speed. 
With regular road tires, road bikes experience difficulties in the rain and cannot handle off-road situations. A road bike would not move fast on gravel when the right gear is unavailable.
Gravel bikes are for riding off-road, including on stony and rocky terrains, irrespective of the weather.
The build of Gravel bikes ensures you're always comfortable no matter how long the ride is. This bike comes with large tires.
Some slight changes are necessary for a road bike to move fast on gravel. One of the main things that make a gravel bike different from a road bike is the tires.
The road bike tires will have to be changed and replaced with gravel tires. Only then can a road bike go fast on gravel.
Without this, the road bike will keep struggling to move on gravel, and this can damage the tires of your road bike.
How to Ride a Road Bike on Gravel; 6 Pro Tips
Before riding your road bike on gravel, you need to know some tips and skills.
This skill is essential because riding off-road or on gravel is different and sometimes more difficult than riding on smooth roads.
Below are some tips necessary for riding a road bike on gravel.
#1. Use Appropriate Footwear
It would be best to consider your cleat and shoe choice when riding on gravel. For cycling on gravel, it's crucial to obtain the proper cleats and footwear.
Because you might need to put your foot on the ground, and mud could enter your cleats. You might also have to walk some parts.
For riding a road bike on gravel, smaller two-bolt cleats hidden in the shoe's sole to prevent mud buildup are needed instead of the larger three-bolt cleats used for regular riding.
#2. Use the Right Tires
You'll be able to get more pleasure from riding, thanks to the tires you choose. Regardless of how far your bike trip is, it is important to have proper-sized tires.
Wider tires and tubeless tires typically perform better. This tire will give you better bike control and reduce the likelihood of getting a flat tire.
In the case of a flat tire, it is necessary to bring tire plugs along and know how to change the bike tire.
#3. Watch Your Speed
Do not excessively slow down when approaching a thick or uneven gravel patch.
Reducing your speed too much can cause the bike to get stuck in the mud, making it difficult to move forward. It is also the same when a route transitions from the regular cement road to gravel.
#4. Turning
Avoid turning the front wheel excessively. When riding on gravel and there's a need to make a turn, if you excessively turn the front wheel, there's a likelihood that you lose control, and the bike can slip from under you. A small turn will do.
#5. Avoid Leaning on Your Road Bike
You can lean on the bike around a bend while riding on tarred roads but not on gravel.
If you do this, the bike can go into a skid, causing you to fall. When approaching a corner, lean more forward while riding the bike.
#6. Standing Technique
The method used for riding gravel is the same as that used for riding on the road, but there are a few adjustments.
There's a difference when standing and riding on gravel. For better handling as you stand up, it's necessary to keep your body weight a little further back than you would when riding on the road.
Conclusion
The most popular cycling sports are gravel and road riding. You can travel practically anywhere off-road with gravel bikes, including muddy and forest trails, dirt roads, and rocky gravels.
With the correct gear, you also can ride on road bikes on gravel. Road bikes ride anywhere, including pavements, roads, and local bike lanes.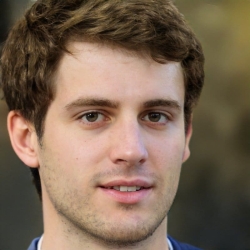 Latest posts by Josh Matthews
(see all)