Can You Walk The Hadrian's Wall Without Camping? (Explained)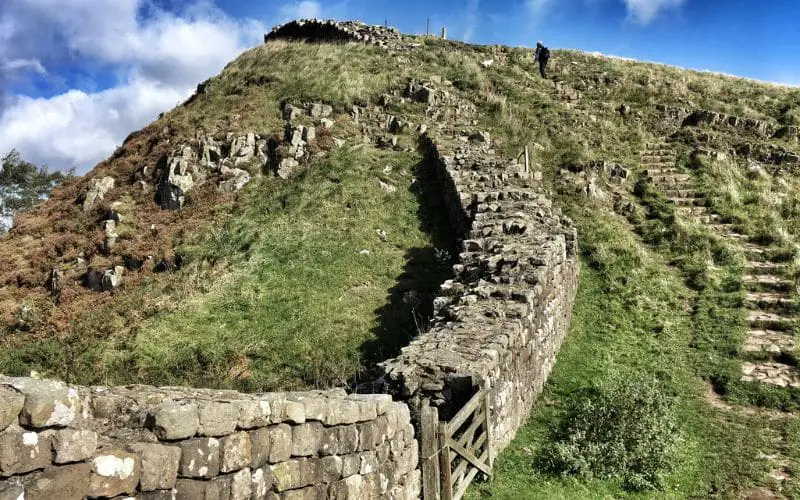 The Hadrian wall trail is an 84-mile national walking route that extends along northern England. 
Walking along the paths of this great wall gives you an amazing experience with a glimpse into history and culture. 
You also get to see beautiful landscapes that refresh your mind. However, since this wall path is wide, you might wonder if walking along the Hadrian Wall is possible without camping. 
Walking the Hadrian Wall when you are not camping is perfectly possible. Although camping can enhance your experience and allow you to connect with the surroundings, other alternatives can help you enjoy walking the Hadrian Hall. You can stay in the surrounding villages, hostels, or even hotels and still enjoy hiking. 
In this article, you will understand how you can walk the Hadrian Wall and the things you need to know and prepare for your walk on the Hadrian Wall. 
After reading, you will make the best choice when planning a walk along the Hadrian Wall. 
Must You Camp Before You Can Walk Hadrian's Wall?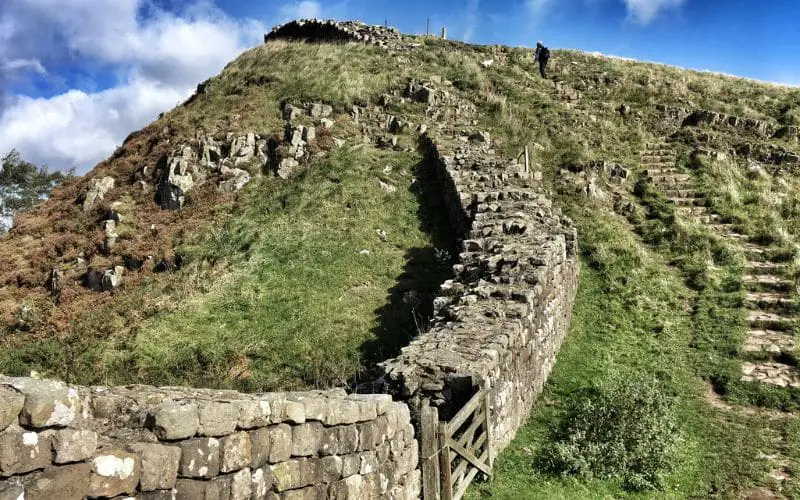 It's not a must for you to camp before you can walk the Hadrian Wall. There are various alternatives available to walkers. 
Camping along the Hadrian Wall allows you to appreciate the tranquil beauty of the countryside, waking up to the breathtaking scenery and sounds of nature. 
Many walkers enjoy the freedom And flexibility that comes with camping, allowing them to walk at their own pace and stop at their desired location. 
There are different campsites along the road with basic facilities such as toilets, bathrooms, and water that allow comfortable stays for campers. 
However, not everyone is comfortable with camping. You may choose the traditional accommodation options.
Some of them include; 
#1. Hotels
Along the Hadrian Wall route, some villages or towns provide accommodation to walkers, such as hotels, guesthouses, bed and breakfasts, and self-catering cabins. 
These provisions make it comfortable and convenient for a walker, with the added benefits of hot showers and local comforts.
#2. Bunkhouse
Another option is staying at a bunkhouse or hostel. This option is best for you if you are looking for budget-friendly accommodation. 
Also, this accommodation type allows you to interact with other hikers and allow you to share your experiences and stories. 
Bunkhouses are everywhere along the Hadrian wall path, making it easy to stop over and rest. 
#3. Boutique Hotels and Inns
Boutique hotels and inns are the best options if you want a touch of luxury or a unique experience after a long day of walk. 
This establishment gives you one of the best provisions; more comfortable beds, mouthwatering dishes, and the opportunity to unwind in style. 
#4. Baggage Transfer Service
This service allows walkers to tour around the Hadrian Wall with light luggage and have their luggage transported to their next destination, thus providing an exciting and enjoyable journey. 
Can You Walk the Hadrian's Wall for Free?
Walking the Wall for free is possible since it's a public footpath and there are no charges for access. However, if you plan on walking this wall for free, these few points might help you.
The Wall is a National Trail, so it is accessible to anyone without any charge required. You will find information boards along the way that will guide your journey. 
Walking the Wall is free, but personal needs such as transport, housing, and meals might create expenses.
Another thing to consider is the length of the walk. The Wall stretches from the East to the West coast of England at approximately 84 miles (135 kilometers). 
Walking can take days or weeks, depending on how fast you are and your interest in exploring. If hiking for more than a day, you must consider your accommodation and meals cost. 
Public transports such as buses or trains are available if you get tired at any point on your walk. These can access any point on the Wall, although they may cost extra. 
Can You Walk the Hadrian Wall Alone? 
You can either walk the Hadrian Wall alone or with your loved ones. It all depends on your preference. However, you need to follow some precautions if you are going alone.
The table below highlights some precautions and their benefits.
| Precautions | Benefits |
| --- | --- |
| Tell your relatives about your movement and ensure your phone has emergency contacts.  | Doing so will make it easier to locate your people during emergencies.  |
| Hold a reliable compass or a navigation app on your phone.  | It will help you stay on the right path and avoid getting lost.  |
| Be alert and aware of your surroundings.  | Doing so will help you avoid potential dangers.  |
10 Things to Know About Walking Hadrian's Wall?
Hiking can be a very exciting experience if you have the right guide. There are lots of recommendations for wall walking and practical steps you have to take. 
Here are some important things you need to know before going on that hike. 
#1. Pack Light
Although carrying necessities while hiking is normal, paying attention to your luggage is best. Walking long distances with smaller bags helps you move faster and avoid harming your back. 
There are main provisions for food and water at Hadrian Wall, so it's best to reduce heavy snacks. Remember to pack less but never forget the essentials.
#2. Don't Forget Your Money 
While credits and debit cards are very much in use, they aren't particularly useful on these trails. Remember to bring some cash for the snack you might find. 
You might opt for the plastic bin offering crips and chocolate bars or hot drinks and oatmeal. There are also honesty boxes provided. 
So bringing some money will save you from carrying the extra weight of snacks all day. Don't forget they are also affordable.
#3. Be Mindful of Every Step 
Hiking the countryside is thrilling, but it's not all a bed of roses. You will also have to walk through a lot of sheep and cow poop. 
These fields with nice scenery also have animals in them. So if you are not ready to see your beautiful boots covered in poop, it's best to watch your steps carefully. 
#4. Persistent Wind 
Nice and sunny days are common along the Hadrian Wall but not without windy times, especially at the highest point. 
The wind up there is very stubborn since there is only a little protection from trees and taller cliffs. So it's best to come prepared with thick clothes to protect you from the cold. 
#5. Unpredictable Weather 
One minute it's sunny; the next, the rain is pouring. Walking Hadrian Wall, you might experience multiple seasons during a trip. Therefore it's best to prepare in advance. 
Be prepared for anything! Pack items ranging from rain jackets and pants for colder days and shorts for hotter days, including a towel to save you on rainy days. 
#6. Limited Toilets 
Not all camp huts have toilets and bathrooms for their campers. Therefore wherever you come across a bathroom, it's advisable to go. 
Otherwise, you might have to pee on the field, which is not easier for ladies.
#7. Passing Through Numerous Gates 
It is another aspect that makes hiking along the Hadrian Wall fun. Most fields consist of animals like cows,  sheep, and the farmers want to ensure they are safe. 
So you have to move from field to field through different gates. The fun part is seeing different gates at the end of your walk. 
#8. Be Smart 
Although the Hadrian's Wall walk has a specified route, it's not bad if you are creative along the trail. The route might be smooth and flat, or you might have to climb several little hills. 
Also, you may pass through the gates rather than climb the stiles on the Wall. Just choose what's best for you but be careful not to wander off the route.
#9. The Days are Longer 
With unpredictable climate, poop-infested paths, and the challenges faced while walking the Hadrian's Wall might make it seem like the days are longer. 
Therefore, midsummer might be the best time to embark on this fun-filled journey if you plan to hike along the Hadrian Wall. 
#10. Pubs are Everywhere 
England is widely known for their friendly pubs. Therefore there is an abundance of pubs while walking the Hadrian Wall. 
Pubs offer light and affordable lunches, and you can take a much-needed toilet break. 
Since they are practically everywhere, you can have the local beer to keep you going at midday and celebrate your progress at night. 
How Do I Prepare to Walk the Hadrian's Wall?
Walking along the Hadrian Wall allows you to explore history and appreciate nature. However, careful preparation will help you enjoy your walk along its paths. 
Here are some preparations to put in place.
First, familiarize yourself with the best route, history, and interesting places on Hadrian Wall, including the sections you want to cover and how many days you would like to use. 
Start preparing for your walk by engaging in regular exercises such as jogging, walking, or cycling to improve your stamina. 
Invest in cozy, sturdy walking shoes, breathable and light clothes, and socks. Also, don't forget your waterproof jacket and backpack that contains all your essentials. 
It's best to acquaint yourself with map reading so you don't go off-route. 
Choose where you will stay during the walk and make your reservation beforehand. Plan the distance you would like to cover each day and the transportation that will take you to your lodge. 
It's best to make sure your travel insurance covers outdoor activities.
After preparation, you can walk down Hadrian Wall appreciating its beauty and history. Don't forget to capture the moment and make long-lasting memories.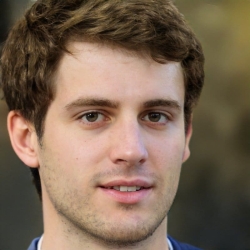 Latest posts by Josh Matthews
(see all)