Hiking Vs. Trekking: Which Adventure Suits You?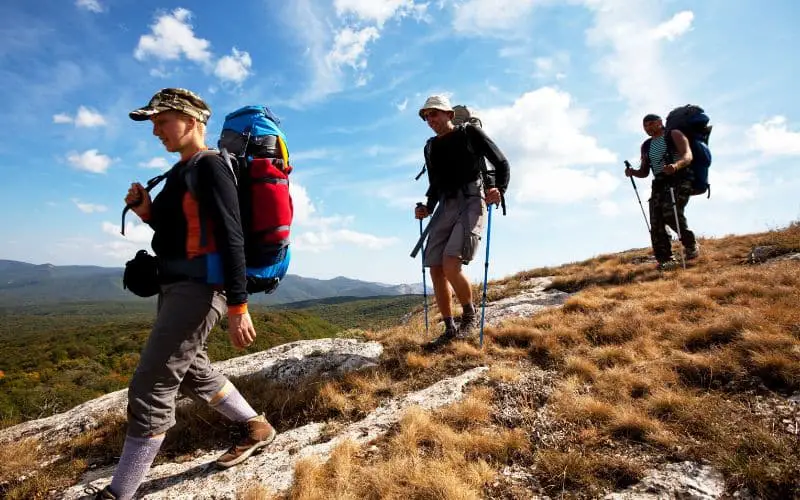 Hiking and trekking are incredibly useful activities that benefit your health and are adventurous when explored.
However, sometimes you're only looking to explore one of the two activities, and you're stuck wondering which suits you best. 
Luckily, you'll get all the tips and facts about hiking and trekking here to help you choose the best for your routine.
Hiking and trekking are thrilling activities; the only way to know which best suits you is based on your preferences. If you're an outdoor enthusiast who enjoys walking countless miles to enjoy nature, trekking is the best adventure for you. However, if you're a simple person who enjoys staying active with short walks through nature, then hiking suits you better.
This article will explain if hiking keeps you in shape better than trekking and the differences between both activities.
By the end, you'll know the differences between hiking and trekking and which suits you best.
What are the Differences Between Hiking and Trekking?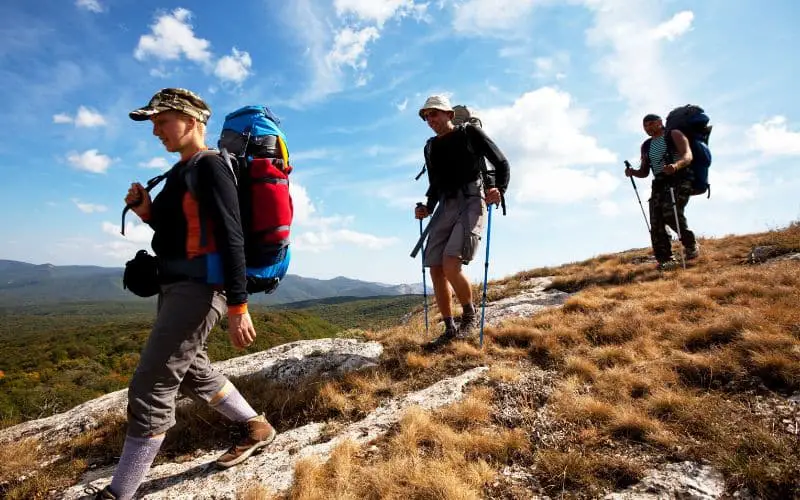 Hiking and trekking are often used interchangeably by people who don't have in-depth knowledge of what they entail.
Unknown to such persons, hiking and trekking have glaring differences that make them almost opposites. 
Luckily, you can expand your knowledge of the differences between hiking and trekking by reading through the detailed points below; 
#1. They Require Different Equipment 
You need completely different equipment for hiking than you'll need for trekking because of the gaping difference in duration between both activities.
Hiking lasts a couple of hours at most, so you'll only need running shoes, boots in winter, breathable clothes, snacks, and water.
If you're also hiking through mountain trails, you'll need boots suitable for mountain climbing and safety gear.
However, for trekking, you'll need a huge backpack containing food, water, clothes, tent material, first aid and other necessities. 
You'll also need a compass because there are no defined trekking rails like hiking rails, and you'll need guidance when there's no mobile service.
There's also a need for waterproof jackets, walking poles, and a map so you're not caught off-guard during an emergency.
#2. They are Done Along Different Paths
Hiking is more or less a leisure sport, so designated trails guide you on where to go, just as sports have fields.
Several government-approved hiking trails are scattered everywhere, and you'll meet instructors who could guide you for an entire trip.
Hiking trails also have pointers and rest stops that keep you on track and help you preserve your energy when needed.
On the other hand, trekking is impossible to map out with trails because of the distant and remote journeys it entails.
Trekkers usually end up on dirt roads, muddy paths, thick woods, forest paths, and mountains as they try to reach their destination.
Judging from their various comfort levels, you can rightfully claim that a trekker's path is more difficult than a hiker's.
#3. They Have Varying Durations
Hiking could last thirty minutes to a couple of hours, depending on the area or hiking trail being covered.
On some hiking trails, you can go hiking for a day or overnight, but it hardly lasts up to two days or more.
However, treks could last from at least two days to weeks or months, depending on the weather and distance of the destination.
For example, a group of trekkers might pick a destination that should last a week, but they'll have to pack extra in case of delays.
Trekkers also tend to take their trips in remote areas rather than within the city, like hikers, so it's not easy to buy supplies.
#4. They Have Varying Difficulty Levels
Trekking is hard work, and you'll need to fit or at least be conversant with activities that require long endurance to be good at it.
You'll likely return from a trekking trip with blisters, sore feet, aching calves, and hurting quads, whether you're a pro or not.
These facts make the difficulty level for trekking extremely higher than that of hiking and a handful of other exercises on foot.
On the other hand, hiking is a fun activity to relax one's nerves and enjoy nature, so it's less demanding.
You can take a short hike that'll take an hour or two to complete if you're not used to longer walks.
You can also choose a more difficult hiking trail, but it'll still not be as hard as trekking, which lasts for days.
If you need more information to determine which activity suits you better, below is a table that highlights the differences between hiking and trekking; 
| Hiking | Trekking |
| --- | --- |
| It's usually a short walk. | It's always a long and tedious journey. |
| It's mostly done to admire nature.  | It's mostly done to reach a distant destination. |
| It's done along designated hiking trails. | It's done along hiking trails, dirt roads, and rough paths. |
| It requires you to pack light. | It requires you to pack like you're going camping. |
| It takes only a few hours. | It takes two days or more, depending on the distance. |
Is Trekking Better than Hiking?
Trekking and hiking can be enjoyable and unforgettable experiences depending on the paths you choose and the duration of the activity.
However, because of how much preparedness and endurance are required for trekking trips, it's safer to say that hiking is a better activity.
Anyone can plan a hiking trip in a few days with few resources, but the same can't be said for trekking trips.
Trekking trips require months or weeks of preparation and endurance-building; getting equipment and sustenance for trekking also costs more.
You'll also need to embark on short hiking trips in preparation for one long-distance trekking trip, but you only need to exercise often in preparation for hikes.
The tedious preparation and execution that trekking requires makes it less enjoyable and more difficult than hiking.
Hiking vs. Trekking: Which is Best for You?
The only way to decide which activity is better for you, between hiking and trekking, is to weigh their differences and your preferences.
For instance, hiking suits you best if you prefer short walks where the primary objective is to admire nature and enjoy good company.
However, if you're eager to embark on a thrilling journey that'll take days or weeks and your endurance levels are high, then trekking suits you better.
Also, if you're familiar with hiking trips and want to try something tougher, you should explore trekking in groups.
You can even train for trekking by signing up for overnight hiking trips to steadily build your endurance.
Hiking and trekking have also been certified as activities that improve your blood pressure and lower your risks of developing heart disease.
Conclusively, it's impossible to decide if hiking or trekking is better for one person or the other without knowing their preferences and past experiences.
However, it's never a bad idea to give hiking a chance if you haven't tried either because it's a great way to start keeping active.
Does Hiking Keep You in Shape Better than Trekking?
Simply put, trekking keeps you in shape better than hiking because it lasts for days, and you're usually on a restricted diet.
Trekking involves walking for hours a day, and this is a full-body exercise that strengthens your body and helps you lose unwanted body fat.
Also, if you're on a strict protein diet while trekking, you'll likely lose even more weight, especially if you're adequately hydrated.
Trekking is also said to strengthen your core and reduce belly fat depending on how often you do it or how long your trips are.
However, it's important to note that hiking also keeps you in shape if it's done regularly, especially if you're the type that enjoys overnight trips.
Hiking helps you build your stamina and prepares your body for other extreme exercises you might've been unable to do beforehand.
It's also a full-body exercise, so you'll likely realize that your legs have been strengthened and your arms and abdominal muscles are toned.
Frequently Asked Questions
Is Hiking the Same as Walking? 
Hiking involves walking, but they are not the same because the former is only done in nature while geared up and lasts for hours.
What are the Benefits of Trekking? 
Trekking reduces your stress levels, improves your fitness, teaches you endurance, improves cardiovascular strength, and helps you lose weight.
Does Hiking Build Muscle? 
If you go on hiking trips often, the constant exercise is bound to build your lower body muscles in the long run.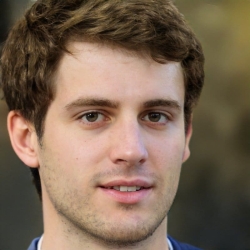 Latest posts by Josh Matthews
(see all)