Can You Go Camping On Crown Land in Alberta? (Explained)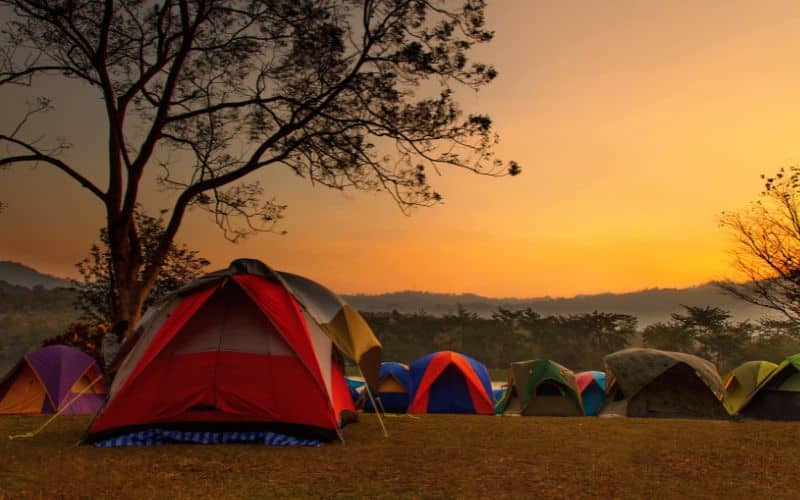 In recent years, camping in Alberta has become an exciting and popular recreational activity for residents, visitors, and tourists.
This great city is home to mountains, foothills, prairies, and badlands, in addition to offering a spectacular view of nature.
And with countless ways to camp in this beautiful province, crown lands provide a straightforward, less fussy way to enjoy nature.
So, if you plan camping on Crown lands in Alberta, here's what you should know.
Yes, you can camp on Crown lands in Alberta. These publicly owned lands offer great sites, large spaces, and easy access at a lesser cost. These lands are open to everyone if they abide by the rules and regulations. However, finding a good spot to pitch your tent may be challenging.
In this camping guide, I'll answer whether it's legal to camp on crown lands in Alberta and if it's free.
Also, I'll discuss how long you can camp on these public lands and whether your car can camp too. Finally, you'll know the rules and regulations guiding camping on Alberta crown lands.
Is It Legal to Camp on Crown Lands in Alberta?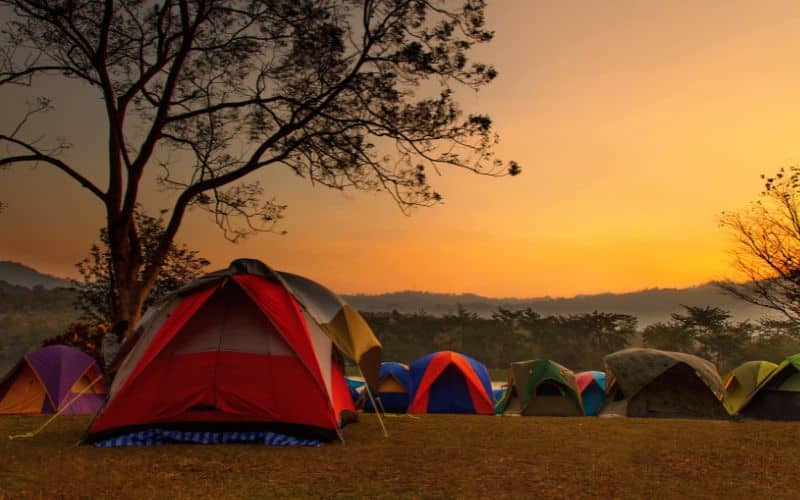 Yes, it's legal to camp on crown lands in Alberta. Crown lands are public lands available for different purposes, including industrial, research, and recreational.
So, it's lawful to camp on these lands if you follow the rules guiding camping on the sites. However, you may need a pass before camping in designated areas.
Furthermore, public lands in Alberta are specified differently under the Public Lands Acts.
These include Public Land Recreation Areas (PLRAs), Public Land Use Zones (PLUZs), Vacant public land, and Agricultural public land.
Therefore, you'd have to know the rules guiding each of these lands to carry out recreational activities on these lands, including camping.
For instance, Agricultural crown lands are usually under lease for farming or grazing. So, you'd have to contact the leaseholder before entering any of these lands.
Bear in mind that they can deny you access.
Below I'll explain what you should know before camping on Alberta crown lands. 
#1. Random Backcountry Camping 
Random camping is also known as rustic camping.
It can occur in PLUZs, PLRAs, and Vacant public lands, with access from the backcountry, gravel back roads, and off-highway vehicle (OHV) trails.
You can reach the sites by hiking, cycling, driving an off-highway vehicle, and even riding a horse. Also, backcountry camping is allowed in Alberta wildland provincial parks.
These areas are often remote, offering little or no services.
So, campers must be well-prepared to cater to their needs, including managing garbage and human waste and collecting wood for a fire.
In addition, you can't reserve a spot. You only get one on a first-come basis, which might require you to hike or ride for some time to get a good spot.
Here are some of the things you should know before random camping on public lands in Alberta:
Cell Phone services may be unavailable.
Don't camp in areas where you'll restrict or obstruct trail access or industrial areas.
Before entering agricultural crown lands, you should ask questions and contact leaseholders first.
These renters can deny you entry for whatever reasons.
Exploding targets or fireworks aren't allowed without a permit. 
Pitching your tent on crown lands bordering the Eastern slopes of rocking mountains requires a public pass.
#2. Frontcountry Camping
Frontcountry camping is also allowed in some specified areas in Alberta crown lands. It's also called car camping.
This type of camping takes place in Alberta provincial parks. Here, you can bring your car to the campground.
Most provincial parks and recreational areas (PRA) offer amenities for front-country camping, including firewood, washrooms, and showers.
Also, services include walk-in tent campsites and recreational vehicle (RV) sites with electricity and water.
Furthermore, you can make reservations for campsites in advance.
Here is what you should know before front-country camping in Alberta provincial park:
You can book a space ahead at Reserve.AlbertaParks.ca.
Individual bookings are 90 days in advance and 180 days for group camping.
Rules for provincial parks are different from public lands. Visit here to check the rules.
Follow the number of vehicles and equipment per site.
Keep your pets on a leash.
Quiet time is from 11:00 am -7:00 pm.
Below is a table showing a comparison between front-country and backcountry camping:
| Frontcountry Camping  | Backcountry Camping  |
| --- | --- |
| Campsites are usually in fully serviced areas  | Campgrounds are usually in remote areas with little or no services  |
| Campers can access complete services, including water, washrooms, showers, and RV sites. | Campers will have to provide these services themselves in most areas |
| Campers can make reservations in advance  | Campers can't make reservations. You've to find a spot yourself  |
| Vehicles can camp on sites too | Some areas allow vehicles and offer Off-highway vehicle trails  |
| Maximum stay is 16 consecutive nights  | Maximum stay is 14 days in a particular location  |
Is Crown Land Camping in Alberta Free?
Camping on crown land in Alberta will be free, depending on the area you're pitching your tent. In past years, Crown land camping was free, with few restrictions and rules. 
However, since most campers don't stick to the rules and regulations, some crown lands require a fee to access.
Since June 1st, 2021, campers have required a public land pass to camp along the Eastern slopes of rocking mountains.
This pass is worth 20 dollars per person for three days. Then for an annual pass per person, it costs 30 dollars.
In addition, the pass is only for persons above 18 years and when camping on lands bordering the Rocky Mountains.
Below are some of the places that get nearly free passes on Alberta crown lands:
#1. Abraham Lake
Abraham Lake is one of the famous and favorite places for locals and visitors in the Kootenay Plains. 
Although the lake is artificial, it provides a beautiful view. However, it isn't safe for swimming or paddling. Read PLUZ info here.
#2. Dormier/Sheep
The Dormier/Sheep is another beautiful place to camp on Alberta crown land. It offers good trails, those for OHV and equestrian use.
Also, photographers and wildlife lovers would appreciate the elk, bear, and bighorn sheep that usually wander about. Read PLUZ info here.
#3. Kiska/Wilson 
The Kiska/Wilson provides a fantastic view from nearby hiking paths. It offers challenging and straightforward adventures you would want to take advantage of. Read PLUZ info here.
How Long Can You Camp on Crown Land in Alberta?
In Alberta crown lands, you can stay in a particular area for up to 14 days.
After the 14 days lapses, you must move your tent to another location, at least 1 Km away, and camp for three days maximum.
Therefore, you must ensure your tent and camping facilities are portable to move them quickly.
Limiting your stay to 14 days on a particular site gives other people a chance to camp. Also, it'll limit the stress on the vegetation, soil, and water, preserving the resources.
However, in Alberta parks, you can stay a maximum of 16 nights.
When camping, you should pitch your tent 100 feet away from lakes and water bodies and 330 feet from oil and gas wells sites.
During the 14 days stay, campers can explore the surroundings while following the rules and regulations.
Finally, while moving, you must discard your waste correctly and not leave anything behind.
Can Your Car Camp on Crown Land in Alberta?
Yes, cars can camp on crown land in Alberta. However, this will depend on the area you're camping. Some public land use zones and Alberta park sites allow off-highway vehicles.
However, campers must follow the rules guiding motorized recreation on Alberta crown land.
Below are some of the things to take note of to camp with your vehicles on Alberta crown lands:
Riders must stay on specified OHV trails or designated areas on public lands and provincial parks.
Riders must obey all signs. 
Riders should plan their routes ahead of time.
Every vehicle must have valid registration and license.
Every vehicle must have a red rear lamp that can emit light visible from at least 185 feet. Also, it should have at least one front white headlamp that can illuminate an object from at least 185 feet.
An adult must monitor riders below 14 years 
Rules For Camping on Crown Land in Alberta 
As I've earlier established, each camping zones and the park has its own rules. So, it's essential to check them out before entering a site.
However, a general rule applies to camping on Alberta crown lands.
Below are the rules for camping on crown land in Alberta:
Your tent and facilities must be 100 feet away from lakes and streams.
Your camping facilities should be temporary and movable.
You should not spend more than 14 days in the same campground.
Don't disturb trees and vegetation.
Obey all signs and follow instructions from authorities.
Leave your campsite neat. 
Keep your pets under control.
Stay away from leased lands unless permitted.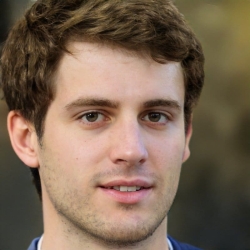 Latest posts by Josh Matthews
(see all)