Can You Go Camping On Your Own? (Must Know This)
Camping is an activity that involves stepping out of the comfort of your home to connect with nature and take some time to relax. 
When you research camping, you'll usually find people going out to camp in groups. You may then wonder if it is okay to go camping alone.
It is entirely okay and safe to go camping on your own. However, you must make adequate preparations and possess all the necessary safety gear, like a tent, flashlights, sleeping pads, etc., to avoid inconveniences when solo camping. Solo camping can be very beneficial as it gives you time to relax and become one with your thoughts.
This article explains why solo camping is a good idea and how to prepare for it adequately. I'll give you a list of some fun activities to do when camping solo.
Is Camping Alone a Good Idea?
Yes, camping alone is a great idea. It can be very beneficial to go camping on your own.
Here are some benefits of solo camping:
When you camp alone, you get time to take a break from everyone. Human interaction can be very draining. We all want to get away from everything and everyone sometimes.
Solo camping will give you time to reset and leave you with your thoughts. 
You get to reflect on your past and present goals when you go solo camping. 
Solo camping allows you to enjoy nature in peace.
Can a Woman Camp Alone?
Yes, a woman can camp alone. Camping alone as a woman may seem rigorous and challenging, but you can do it. As a woman, you must be very thorough when preparing to camp alone.
Here are some safety tips you need to be aware of when camping alone as a woman:
#1. Make Proper Preparations
You need to make proper planning and preparation before going solo camping as a woman.
Here are some of the essential items you should have with you when camping alone as a woman:
Tents
Sleeping bags and sleeping pads
Headlamp
Food and water bottles
A first-aid kit
A lighter
A pocket knife
#2. Disclose Your Plans to People You Trust
Letting your friends and family know about your plans would be best. Inform them about the location of your campsite and ways they can contact you at any time.
#3. Choose the Right Campsite Location
Choose an established campsite with all the resources you need. The campsite should be close to your house, and someplace you know. You'll easily find your way back when necessary.
#4. Keep up with the Weather
It's essential to know the weather forecast before camping to prepare yourself.
Here are some items you'll need to carry along when camping in the cold weather:
Insulated sleeping pads
Cold-weather sleeping bags
Stove and fuel
Synthetic or heavyweight jacket
Gloves and socks
#5. Be Aware of Your Surroundings
You can always go right with being alert and listening to your intuition. However, whenever something feels off or uncomfortable, you should inform the park rangers at the campsite immediately.
Is Tent Camping Alone Safe?
Yes, it is entirely safe to camp alone. However, you must ensure that you make preparations before going camping alone.
When preparing for camping alone, the first thing to do is pack up your camping gear. Here is a list of the gear you need when camping:
You'll need a tent to protect you from insects and the harsh weather at night.
A sleeping bag will help keep you warm and comfortable at night.
You'll need a rain tarp to cover your tent to avoid getting wet when it rains.
Ropes or bungee cords to secure your items together.
You'll need a First aid kit for when you get an injury. The first aid kit should contain bandages, dressings, ointments, tweezers, and blunt-tip scissors.
Canteens and water bottles filled with water to keep you hydrated
Flashlights and headlamps as a source of light when it gets dark
Matches or lighter to start a campfire when necessary
A compass to navigate your environment
A knife to protect yourself from wild animals if necessary.
Before solo camping, you must be aware of basic knowledge like setting up a tent, choosing a proper campsite, etc.
Selecting a campsite, you're familiar with, and just a short distance from your home is best when solo camping. You can easily find your way back home in case of any inconvenience.
You need to know how to set up a tent for shelter when solo camping. Here are the steps to set up a tent for solo camping:
Step One: Spread out the Tarp and Lay the Tent
The tarp will be a protective layer from the ground to prevent your tent from gathering moisture. 
Moisture may compromise the insulating properties of your tent. Spread the tarp out in a way that the edges of the tarp don't stick out of the tent. 
Lay the bottom side of the tent on the tarp such that the door and windows face wherever you want.
Step Two: Connect and Insert the Poles into the Flaps
Connect your poles and slide them into an eyelet and the flaps. The poles should form an X, the tent's frame.
Step Three: Raise the Tent and Stake It to the Ground
After you use the poles to make a frame for the tent, raise and straighten the tent to form a square shape. Fit the metal stakes into the tent flaps and then push them into the ground.
Use a rain fly or a rain car to cover the tents so you won't get wet when it rains.
Four Fun Activities to Do When You Camp Alone
Here are some fun activities to do when camping alone:
#1. Read a Book
Reading a book can be a fun way to pass the time. When camping alone, you should carry some of your favorite lightweight books.
You can also download e-books on your phone, so you don't have to worry about carrying books.
#2. Write a Journal
A fun activity to do when camping alone is journaling. You can write down your thoughts or memories in a book.
Journaling not only helps to pass the time but also helps to relieve stress and anxiety. Journaling can also be a way for you to track your goals and progress during camping.
#3. Meditate
One of the best activities to carry out when camping alone is meditation. Meditation requires quiet, which is in abundance when camping alone. 
Meditation can help to get rid of stressful energy and improve relaxation.
Here are some essential meditation tips:
It would help if you were comfortable where you want to meditate.
Ensure to straighten your spine.
Close your eyes to avoid visual distractions and focus on breathing.
If your mind keeps wandering, try chanting some mantras.
#4. Start a Campfire
Before you start a campfire on the campground, you must find out if it's legal. 
Here is a table showing the materials needed to make a campfire and their uses.
| Materials | Uses |
| --- | --- |
| A lighter | To start the flame |
| Tinder, firewood, and kindling | Allows the fire to burn |
| Fire extinguisher | To put out the fire |
| Rake | To clear up the area before you set up the fire ring |
Here are steps on how to make a campfire:
After gathering the necessary materials, the first step is to build a fire ring. The fire ring will help to contain the fire in one spot.
Choose a flat area 5-10 feet from the low-hanging tree branches to set up the fire ring.
The area you choose to set up the fire ring must be at least 15 feet from your tent.
Clear out sticks and leaves away from the area to avoid spreading fire.
Use a shovel to dig out an indentation about 5 inches deep. Ensure that the indentation is bowl-shaped.
Align rocks and large logs around the indentation to form a containment ring. 
Gather fuel, firewood, and kindling into the containment ring. Use a lighter to ignite the flame on the wood. Blow gently at the base to intensify the flame.
Use a fire extinguisher or a bucket of water to put out the flame once you're done.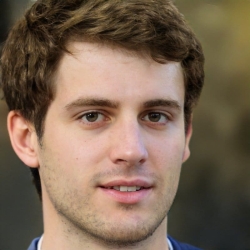 Latest posts by Josh Matthews
(see all)