Should I Size Up Or Down For Merrell Hiking Shoes? (Explained)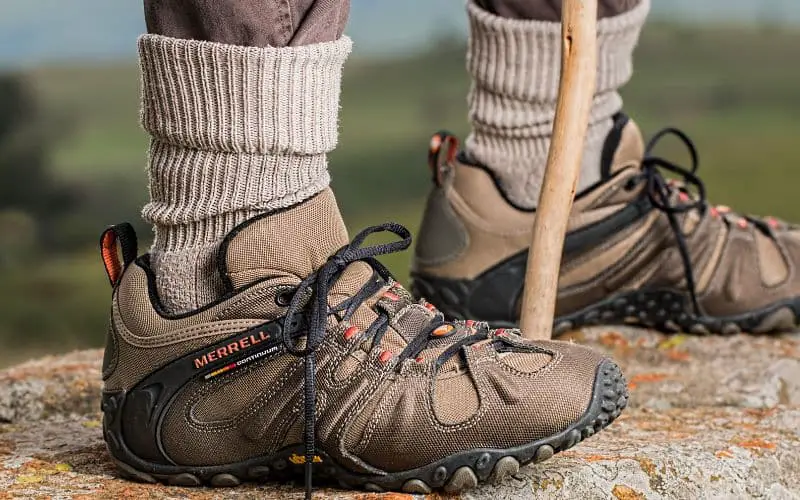 Sizing up and down for your hiking shoes, in general, is advisable because all people's feet are unique, and a particular pair of Merrell shoes might not fit perfectly. 
Many shoppers would go for their actual shoe size when buying new shoes, but sometimes, these shoes may run too small or too big. 
For this reason, is it necessary to size up and down for your Merrell hiking shoes? 
You should size up and down for your Merrell hiking shoes because certain factors, like the material used for the shoe production, might affect the shoe size. 
In this article, I will let you know what you need to put in place before purchasing your Merrell hiking shoes and how to size them. 
Do Merrell Hiking Shoes Fit True to Size?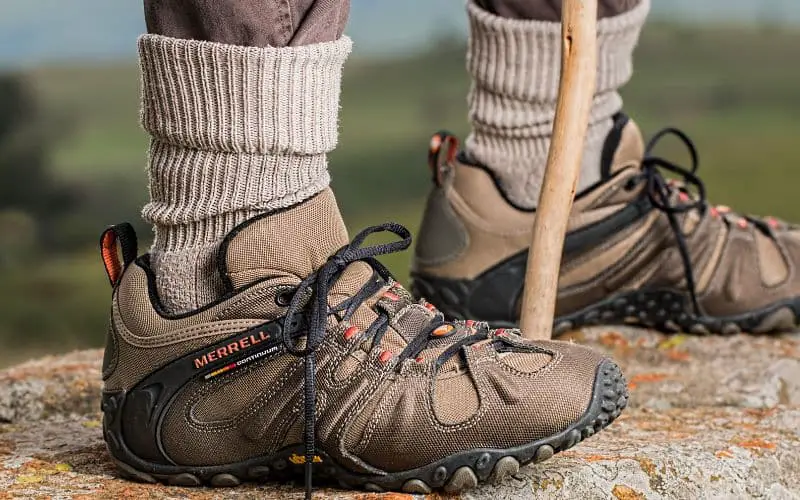 In most reviews, we discovered that Merrell shoes fit true to size, but this might not be the case in some cases. 
Although Merrell usually fits true to size, there can be certain cases where the shoes fit too small or too big from your actual shoe size, as it is not 100% definite. 
Some common reasons why your Merrell shoes might not fit to size include; 
The shape of your feet 
The material used in the production of the shoes. 
The type of socks you would choose to wear underneath. 
If you have wider feet, you might find a pair of Merrell shoes the same size as you wear, but the sides won't fit because they are narrow. 
You must know your foot width because knowing the width of your foot is as important as knowing the length of your foot to be able to shop for the right Merrell shoes.
Also, every type of material used in shoe production has its unique characteristic; Merrell shoes are generally made of leather and synthetic materials. 
You should also consider the type of socks you choose to wear underneath. 
Do you normally love to double up your socks while hiking or go for thicker socks or slimmer socks? Make sure you consider this while testing out a pair of Merrell shoes. 
Are Merrell Hiking Shoes Sizes Consistent? 
Merrell hiking shoes are known for their consistence in terms of sizes, but it is always important to size your shoes before purchasing to be sure. 
It is always a good idea to consult certain guidelines and customer reviews before purchasing. 
Also, when buying online, ensure that there is a return policy in cases where the shoes don't fit you correctly. 
Merrell shoes are normally known for their comfort and durability, which makes them a popular choice between hikers and runners. 
The country you are purchasing from is a major factor influencing the size of these Merrell shoes. 
Merrell shoes usually come in US sizes, which vary with other countries. It is always important that you refer to the Merrell shoe sizes chart before you make a pick. 
Merrell omens Size Chart
| CM (CN, JP, MONDO) | Inches  | US | UK  | EU |
| --- | --- | --- | --- | --- |
| 22 | 8.66 | 5 | 2 ½  | 35 |
| 22.5 | 8.86  | 5 ½  | 3 | 35 ½  |
| 23 | 9.06  | 6  | 3 ½  | 36  |
| 23.5 | 9.25  | 6 ½  | 4 | 37  |
| 24 | 9.45  | 7 | 4 ½  | 37 ½  |
| 24.5  | 9.65  | 7 ½  | 5 | 38  |
| 25 | 9.84  | 8  | 5 ½  | 38 ½  |
| 25.5  | 10.04  | 8 ½  | 6  | 39  |
| 26 | 10.24  | 9 | 6 ½  | 40  |
| 26.5  | 10.43  | 9 ½  | 7  | 40 ½  |
| 27 | 10.63  | 10  | 7 ½  | 41 |
| 27.5 | 10.86  | 10 ½  | 8 | 42  |
This chart will guide you in making the right choices when purchasing your Merrell hiking shoes.
Should You Size Merrell Hiking Shoes Up or Down 
When sizing Merrell hiking shoes to see if it fits your actual size, it is better to size up the width of the shoes. 
Most importantly, consider the toe box when sizing; it would be better to get thin-slice shoes in walk-in stores rather than online shops to check out sensitive areas like this. 
But in cases where you can't, you should provide the vendor with your adequate shoe size and foot width size. 
You should also ensure that you go for flexible Merrell hiking shoes, that way, you are sure of your shoes expanding to fit your feet properly over time. 
Are Merrell Hiking Shoes Narrow or Wide? 
There are several models of Merrell shoes for different feet types. So, if you have narrow or wide feet, don't worry. We gore you covered; 
Some models of Merrell shoes suitable for narrow feet include;
#1. Merrell Moab 2 Ventilator
The Merrell Moab 2 ventilator is a popular hiking shoe known for its comfort and durability. 
These shoes are narrower than several hiking shoes, making them very suitable for people with narrower feet. 
#2. Merrell Vapor Glove 
This merrell vapor glove is a minimalist running shoe with a snig foot and a barefoot-like feel. This shoe is known for its flexibility and lightweight design. 
#3. Merrell Siren Edge Q2 
Merrell siren edge Q2 is a hiking shoe that is designed specifically for women. This shoe provides a narrower heel and a more contoured feel, making it a good fit for people with narrower feet. 
#4. Merrell Agility Peak Flex 
The merrell agility peak flex is a trail running shoe with a secure fit and stability. This shoe offers more snug feet in the midfoot and heel areas. 
This makes this shoe very suitable for people with narrow feet. 
#5. Merrell Bare Access XTR
This Merrell bare access XTR is a versatile running shoe suitable for running on the road and tracks. 
This shoe has a narrower fit compared to several other models of the Merrell lineup; this shoe will be very suitable for trail runners with narrow feet. 
And some Morrell models suitable for people with wider feet include; 
#6. Merrell Moab 2 Wide 
The merrell Moab 2 wide is a popular hiking shoe available in several widths. These shoes fit perfectly into people with wider legs and offer generous fit in the toe areas. 
#7. Merrell Jungle Moc Wide 
The merrell jungle moc wide is a casual slip-on-shoe brand with a roomier fit. This shoe provides a wider toe box and ample space throughout the shoe. 
#8. Merrell Chameleon 7 Stretch Wide 
This shoe model is designed with a stretchy upper part that allows the wider feet to move around more freely. 
The Merrell Chameleon 7 stretch wide provides a comfortable and flexible fit, making it more suitable for outdoor hiking and trail running. 
#9. Merrell Ontario 85 Mid Waterproof Wide 
This waterproof wide model offers a wider fit option. It offers additional space in the front and back areas to accommodate wider feet. 
#10. Merrell Encore Bypass Wide 
The Merrell encore bypass wide is also a slip-on shoe known for its comfy and roomy fit. The shoe features a wide-width option that provides more space for individuals with wider feet. 
Try these shoes on purchase and walk around to see if they fit your feet perfectly, as everyone's feet are unique. 
Are Merrell Hiking Shoes Narrow or Wide? 
Merrell hiking shoes are not subject to just one-foot type. These shoes provide various wide and narrow options for their customers. 
Normally, the Merrell hiking shoes run true to size, and the width of these shoes has never been a significant issue, but to be on the safer side, you should test these shoes on the spot to be sure. 
Even with these, Merrell hiking shoes are generally known for having a wider fit rather than a narrow one. 
Merrell designs their shoes with more space in the toe box and a more generous fit overall.
Manufacturers do this to accommodate the natural swelling of the feet that occurs due to walking too much and can be obtained during long hikes. 
With this, it is likely for people with narrow and wider fits to find the Merrell hiking shoes comfortable. 
Try out various models of Merrell hiking shoes to find your fit, especially if you have very wide feet. 
Also, ensure that you seek guidance from a shoe specialist or the store if you will be getting your pair from a walk-in store if you do not know how to pick the right shoes for yourself correctly. 
Are Merrell Hiking Shoes Any Good? 
Merrell is a widely recognizable shoe brand suitable for various hiking and outdoor activities. 
This brand has a strong reputation for producing high-quality hiking shoes known for their durability, comfort, and high performance on the trail. 
These Merrell hiking shoes often incorporate features like excellent traction and supportive midsoles. 
It is also very important to note that the quality and performance of these shoes can vary depending on the specific models and individual preferences. 
It is also a good idea to try out various models and see how they feel. That way, you have more insight into more brands and can make better decisions in case of next time. 
FAQs 
Do Merrell's Run Big or Small? 
Merrell shoes generally run true to size, but generally, Merrell shoes are made wider than usual to be able to fit more feet types. 
How To Fit Merrell Hiking Shoes? 
These shoes should be worn to fit snugly in the heel first and precisely over the instep to stop your feet from sliding forward. 
Do Merrell Shoes Stretch Over Time? 
With constant wear, your Merrell shoes should stretch widthwise and not lengthwise; ensure that you have at least 1cm of space from the tip of the longest toe to the front of the shoe.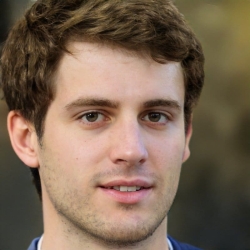 Latest posts by Josh Matthews
(see all)