Camping in The Garden (Tips & Tricks)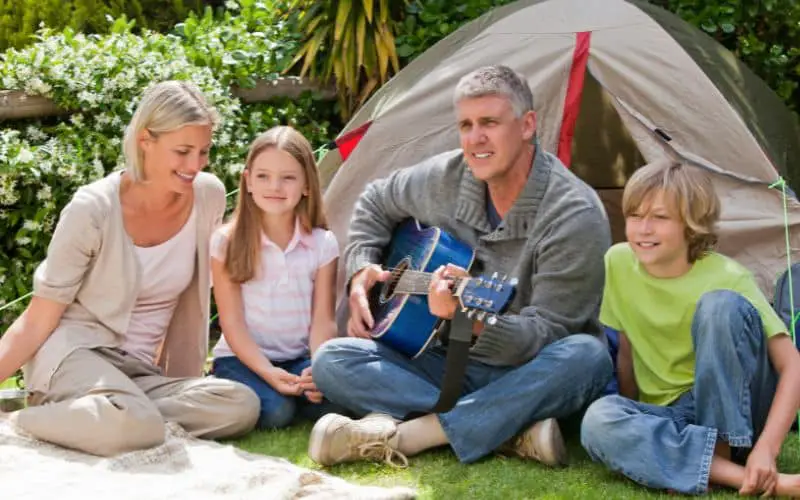 Camping has always been a fun way to enjoy the great outdoors. The thrill of nature and its elements is always a sight to look forward to.
Yet planning camping trips is one aspect most people usually don't fancy. But you can as well bring the camping experience to your home!
Camping in your backyard garden lets you enjoy the camping experience with less logistics. So you can enjoy a memorable time camping at home with the right setup.
Activities like making campfires and roasting marshmallows are great ways to spice up camping in your garden. The key to a successful backyard garden camping is to draft a schedule and fill it with fun activities. On this note, you're in charge of every camping activity and can use your discretion to arrange things
Camping at home gives you more control over your camping experience, although you must work with the weather. Regardless, it's easy to have a fun experience.
Whether planning to camp solo or with your family, this article will help you plan a memorable event. Also, you'll get tips on fun activities you can enjoy when camping.
Is It Fun to Camp in the Garden?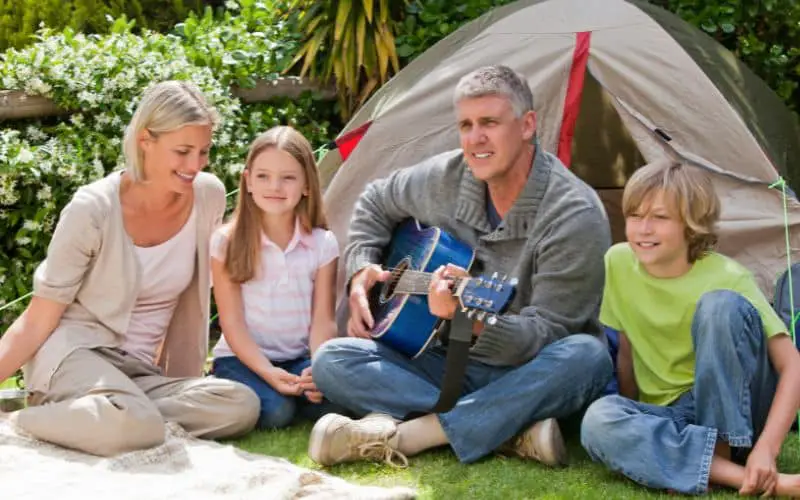 Yes! It's fun to camp in your backyard garden. Although it's not the same as being at a campsite, you can still enjoy many thrills from the comfort of your home.
When camping at home, you have less of nature's wonder, so you must get creative to make your time worthwhile.
You'll see that it's not the same as when you're at a campsite. You can go hiking, kayaking, or even visit waterfalls there.
However, it's all on you to outline enjoyable activities when camping in your backyard garden. Else, you'll end up dueling boredom and listening to the sound of crickets.
Precise planning is the secret to having a memorable camping experience in your backyard garden.
So, the idea is to engage in fun activities and leave no dull moment when you pitch your tent in your garden.
Thus, you'll have to ensure you set everything in order so your camping time doesn't become a boredom fest.
Besides the control over activities when camping at home, the convenience you enjoy also makes things easier. That's because you won't have to leave your home's comfort.
Arguably, the ease and comfort of camping in your backyard garden make the experience exciting.
Thus, you won't spend weeks packing for a trip or trying to make sense of maps. Also, you don't face the classic tale of trying to make reservations at a popular location.
Thus, as long as the weather's good, you can camp in your garden any time you please. Also, camping in your backyard garden requires less equipment.
Another plus is that you'll suffer less mental and physical strain when you camp in your garden.
Ultimately, having fewer activities to handle will mean fewer expenses for you. So you can easily channel your finances to other useful areas.
You could save some of your money and use some to get things in place for your camping experience at home. However, you won't spend much like at a campsite.
Seeing how easy camping in your garden can be, you only need to plan how to spend your camping time. After that, you can get your gear, set up and have a memorable time!
Can You Camp with Your Family in the Garden?
Of course! You can camp with your family in the garden at home. You know what they say, the more the merrier? Besides, you could still make it work even with a small space.
One usual takeaway from camping is that it can bring a family together. That's because everyone's together in the same place without distractions.
The experience will be even more worthwhile if everyone's been busy. Thus, the whole family gets a break from the buzz, spends time together, and bonds better.
Engaging in camping activities can help families compensate for lost time due to work and other factors. That's especially true in the case of kids.
Also, camping in your backyard garden can help you give your kids their first camping experience. That can help them learn about camping safety at home first.
Thus they'll be at ease in the comfort of your home with familiar faces around while tasting what camping feels like.
That'll also give them a positive mindset about camping. So, there'd be less uneasiness or anxiety when you take your kids to a campsite.
They'd already be in tune with the camp setting and should have a seamless experience.
Considering the whole family, having games, telling stories, or starting a campfire are ways to bond. You have to be creative about what to do.
Camping with your family in your backyard garden may also serve as that holiday getaway you've hoped for.
That's because having a good setup of tents or tepees can relieve the feeling that you're home for a while. Either way, you'll have enjoyed a different experience in the end.
So, camping with your family in the garden can serve if you've failed to secure a reservation. It'll save you loads of money and reward you with fun family time.
Five Tips and Tricks for a Memorable Garden Camping
Precise planning is the secret to having a memorable garden camping experience. As such, your camping time will be worthwhile with a proper setup and fun activities.
Thus, logistics comes into the fray and often becomes a bone to chew. But not to worry, we're here to help you get on your way.
Below are some tips and tricks to help you have a memorable time camping in your backyard garden:
#1. Prepare the Camping Area
One way to scale up your garden camping experience is to replicate the feeling of being at a campsite. It would help if you didn't skip having tents or tepees for any reason.
Unless your budget can't cover it, getting a camping tent is a budget-friendly option and easy to mount.
But tepees are more expensive and require some technical knowledge to set up. You can buy this dome-shaped tent in three colors to make things easy.
There are also different sizes to choose from for two to six people. But if you'd like a family-sized option, you can get the KTT Extra Large Tent for up to 12 people.
Also, hanging string lights around your camping area will add a special touch to your camping experience and give you a magical feeling.
Then, the last but not the least touch you should add is the campfire. So you can start a controlled fire if it's safe; otherwise, you should invest in a firepit.
#2. Get Proper Camping Gear
It's vital to get appropriate camping gear while you're in your backyard garden. That will help you spend more time camping than in your house.
Having the right gear at your campsite will lessen the need to return indoors. 
The table below shows some needful camping gear you can invest in:
| Category | Items |
| --- | --- |
| Bedding | Blankets, duvets, inflatable air mattresses, and sleeping bags. |
| Cooking | Portable propane gas and vintage thermoses for hot chocolate. |
| Lighting | Electric candles, lamps. |
#3. Camping Food is a Priority
Having a food supply during camping helps keep energy levels high. So it's important to have food, although you can always cook in your home's kitchen.
But if you want to add a special touch, you can take out the grill and have a barbecue. Also, burgers, fruits, marshmallows, and sausages will enrich your supplies.
#4. Interactive Activities
Lining up various activities when camping helps you have a good time. Below are some activities you can engage in:
Catching fireflies.
Stargazing.
Singing around the campfire.
Toasting marshmallows.
Telling ghost stories.
#5. Games Galore
Having games when camping builds up excitement and adds most of the fun you'll need. You can choose from a wide range of games like the ones listed below:
Board games (chess, scrabble, snakes, and ladders).
Lawn games (badminton, cornhole, frisbee).
Scavenger hunt.
You can always add your touch to the suggestions above. Be creative; camping in your backyard garden will be great!
Five Ways to Make Camping Alone in the Garden More Fun
Camping is usually a group activity, but there's no rule against going alone. There's the question of safety at campsites, but you'll be fine in your backyard.
Thus, you can plan some activities to spice up your camping experience even though you'll be alone.
Below are some ways to make camping alone in the garden more fun.
#1. Album Listening Party
Listening to the latest tunes from your favorite artists is a great way to spend time outdoors. Also, you'll have nature to fill your imagination as you listen.
#2. Journaling
You'll most likely have a flurry of thoughts going through your mind since you'd be camping alone.
So you can take advantage of the situation and put them down. Also, writing is a great therapy for stress relief.
#3. Reading a Novel
For avid readers, you can get a couple of novels you fancy and feed your mind. You can also use the opportunity to pick up reading if you've been planning to for a while.
#4. Stargazing
Observing the night sky and castellations has a soothing effect on the mind. Also, it can spark your imagination as you try to make sense of the stars and cosmos.
#5. Watching a Movie
Binging on your favorite movies or series is another great pastime for camping. You'll have the luxury of catching up on all the latest action.
You can also grab some classic movies from the past to relive some action or experience them for the first time.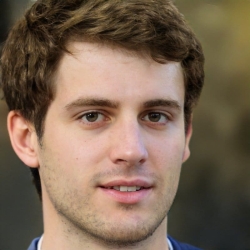 Latest posts by Josh Matthews
(see all)