Can You Go Camping in October/November? (Explained)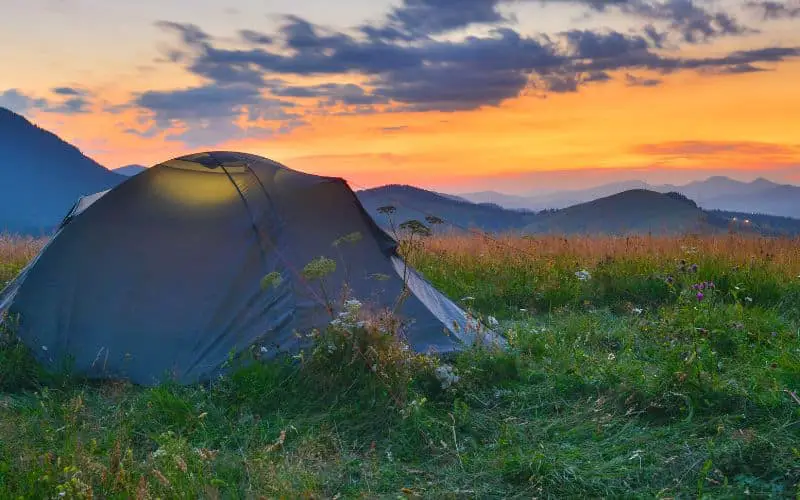 The natural impulse for a lover of the outdoors is to engage in outdoor activities often. However, you don't just set off on such adventures like a thief in the night.
Careful planning has to go into any such activity. As such, one of the things to consider is if the time and season are favorable.
Camping in October/November can be a great experience. The first fear would be the cold weather, as fall tends toward winter. But you can be on your way once you get the proper gear. Then you can choose a safe location and plan other camping trip details.
Regardless of the season, you can plan a great camping trip in October/November. This article will detail why you can go camping at that time.
You'll get helpful tips for planning camping trips in October/November. Also, you'll get suggestions on suitable locations to camp through October/November.
Is it Good to Camp in October/November?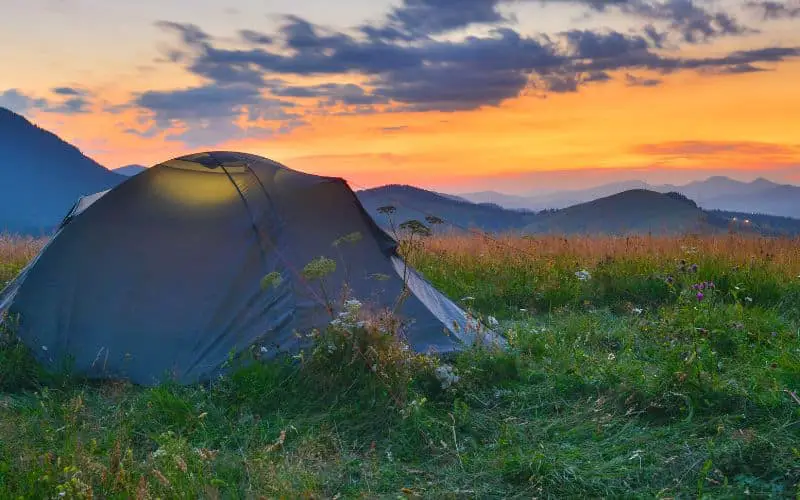 Yes, it's good to camp in October/November. But you need to consider more detail compared to other seasons during this time.
Although you must carefully plan camping trips each season, October/November is tricky due to the weather. It falls in the period when summer transitions to winter.
As such, you'll have to contend with cold weather conditions and the rigors of camping. But the season shouldn't hold you back from enjoying a camping trip.
Another advantage of camping in season is that there'll be less traffic. That's because most campgrounds usually close before October/November.
Many people favor summer camping, so authorities also go with the flow. Thus, you can avoid having to deal with overcrowded sites when camping.
Although that may be a bummer if you want to see more company when you go camping, you can always take some company and go camping in a group.
If you love fishing activities during camping trips, then you'd indeed have a swell time camping in October/November. For one, fewer campers fishing means more fish supply.
Besides, the water temperature eases in fall, and the fish can move about more freely.
Also, it's easier to enjoy a more serene atmosphere when camping in October/November. There'll be less noise with only a few people camping at the time.
So, camping in October/November is an excellent idea if you'd like to enjoy an exclusive experience. You'll face fewer interruptions, and you can make moves on your terms.
But first, you'll have to grab proper camping gear and choose the correct location. Then you can proceed to have a memorable time camping outdoors.
The table below shows some pros and cons of camping in October/November.
| Pros | Cons |
| --- | --- |
| You'll battle fewer insects due to the cold weather. | The weather can be unpredictable, alternating between warm and cold. |
| Booking campsites is cheaper due to less demand in the low season. | This period has shorter daylight hours, giving you less time for activities during the day. |
Perfect Spots for Camping in October/November
Choosing the right location for any camping trip is paramount because it usually defines your camping experience. Camping will be no fun if you have a rough patch outdoors.
Whether with the weather or the terrain, you need to research and get your choice right! There's no second take once you execute your plans and it turns out bad.
We've put together a list of some choice locations for fall camping. They'd come in handy if you need more ideas and when most parks you know have already closed.
#1. Acadia National Park (Maine)
Acadia National Park is the only National Park in New England. Thus it's a hub for boaters, cyclists, and hikers. The massive park has many lakes, and the view is dreamy!
Here, you also have four trails suitable for fall hiking. Plus, you can hike the famed Cadillac Mountain if you're up to the task. It's not for the faint-hearted.
However, only one of the four campgrounds at Acadia is open through October and November. That's Blackwoods Campground. So be sure to make reservations on time.
#2. Great Smoky Mountains National Park (North Carolina and Tennessee)
What would our list be without the most-visited National Park in the United States? Not to worry, the park has less traffic during fall compared to the buzz during summer.
The highlight of the Great Smoky Mountains National Park is the variety of tree species. They turn the scenery into a colorful mashup, yielding unique fall foliage.
One way to enjoy the sights is by driving the Blue Ridge Parkway, which stretches north to Shenandoah National Park.
There are five trails suitable for fall hiking at the park. Then, Elkmont, Cases Cove, and Cataloochee Campgrounds are the preferred choice through October and November.
#3. Shenandoah National Park (Virginia)
Shenandoah National Park is home to abundant wildlife and 75 overlooks, so there's plenty of sightseeing. But the best way to enjoy the view is through Skyline Drive.
That's the only public road in Shenandoah National Park, which parallels the Blue Ridge for 105 miles. So you can drive along and make stops on your way.
Big Meadows campground is usually the last of the five campgrounds at the park to close. It stays open for two weeks after the others close on the last Monday of October.
#4. Yosemite National Park (California)
Yosemite National Park may be our version of J. R. R. Tolkien's Misty Mountains. The scenery befits a fairytale adventure with the park's wonderland and fountains.
Although snowstorms sometimes cause temporal closures at the park due to its peak. So it's helpful to check for notices on their website.
Three campgrounds at Yosemite National Park are open throughout the year. They are Camp 4, Upper Pines, and Wawona Campgrounds.
The Lower Pines Campground closes after the third week of October. But the North Pines Campground is open until mid-November.
Tips for Camping in October/November
Opting to go camping in October or November means you'll have to plan for fall camping. As such, you'll have to prepare for the cold weather and sudden changes.
Since it gets tricky during the low season, you may feel discouraged planning a camping trip. But we've put together ten tips to help you have a great camping experience.
#1. Choose a Proper Location
It's helpful to check beforehand because some campgrounds close during the low season. Also, check to see if a location will offer what you need during the trip.
#2. Check the Weather
Unpredictable weather is a plague of the fall season. So it helps to look at weather forecasts and know when to head to a particular campground.
#3. Grab Proper Camping Gear
You must ensure you get the right equipment when camping in the fall season. Grab your tent, mittens, hot water bottle, sleeping bag, clothing, and insect repellent.
Heat is essential during fall camping, so investing in thermal clothing is a great idea. Also, you may have to deal with moisture, so waterproof clothing also comes in handy.
#4. Test Your Equipment
Ensure your camping gears are in perfect working condition before you head out on your trip. Also, testing them will help you know if you'll need to do some maintenance.
#5. Choose a Sheltered Spot at the Campground
Pitch your tent to a less exposed spot with less wind activity. Also, you can look out for an area that faces the sunrise so you enjoy the warmth in the morning.
Also, it helps to secure your tent firmly in case of intense winds.
#6. Hang a Tarp
Hanging a tarp between trees close to your tent serves as a windbreaker. You can also use them to keep your eating area dry in case of rain.
#7. Take Your Food and Beverages Hot
It would be best if you mostly kept warm during fall camping. So hot food and beverages will help regulate your body temperature. Insulated cups are helpful here.
#8. Make Your Changeover Clothes Warm
You may also catch a cold if your clothes are cold in the morning. One way to make them warm is to keep them in your sleeping bag when you wake up.
#9. Plan Meals Properly
Cooking your meals will take longer than usual due to the low temperatures when you're outdoors. So it's vital to remember that when planning your activities for the day.
Keeping your meals simple is also helpful, so you only spend a little time. Keep trash away from your campsite to avoid attracting wild animals.
#10. Pack a Survival Kit and Extra Supplies
It's essential to have some items when going on a camping trip. They can help in emergencies. When camping, it's always best to over-prepare than be caught off guard.
Some of these items include:
A first aid kit.
Duct tape.
Flashlight.
Map of the area and a compass or GPS.
Tin foil.
Toilet paper.
Vaseline-soaked cotton balls (for starting fires or use as salve).
A small portable bag can be helpful to carry these items rather than placing them in your backpack. Just in case you lose your backpack.
Also, pack food and water that can last beyond your camping trip. That's just in case of any emergencies.
What are the Camping Activities for October/November?
Many campers would easily rank spotting the fall foliage as their favorite activity during fall camping trips. However, there's so much more you can do besides that.
Below are ten camping activities suitable for October/November.
Birdwatching.
Build a bonfire (but not in a no-fire zone).
Canoeing.
Collect fall leaves.
Cycling.
Geocaching with kids.
Hiking.
Kayaking.
Observe wildlife.
Photography.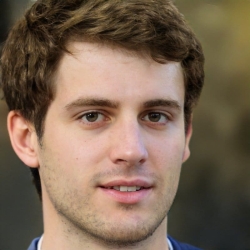 Latest posts by Josh Matthews
(see all)